High volume recruiting is tough. Throughout North America, unemployment rates are continuing to decline, but the number of available open positions has increased. Sectors like the gig economy and organizations that hire for evergreen jobs have felt this pain most significantly – how can you hire for a role that's always open if you can't find enough quality candidates?
Put simply, the supply can't meet the demand.
In today's labor market, job seekers have the ability to be more selective than ever before. They can read reviews about your company on Glassdoor, visit your social media pages, and browse around your website – all without ever speaking to a recruiter.
The same old methods of generating candidates aren't going to cut it anymore. In order to reach the talent you need, it's vital that your organization has a scalable high volume recruiting strategy in place.
In this blog post, we'll walk through everything you need to know about high volume recruiting, from what it is to how to develop your own strategy that is sure to attract the quality (and quantity of) candidates you need.
What is High Volume Recruiting?

Before we get into how to craft an effective high volume recruiting strategy, let's bring it back to the basics.
High volume recruiting refers to the practice of hiring for a large quantity of positions, at the same time, within a short timeframe. In practice, high volume recruiting occurs in various organizations, such as:
Trucking and transportation companies that often have

a lot of turnover

,

Gig companies that are always looking to hire for evergreen positions like drivers, bikers, or delivery personnel,

Staffing firms that need to meet demand for event staff, security, catering, and more, and

Retail businesses that require extra employees to keep up with seasonality and busy holidays.
In each of these examples, companies have an immediate need to fill open roles and keep their business processes moving smoothly. Having gaps in availability, or not being able to meet the volume they need, can have a detrimental impact on their bottom line.

Therefore, having a high volume recruiting strategy that works is beneficial not only for meeting your hiring goals, but for helping your organization meet its overall business goals and objectives.
Creating a High Volume Recruiting Strategy that Works

Activate Your Employer Brand
In 2019 and beyond, word of mouth will be a major factor in the world of recruitment.
Now more than ever, candidates can (and are) sharing their experiences about hiring processes and company culture online, and their words have the potential to make a huge impact. They can encourage, or dissuade, potential qualified candidates from submitting their job applications with your organization.
Because of this, it's imperative to focus on how to improve and activate your employer brand in a way that will make job seekers want to apply.
Take a step back, and think about what your organization looks like to someone on the outside. After all, if you can't see your employer value proposition, how can someone with no knowledge of your organization?
Improve Your Corporate Careers Site
Does your careers site accurately articulate the values and beliefs of your company? If you have a mission statement, is it clearly visible and a focal point of your site? Can visitors click around to read about the benefits of working at your company, or hear testimonials from current employees about their experiences?
As a recruiter, keeping your company's career site fresh and updated should always be at the top of your priority list.
According to Glassdoor, career sites are ranked 2nd among all resources recruiters use to source candidates. That presents you with enormous potential to win (or lose) candidates who land on your careers site. What value is your 2nd highest candidate source if you aren't putting work into keeping it up-to-date, relevant, and – most importantly – on brand?
Spend time focusing on your careers site, and make it a destination for candidates who want to learn more about your organization, your values, and your job opportunities.
Pay Attention to Social Media
If a prospective new employee were to look your brand up on social media, what would they find?
For organizations, keeping up an active presence on social media should be two-fold: on the one hand, you need to encourage new clients or customers to find and engage with your brand, and on the other, you need to showcase your company culture and values to attract potential new team members.
If you want to take your employer brand social media presence to the next level, take a look at HubSpot. Separate from the company's corporate accounts, @HubSpotLife is a social media presence across Facebook, Instagram, and Twitter created entirely to share the day-to-day happenings of life within the organization, shared through images and videos posted by employees.
Now, for a lot of companies (especially smaller ones) this approach might not be the best fit. So, take a look at your social channels and think about how marketing and recruiting can work together to meet both of their goals.
One example of this in action is the LinkedIn company profile for Netflix. Scrolling through their feed, you'll see a varied mix of: sharing news about the brand, engagement posts related to their hit shows, and posts about their culture, workplace values, and newly open roles.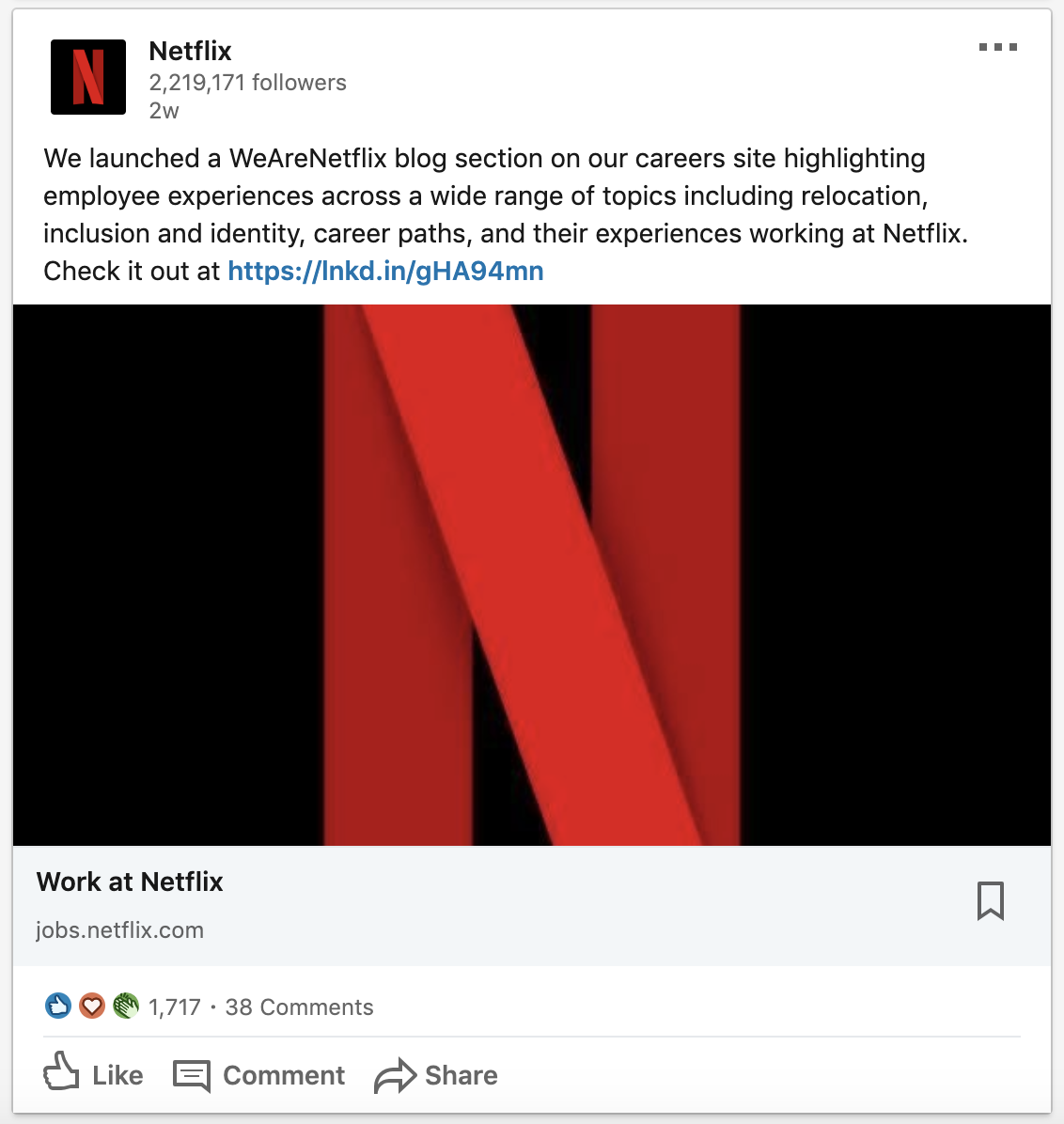 This approach is much more approachable and scalable, and can be used to benefit both marketing and recruiting teams alike.
Respond to (and Encourage) Reviews
Would you accept a job offer – or even apply for a job – without first seeing what former and current employees have to say about the organization?
A few years ago this wasn't possible, but technology today has put all of the power into the hands of the job seekers. Companies like Glassdoor give employees and candidates the opportunity to share their candid feedback about hiring processes, work-life balance, compensation, and more.
But feedback is a double-edged sword, and any organization will have its fair share of anonymous criticism.
Now, it can be tempting to ignore any negative reviews, and only respond to the positive ones. After all, you want to draw attention to the good that people are saying about your company, versus the bad. But this is a backwards approach, and can actually do more harm than good.
Think about it from the job seeker's perspective: you're interested in applying to work at a company, so you do a quick Google search and eventually land on their Glassdoor page. They have a decent rating, so you start reading through reviews, and notice that they don't address any of the negative feedback they've received.
As a job seeker, there's no way for you to know if the company has addressed those issues internally, or is committed to resolving certain problems their negative reviews have surfaced. To you, it just looks like they don't care enough to take the time to address criticisms and show the work they're doing to improve. And if the issues raised are ones you care deeply about, like work-life balance, you'll likely avoid applying and look elsewhere.
For employers, generating positive reviews is a valuable way of turning your employees into evangelists. After all, job seekers are much more likely to put their trust in reviews that speak to your company's culture and employee value propositions than they are to trust your recruitment marketing materials.
Encourage your employees to share their experiences on sites like Glassdoor, and on their own personal social media. They just might land you your next great hire.
Use Technology to Your Advantage
Though we agree that there's no taking the "human" out of "Human Resources," when it comes to executing a high volume recruiting strategy, technology is your best friend. It can help simplify your screening processes, enable you to engage with and nurture past candidates to encourage applies, and automate your recruitment advertising (more on this last one later).
For application screening, technology isn't a full replacement for people, but it can be particularly helpful in high volume recruiting where you have hundreds of applications to sort through on a regular basis.
By using systems that give you the ability to segment based on keywords, for example, you can easily disposition candidates who've applied for a food service position with no relevant experience, and flag the applications of candidates who meet your hiring requirements.
Another way technology can be useful is for engagement with past job seekers. Think about how many job seekers have applied for a role with your organization, and weren't accepted? It's likely a huge pool of potential.
Keeping this talent pool regularly engaged and up-to-date on your open roles and hiring needs is beneficial because you know that at some point, these job seekers were interested in working for your organization. Maybe enough time has passed and they've been able to gain the experience necessary for a role. Or, they might have developed a new skill set or interest, and would be better suited to another role you're looking to hire for.
Whatever the case may be, it's valuable to use technology, like automated emails with new open positions or a career newsletter, to keep these candidates engaged and interested in your business.
Of course, you can't reach out to all of these past candidates individually. That's where technology comes in.
Automation tools, either built directly into your ATS or through a third-party vendor, are a worthwhile investment when it comes to creating a high volume recruiting strategy. They give recruiters the ability to reach out to hundreds of people at once, share updates about your company, and link directly to the application pages for your open jobs.
Optimize Your Apply Process
The job application process should be three things: quick, straight-forward, and frictionless.
This holds true if you're hiring for 8, 80, or 800 open roles, and anything in between, but is especially important for a high volume recruiting strategy. The harder you make it for someone to submit their application, the higher candidate drop-off you'll see between those who start an application and those who actually submit one.
But how do you keep your apply process quick, straightforward, and frictionless? Let's break it down:
Quick
At Appcast, we've done a lot of research into the application process, and one of the places we focused on was the length of the apply process and its impact on click-to-apply (CTA) rates. The results speak for themselves: applications that take more than 15 minutes to complete experience a 365% decline in completion rates.
Yes, we said 365% decline.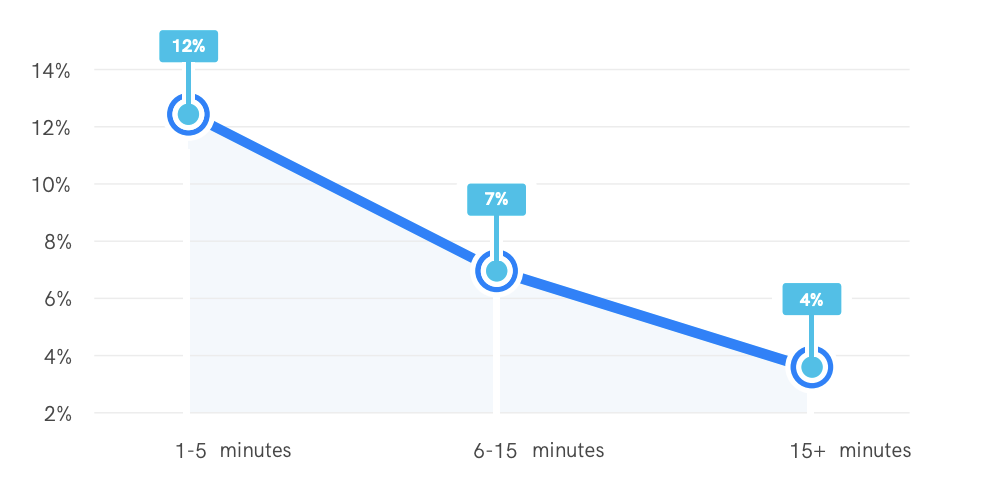 Figure 1: Average job application completion rates across all industries based on the length of time it takes to complete an application (in minutes).
The optimal amount of time for the apply process? Five minutes or less.
Now, we know what you might be thinking: you have a long apply process, and it works, because you're pre-qualifying candidates who are really invested in the role and will take the time to fill out all of the basic screening questions.
But in high volume recruiting, that approach will cannibalize your apply rates and cause you to lose valuable candidates who were interested in your jobs. Simply put, great candidates know their worth and the value of their time.
So, keep it short, and only ask the necessary questions on your job applications. Screening (which, as mentioned, can be aided by technology) can come after.
Straightforward
Let's be real: no one wants to create an account in your ATS just to apply for a job, and no one wants to upload their resume just to manually fill in all of their information again. These practices are outdated, cumbersome, and detrimental to your hiring goals and needs.
When you're creating a high volume recruiting strategy, you want to make sure the job seeker knows what they're getting into when they click to apply for one of your jobs, and the runaround of a poorly defined apply process will only cause unnecessary frustration.
Instead, use technology that makes the apply process as straightforward as possible. Keep your application to one page, and don't give candidates the runaround.
The more work it takes to apply to your organization, the less candidates you'll receive.
Frictionless
All of this to say – your apply process should be frictionless. But besides shortening application time and avoiding account creation, there's another way you can make your process even better for job seekers: mobile resume upload.
Today, over 40% of the traffic arriving at a recruiter's online application portal comes from mobile devices. Yet, just 5.1% of mobile traffic completes a job application, compared to 9.5% for desktop candidates. That means that for every day your apply process isn't mobile-friendly, you're losing potential candidates.
Of course, not all mobile apply processes are created equal, and the percentage of applies vary by industry.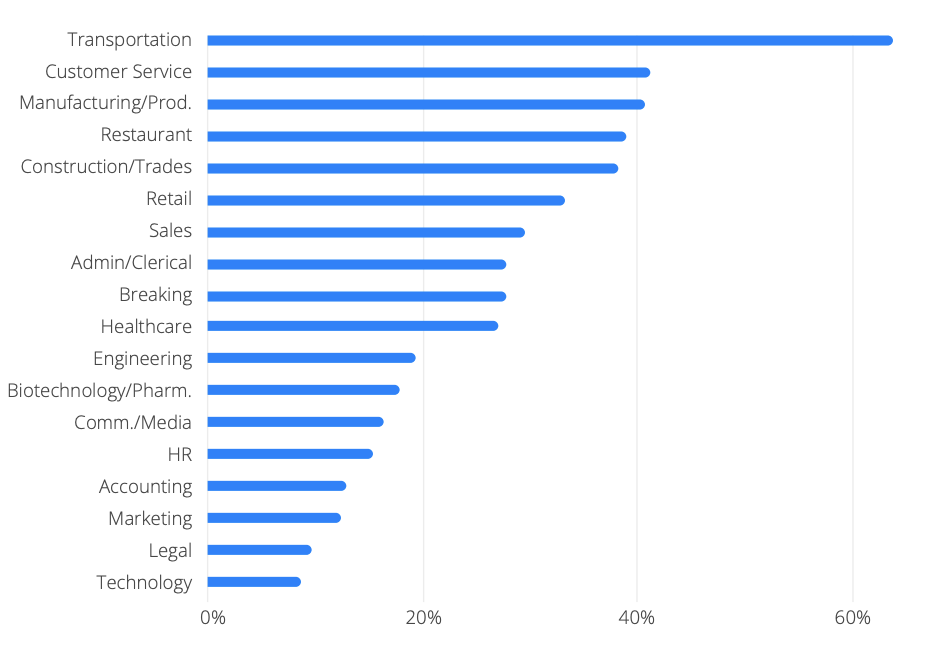 Figure 2: % of applies on mobile devices, by sector.
Odds are, if you're working in high volume recruiting, the industries you're hiring in are high up on this list.
As mobile becomes even more prominent (and trends show that for job seekers, it is) make sure you have a frictionless mobile apply process and enable candidates to upload their resumes from their mobile devices.
Be Strategic with Your Recruitment Advertising
Earlier, we mentioned that technology can aid in optimizing your recruitment advertising. But how does it actually work? Say hello to programmatic.
Programmatic is the concept of using technology, not people, to buy, place, and manage ads. Originally used by media buyers in advertising, programmatic has made its way into the world of recruitment, and revolutionized the way that companies can advertise their open jobs.
The root of programmatic success is simple: it puts data at its core, and operates on a performance-based model to optimize your ads, better allocate your budget, and deliver what you actually want – job applicants. But, just because it's technology doesn't mean that you no longer have control.
The process is simple.
First, the recruiter imports their job content from their ATS or career site. Second, they set their total budget allocation, as well as what they are willing to pay for each click or application. Third, the recruiter sets the "rules" based on their business objectives, such as demographics of the target applicant, number of applies they want for a particular job or job group, and budget. Finally, the recruiter hits the "buy" button – and the programmatic software takes care of the rest.
Programmatic gives recruiters the power of rules-based automation and optimization in a way no other media buying technology has before. Now, you can easily meet potential job seekers where they live, work, and play around the web, and ensure that your job ads are shown to the right people, in the right place, at the right time.
The benefits of programmatic technology are clear.
WIth rules about target applies, for example, you no longer have to worry about manually tracking and managing spend across all of your open jobs – the software does it all for you.
As a result, your ad spend can then be allocated to the jobs that need it most to drive more candidate volume, and ensure jobs that have already met their apply goals become unsponsored.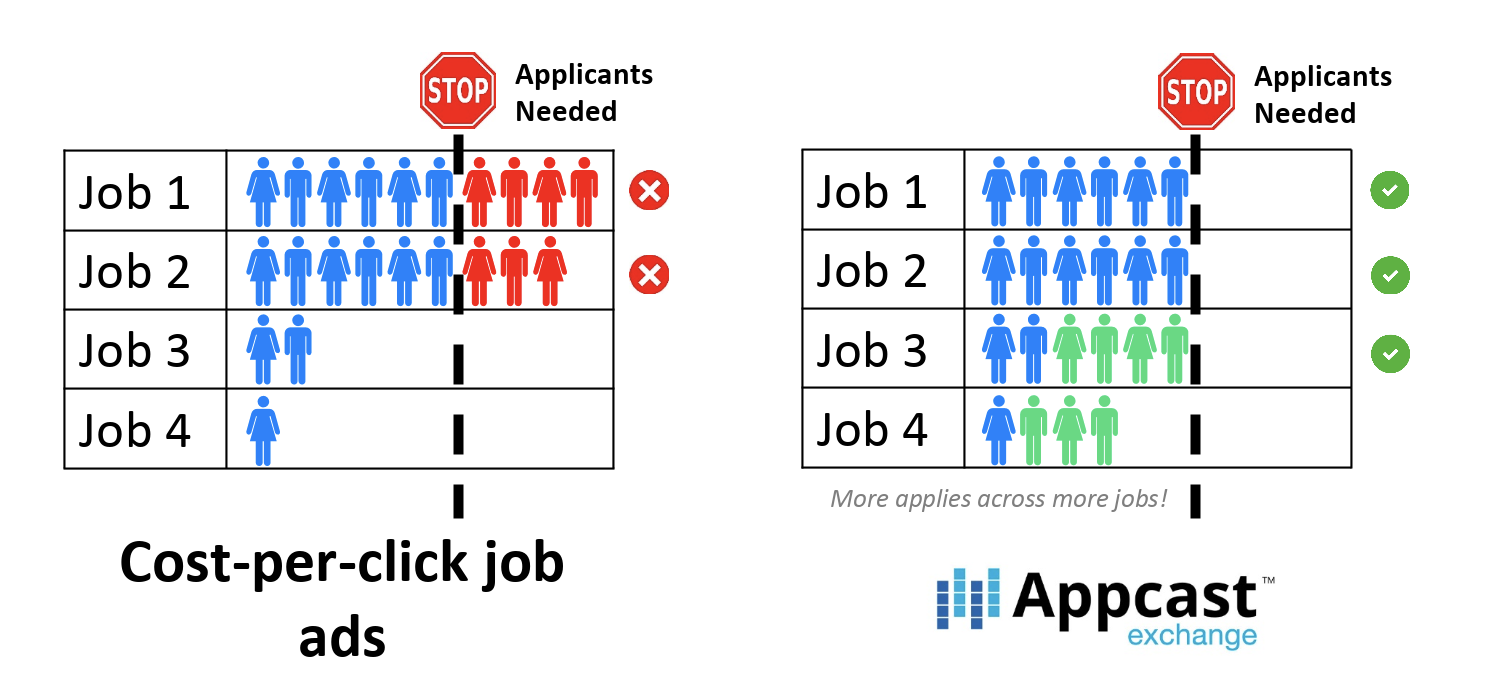 And because it operates on a performance-based model, that valuable budget won't be wasted on clicks that don't lead to applies, and you'll only pay when someone completes an application.
In high volume recruiting, you're bound to have dozens and dozens of jobs being advertised across different job sites, all at the same time. Investing in a programmatic recruitment advertising solution takes the headache out of monitoring all of your jobs and let's you get back to what you do best: recruiting quality candidates.
Get a deep-dive on how to improve your high volume recruiting strategy in our blog post, 6 High Volume Recruiting Best Practices.