…And why is it important?
Recruitment advertising is the marketing process of capturing candidates' interest in your company via advertisements, for the purpose of developing a talent pipeline.
In today's competitive talent market, recruitment advertising has become a popular and necessary strategy for employers to reach the candidates they need. Recruitment advertising helps organizations reach candidates across the web, improve their employment brand, and generate a consistent pipeline of talent that can ultimately be hired.
Recruiters and talent acquisition professionals now use recruitment advertising as a medium not only to reach active job seekers, but also to engage, attract, and nurture passive candidates through the candidate journey.
Though recruitment advertising is just one part of the talent acquisition mix, it's important for all types of employers, both small and large, across any industry.
Recruitment Advertising Today

Traditional recruitment advertising has undergone massive change in the past few years due to emerging online candidate generation techniques.
Today, the focus of recruitment has shifted from 'finding candidates,' towards 'being found.' This shift has triggered a fundamental change in the way that recruiters and talent acquisition teams advertise their open jobs.
For job seekers, employment trends and emerging technology have fundamentally changed the way they find, and think about, work. With the internet at their fingertips, potential candidates can easily find information about your company culture without ever speaking to a recruiter, and are leaning more heavily on platforms they use in their day-to-day lives, like Facebook and Google, for job hunting.
Even the nature of work has undergone significant changes, with more employees inclined to change jobs more quickly than in the past, and a shift toward 'gig' and 'freelance' work, versus a standard 9-5 job, with flexible employees accounting for 34% of today's entire workforce.
Recruitment Advertising Sources

In today's digital world, the array of advertising channels, outlets, and technologies is vast. Making decisions about the sources to use is a major hurdle that employers must evaluate and overcome.
Traditional Advertising
Many leading employers utilize traditional advertising methods to build interest in their open positions. The traditional advertising options available to employers include print (like newspapers and magazines), radio & TV, and outdoor advertising (like billboard and taxi ads).
These traditional recruitment advertising practices still have a place in the market for any employer, depending on specific instances and needs.
A major challenge or limitation in today's marketplace, however, is that many traditional advertising methods cannot deliver candidate volume. On top of that, many traditional ad models make it difficult to measure and track ROI; outcomes aren't guaranteed to be closely aligned with dollars spent.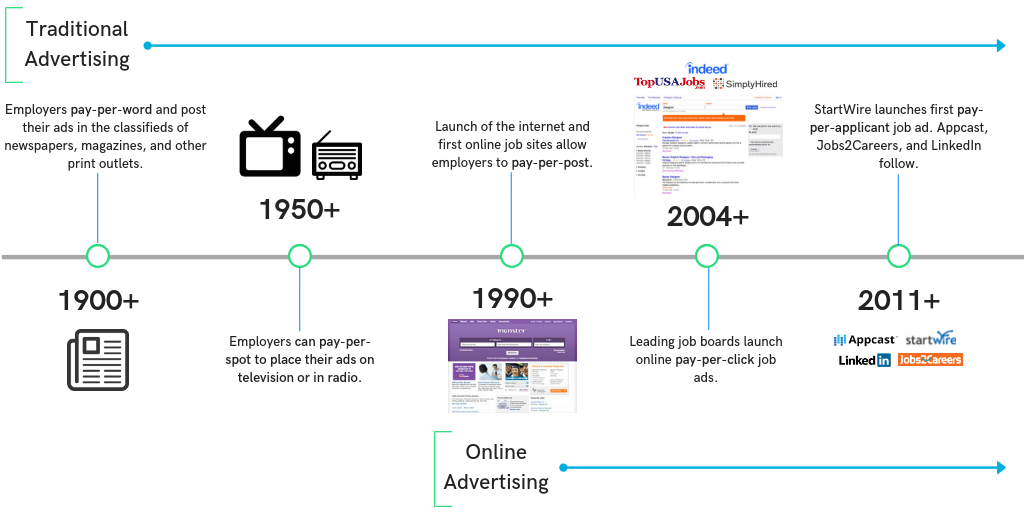 Digital/Online Advertising
Since the introduction of the internet, however, digital and online advertising has become preferred the method for employers that are looking to get the best return on investment from their spend.
The table below outlines the most common digital advertising tools that modern recruiters have at their disposal to reach, engage, and convert potential candidates.
Job Distribution Tools –

Software that allows employers to post their jobs to multiples job boards.

Job Boards –

An online website for an employer to post their open roles, and is often a sought-out destination for job seekers that are looking for a job.

Aggregators –

An online website that collects related items, and in this case, job postings from throughout the web, and displays them via direct links.

Niche Job Sites –

A job board that specialized in posting jobs in a certain industry, job type, or for a specific type of job seeker.

Social Networks –

Many social networks have some sort of job posting capability. Job seekers can interact with job ads from within their social platform.

Talent Pools –

An online compilation of potential candidates sourced from a platform, for employer or recruitment agency utilization at a later date.

Ad Exchanges –

A publisher network comprised of different types of publishers, where employers can buy and advertise job media.
Now that you know where you can purchase media online, it is important to understand the different types of media you can purchase.
Types of Digital Recruitment Advertising Media

Advertisers can purchase different types of recruitment media – all structured in different price points, time periods – and guaranteeing different returns. Below is a list of commonly used media purchases that advertisers can utilize for their recruiting strategy.
Duration-Based Posting: Advertisers pay for an ad at a fixed rate, that runs for a fixed amount of time. Most duration-based ads can be purchased monthly.
Job Slots: Advertisers pay for a set amount of spaces purchased from a publisher, for a set price.
Lead Registration: Advertisers pay for someone to sign up for job alerts, or someone who registers within the job site network, and they get access to that lead.
Cost-Per-Click: Advertisers pay every time a candidate clicks on their job ad in the search results or list view.
Cost-Per-Apply-Click: Advertisers pay every time a candidate clicks the 'apply' button on the job site and is redirected to start the application, which may be on the job site or via the ATS.
Cost-Per-Application: Advertisers pay every time a candidate completes a full job application.
Cost-Per-Quality-Applicant: Advertisers pay every time a qualified candidate – one that satisfies pre-screening criteria – fills out a complete application.
How Can I Jump on the Recruitment Advertising Train?

Talent acquisition is a difficult task. And recruitment advertising – just one piece of the puzzle – is a crucial piece.
There isn't a 'one size fits all' methodology that can be implemented for every organization, but we hope this introduction provides the framework for a beginning point.
With clearly defined goals and objectives, a sound understand of your 'target audience', solid execution of your recruitment marketing plan and a mechanism to measure source evaluation (including criteria to assess candidates), you'll be bringing candidates into your organization in no time.
Become a recruitment advertising pro by adopting a performance-based media strategy. Get the guide to Performance Job Advertising 101 here!