In the first three months of 2019, staff shortages have escalated to become the top emerging risk organizations face globally, according to Gartner, Inc.'s latest Emerging Risks Survey.
And if you play any role in the recruitment operations at your organization, you've likely been feeling the effects of this shortage for some time.
It can be tough to combat this shortage if your organization isn't properly equipped with the strategies, resources, and – most importantly – tools for success.
But deciding on which tools and technologies to use isn't as straightforward as it may seem. Rather, it involves taking a step back, and looking at your organization's overall goals and needs when it comes to hiring. Emerging technologies can help you find the talent that you need – but it's vital that the technologies you adapt complement your strategy, give you access and insight to the data you need, and are built to scale.
In this blog post, we're talking through the current state of recruitment, how you can scale your efforts for long-term growth, and some of the newest technologies on the market to help you do it.
The Recruitment Landscape Today

It's true – the talent market is tight. As a result, scaling talent acquisition has become a huge challenge for companies of all sizes, across every industry and type of occupation.
Unemployment, particularly in the US, is at its lowest in the last 5 years. In an Appcast research report, we found that states with higher unemployment rates also have higher apply rates, and states with lower unemployment have lower apply rates. And it makes sense – if unemployment is low, less candidates are actively looking for new job opportunities, and apply rates will drop as a result.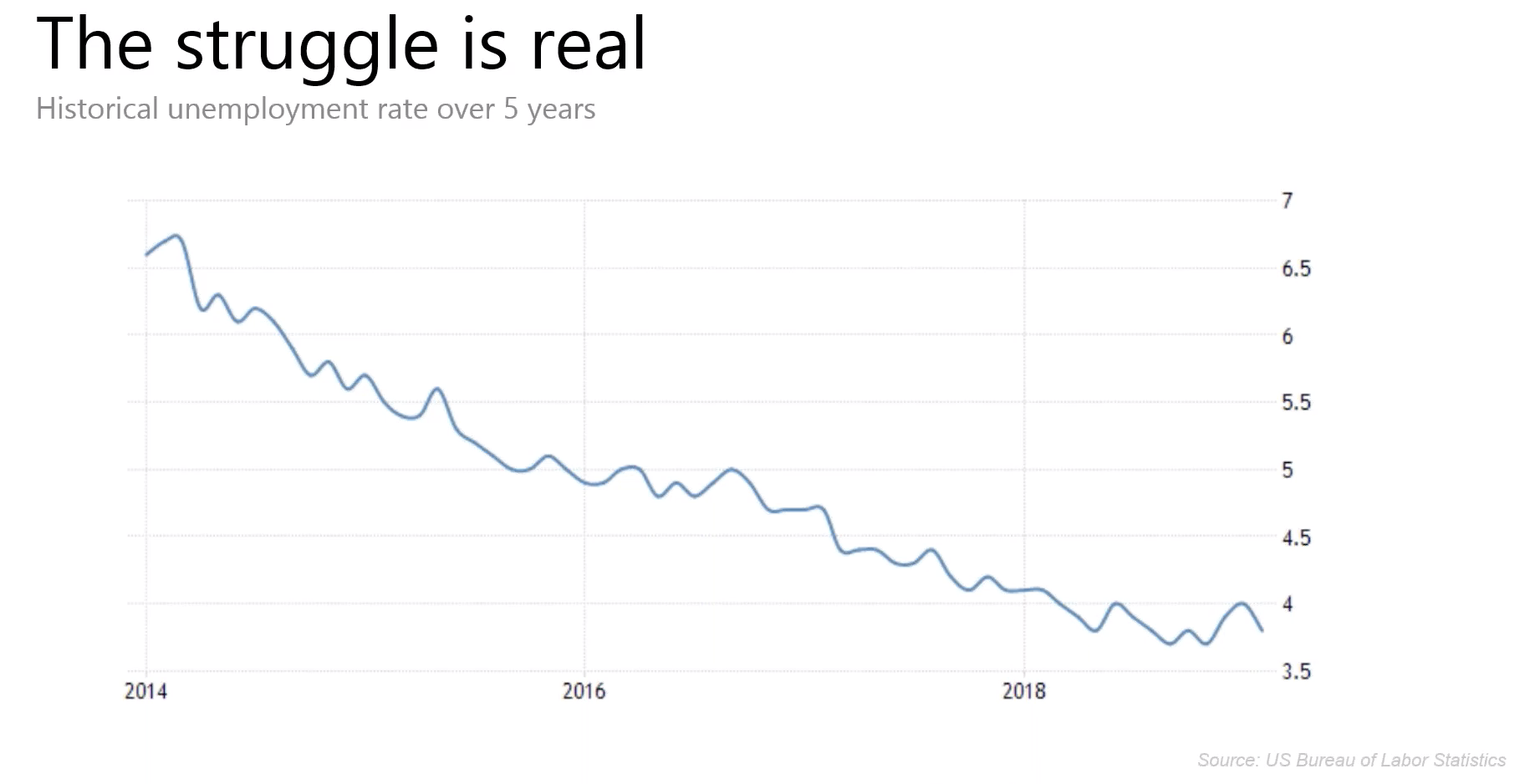 But, unemployment is only one piece of the puzzle. Today, candidates have more choices, and higher expectations, than ever before.
Think about the brands that consumers are surrounded by every day – the Buzzfeeds, Amazons, and Netflixes of the world. These companies are shaping the lives, and expectations, of your candidates. They offer tailored, customer-centric experiences that put the user and their at the forefront of their strategy.
That level of flexible, customized experiences is now the norm, and something that your recruitment processes need to offer.
Just like these brands who excel in Millennial engagement, employers must adapt talent acquisition strategies to incorporate mobile functionality that attracts and engages candidates.
Plus, candidates who enjoy the experience offered by your recruitment organization can be extremely beneficial for your organization. They're more likely to:
Apply for future open roles

Refer new talent to the company

Be loyal to your brand

Write positive online reviews
It's critical to keep in mind that many people today rely on smartphones to connect with the internet. Especially with Gen Z entering the workforce, scalability with on-demand, fast tech will not only capture applicant attention, but foster a smooth employment process that increases productivity once hired.
When it comes to today's recruitment technology marketplace, there's certainly no shortage of options available. If organization's are experiencing a talent drought, they're simultaneously living in a flood of tools and technologies created to help combat it.
On average, businesses use up to 24 recruiting technologies at any given time (HRWINS). Yep, you read that right: 24.
In a way, it makes sense – we live in a digital-focused world. The old methodology of buying slots in the newspaper classifieds and having candidates come knocking is long gone.
Recruiters today need technology to place their ads, manage those placements, track their budget and goals, collect candidate information, communicate with those candidates throughout the hiring process, and create and send offer letters. And more often than not, these functionalities live in separate tools.
According to Gartner's research on 2019 HR Executive Priorities, driving digital business transformation is a top 10 key initiative for 2019 HR.
This points to a fundamental shift in the way we think about HR – the question is no longer if technology can help, but which technologies to adopt in order to improve your processes.
So, all of this to say: what do you do to ensure that your organization is poised for growth?
Adapt.
Today, companies must adapt and scale their recruitment marketing efforts, or leave more open jobs unfilled.
How to Scale Your Recruitment Marketing

It takes, on average, 30 minutes to post a job. That 30 minutes involves figuring out:
Which ones should you post?

Where should you post?

What response will you get?

How will you measure?
If you're in charge of recruiting for dozens or even hundreds of roles, these questions become even harder to answer. On top of it all, you need to have a strategy – What do you do if you aren't getting the candidate volume you need for certain jobs? How do you optimize your spend if a "runaway" job is getting too many clicks and eating all of your budget?
And, as you're trying to answer all of these questions, your inbox if filling up and your phone is ringing off the hook from hiring managers asking if you're got anyone in the pipeline for their job yet.
Sound familiar?
This is where programmatic comes in to help.
At its core, programmatic job advertising is simply the use of software (AKA, automation) to help you decide where, when, and how to buy your recruitment ads.

The thing about programmatic is that it's nothing new in the world of ad buying – businesses and agencies have been using it for years to manage their media placements and show their ads to digital consumers on the right sites. But, it's still a relatively new concept in recruiting.
After all, if you've been in the recruiting game for a while, maybe you already have your tried-and-true sources for generating candidate volume.
But do all of those candidates who see, or click on, your job ad actually apply? And of the ones who do, are they actually qualified applicants?
Programmatic seeks to answer these questions, using rules-based automation to show your ads to the right candidates, in the right place, at the right time. It's a crucial piece in scaling your recruitment marketing, because it enables you to put data at the heart of your ad buying strategy to optimize your ad budget and, most importantly, to drive the candidate volume you need.
 Looking to learn more about programmatic recruitment advertising? Download our whitepaper, Programmatic Recruitment Advertising: The Better Way to Promote Job Ads Online. 
Scale, agility, and transparency go hand-in-hand with programmatic for a few reasons:
It enables you to post more jobs, much faster

It takes the guesswork out of where to post them

It allows you to change your strategy or approach quickly, and to respond to new needs or market trends (that rules-based automation we talked about? You can make changes at any time to fit with your strategy at any time)

It allows you to measure your performance and results and gives you more transparency into what works and what doesn't
Put simply, programmatic recruitment helps you find the right people. New, emerging recruitment technology can help you land them.
Want a sneak peek? Check out our latest webinar with iCIMS, Tech-enabled Recruitment: Driving Scalability, Agility and Transparency.