As the labor market continues to shift and evolve, so too, does the technology and tools we use to find, engage, and attract talent to our organizations. The days of negotiating with your sales rep & posting jobs to a job board are quickly diminishing, and technology is coming to the forefront to make recruitment a more efficient, effective, and scalable process.
One of those technologies is programmatic recruitment advertising (or programmatic job advertising). Programmatic advertising is the buying, placement and optimization of ads, performed by software, rather than people. It alleviates manual, repetitive processes so that recruitment and talent acquisition teams can focus more on strategy and the human side of the candidate journey.
Together with programmatic recruitment advertising, a new frontier has emerged to help employers reach candidates where they live, work, and play online. What's bigger than one job site? Many – optimized and managed with data and automation – a job ad exchange.
What is a Job Ad Exchange?
By definition, a job ad exchange is a digital marketplace comprised of different types of job sites, consumer sites, niche and social sites, where hiring organizations can advertise (what is recruitment advertising?) their open positions. Job ad exchanges use programmatic technology to purchase recruitment media (in other words, job postings) based on market rates, spend rules, and hiring needs.
Put simply, a job ad exchange is much like a mutual fund. Contrast that with stock picking, where you win some and you lose some. When attracting talent to your open roles, you can't afford to lose some. That's an open seat. That's less revenue for your company – in fact, open roles cost you money! With a job ad exchange you are diversified, you get quality candidates because of the depth and breadth of your ad reach. When purchased via programmatic software, you also get the best possible price – a price that is reflective of the market, the region, and the job itself.
How is this different from advertising on a job site?
If you have advertised any job in the last two decades, you have likely done so on a job site. That is how it's been done, whether you are a high-volume recruiter, or hiring for hard-to-fill roles, or simply looking to fill a variety of roles at any given time.
When you advertise on a job site, you are making a bet. You are betting that the candidates you need are going to engage with your job site partner, at the time your jobs are open, and in the volume you need. You pay for the privilege of reaching that site's user base and as my daughter's kindergarten teacher tells my daughter, "you get what you get and you don't get upset."
With a job ad exchange, you are accessing many job sites, and often many other sites where people may be open to learning about new opportunities. You aren't relying on a single bet – or salesmanship or a flashy ad campaign – to reach the candidates you need. The exchange spreads its bets, using real-time market data and algorithms to fit its placements to each of its partner sites, and you pay only for results – either on a CPC (cost per click) or CPA (cost per applicant) payment model. The exchange is therefore aligned to your interests and your hiring goals.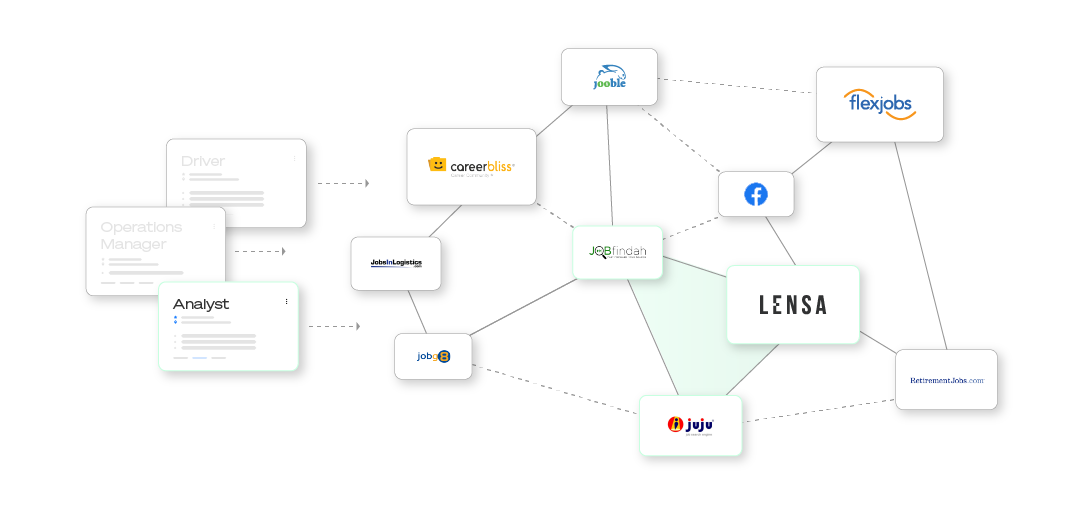 Using a job ad exchange to power your recruitment funnel
Ad exchanges represent the progression of recruitment advertising – that is efficient, data-driven, and more scalable. And it's not completely out of left field either – for years we've looked to our friends in the consumer marketing space to pivot and improve recruitment marketing. Consumer marketers have been using ad exchanges with much success to drive digital advertising outcomes and now it's your turn!
Interested in understanding more about how a job ad exchange works? Download our latest whitepaper, What is a Job Ad Exchange, to learn how an ad exchange can empower your recruitment strategy and more effectively build your pipeline of quality talent.