Evaluating Your Recruitment Marketing Strategy

To ensure that you're making the most of your recruitment marketing strategy, it's important to spend some time every 6 months (or, for some organizations, once a quarter) to evaluate your strategy for areas to improve.
This is especially useful if your organization has aggressive hiring goals to meet, and is always on the hunt for attracting great new talent.
But how do you know what pitfalls to look for, or where to begin to optimize your process?
We've outlined nine signs to look for that signal that your recruitment marketing strategy could use some help, with tips on how to improve so you can keep crushing your recruitment goals and help your organization grow.
9 Signs You Need Help With Recruitment Marketing
You have roles that have been open for far too long

You haven't mastered your employer branding

You don't have a system to track and manage applications

You have no clear recruitment advertising strategy

Your internal teams aren't aligned on what makes a qualified candidate

You don't engage past candidates with new opportunities

You aren't nurturing job seekers to apply

You don't respond to company reviews online

You aren't experimenting with your strategy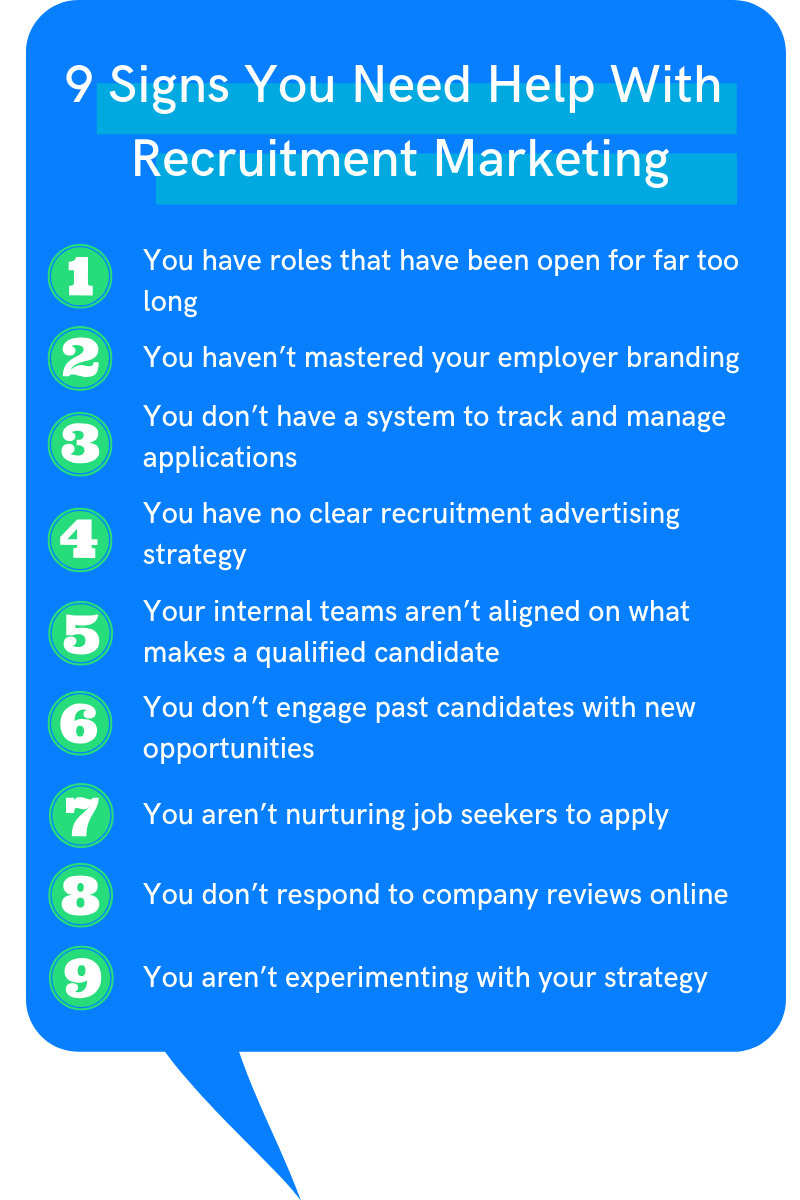 Now, let's break these down one by one.
You have roles that have been open for far too long
The most apparent way to understand if your recruitment marketing needs help is to look at the open roles at your company. How long does it typically take your recruiting team to fill a role? How many roles have been open for 30, 60, 90+ days?
The longer your jobs go unfilled, the more time, money, and resources your company loses. Experts alike have determined the great business costs of unfilled position at an organization, ranging up to as high as $14,911 per month, depending on the industry and role.
If you're consistently finding that some of your roles are harder to fill than others and that your recruiting teams have a hard time meeting the hiring needs of your business, all of these signs could point to a gap in your recruitment marketing that needs to be met.
You haven't mastered your employer branding
An organization's employer brand has a material impact on a candidates' decision to research your company and apply. It's the 21st century, after all, and that means that a majority of the power rests in the job seekers' hands. A few quick visits to your website and around the web can make or break their decision about pursuing a career opportunity with your organization, so employer branding is vital to get right.
Use the power of the internet to your advantage. Build a career's page that showcases your organization's personality and culture, rather than just your open roles, and create content that shares that personality in the form of a careers blog and social media presence.
You don't have a system to track and manage applications
Whether its a system your development team has built in-house or a well-known product, and whether you receive 1 or 100 applications a day, every company needs an Applicant Tracking System (ATS) or Candidate Relationship Management (CRM).  
Having an ATS or CRM allows you to streamline your recruitment processes, store candidate information, and easily manage communication with your candidates and the candidate journey.
Plus, it helps you ensure that you aren't continuing to re-market to candidates who are already in your system. This allows your company to take a more targeted approach in sharing your open roles with new job seekers, while maintaining a positive image and relationship with candidates who already know who you are.
You have no clear recruitment advertising strategy
Even with a great employer brand, every recruitment marketing strategy should also include a strategy for advertising your open roles.
Let's face it: sometimes having a great employer brand isn't enough. To reach the candidates you need, utilize your budget to invest in advertising your open roles.
A recruitment advertising strategy is especially important for organizations with hard-to-fill roles, evergreen hiring, or high-volume recruitment needs.
By putting some of your budget behind advertising your jobs, you give your company to a broader reach across the web, and can ultimately drive more candidates for open roles that were struggling to get applies.
→ Visit Appcast's Recruitment Marketing Resource Hub for everything you need to know to get started with recruitment marketing and fill your candidate funnel.
Your internal teams aren't aligned on what makes a qualified candidate
Depending on the type of your organization, there are many definitions of what a candidate is, and even more surrounding the definition of a "qualified candidate."
To properly execute a recruitment marketing strategy, a company's definition of a 'candidate' and 'qualified candidate' must be agreed upon and defined across all parts of your department. All talent acquisition teams need to meet and discuss how a candidate should be identified across all the different job functions at your organization. The success of your recruitment marketing strategy (and recruitment advertising!) depends on this alignment.
Set up time to meet with all relevant stakeholders to discuss and define your target candidates across each function or job type. Candidate persona identification is where you need to begin.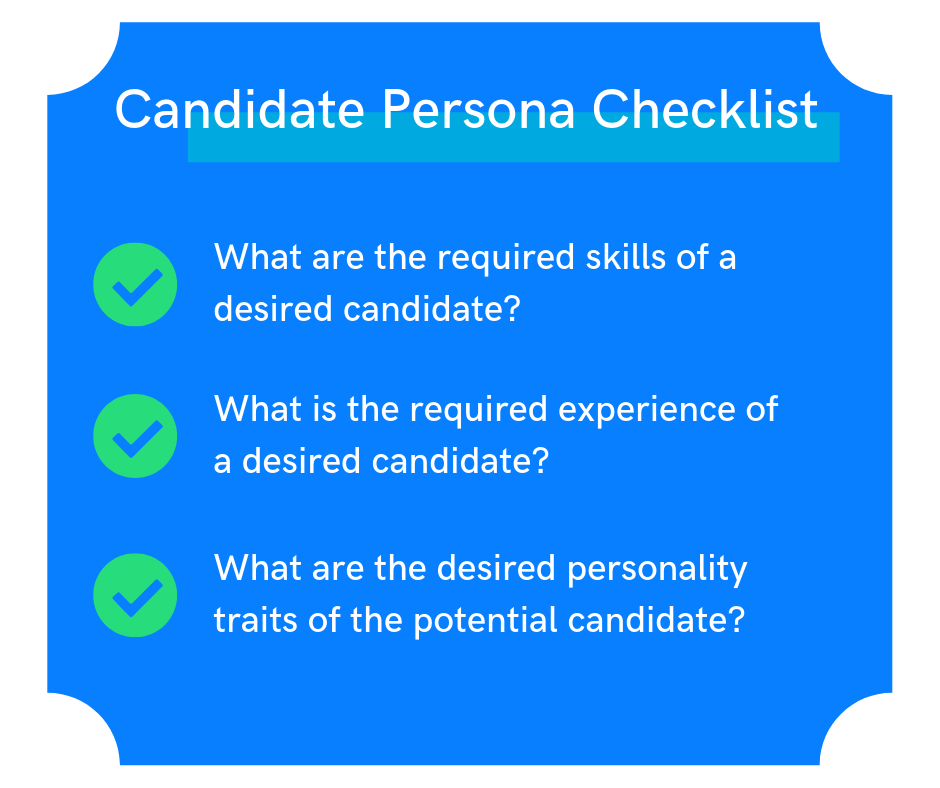 You don't engage past candidates with new opportunities
Sometimes, candidates will apply for a position with your organization that their resume isn't a good fit for. Other times, a candidate can begin the hiring process but, for one reason or another, are not offered the position.
When this happens, it's important not to let these past candidates fall off your radar. After all, just because they aren't a good fit now, doesn't mean they won't be 6 months to a year from now.
Keep past candidates warm, and be sure to engage them with new opportunities at your company as they arise. If someone was interested in working for your organization before, they're likely to re-apply when a role they're more qualified for opens up.
You aren't nurturing job seekers to apply
Picture this: you find a company whose mission statement you admire, in a field you're passionate about working in, and with a culture you think you'd be a great fit for…but they don't have any open roles you'd be a fit for.
If they're smart, that company will have a way for job seekers to opt into their talent pool – likely via submitting a form with their contact information – that will keep them in the loop on new roles as they open.
Allowing job seekers to join your talent pool gives you an opportunity to nurture them from job seeker to candidate. Create a weekly newsletter about your company, your culture, and highlight featured new jobs that will resonate with your audience. Remind them what attracted them to your company, and keep them up-to-date on roles as they open.
Doing so keeps your company top of mind with those interested job seekers, and gives them an easy way to apply when a role they match finally opens.
You don't respond to company reviews online
One of the best resources for learning about a company isn't the company itself, but current and former employees. Review sites like Glassdoor are a key starting point for job seekers looking to learn not only about new job opportunities, but about the hiring processes and the internal culture of an organization.
It's also a place where current and former employees can say what they want about your company, and can be as negative as they choose. And those employee opinions can hold a lot of weight with someone considering applying to work for your company.
While no one wants to see a negative review about their organization (especially no one in recruitment and talent acquisition!), it's important to think about how your review page looks to a job seeker. Are you only replying to positive reviews, and trying to bury the negative? Or, even worse, are you not replying to review at all?
You aren't experimenting with your strategy
The recruitment landscape is always changing. New technologies are emerging, new tips, tricks, and trends are considered best practice, and new ways to execute a recruitment strategy are being developed as we speak.
In truth, the only way to find what works for your recruitment marketing is to experiment.
Experimenting with your job postings:
Writing a high-converting job description and title is as much as art as it is a science. While we can't wordsmith your job postings for you, our research has found a few best practices you can follow to ensure that your job descriptions and titles are optimized to generate candidate conversions.
Keep your job titles, and your descriptions, short and sweet. Your titles should stay between 1-3 words, while your descriptions can span 300-800. Be concise, while still offering job seekers a clear depiction of the role, its responsibilities, and a look into your company culture.

On job titles, steer clear of using any symbols. Adding a $, @, or ! symbol can decrease your click-to-apply rate by up to 30%. Simply put: don't do it.

Weave in non-cash benefits, like paid time off, transportation subsidies, and gym membership reimbursements to your job posting. These types of benefits are the most appealing to job seekers because they show your organization cares about their well-being, while also offering great employee perks.
Experimenting with your advertising:
Like we outlined above, having an advertising strategy plays a key role in successful recruitment marketing. But job ads aren't things you can set and forget; they should be monitored to ensure you aren't wasting budget, are driving quality applicants, and are reaching a diverse set of publishers and job boards.
That's where adopting a programmatic recruitment advertising strategy comes in. Programmatic gives you the power, using rules-based automation, to make smart decisions about where and how to spend your budget. With apply goals for each of your open roles, you ensure that your budget is never wasted on jobs that have enough applicants, and that you only pay for the results you want: quality applicants.
——————–
Whether one, two, or all nine of these signs apply to you, take the opportunity to sit back and re-evaluate your strategy. Recruitment marketing plays an integral piece in driving candidate acquisition, and you want to make sure your strategy is optimized for success. For expert tips on how to get started with, and improve your own, recruitment marketing, check out our Recruitment Marketing Resource Hub.