The Struggle of Acquiring Healthcare Talent
Over the next 10 years, approximately 1 million nurses in the United States are projected to retire, and the reality is, there aren't enough new nursing graduates to replenish the workforce.
On top of that, an additional 200K more RN's are needed per year to meet growing healthcare demands across the country.
The result? A serious shortfall of RN talent.

Let's examine recruitment marketing performance data as it compares to current healthcare market behaviors in general.
First, costs to acquire candidates are rising, alluding to stiffer competition in the market and lack of enough talent.
Second, apply rates have decreased. With an optimized apply process, employers have an opportunity to get more candidates through the doors of their organizations and save recruitment marketing budget.
And third, a more competitive talent market means higher recruitment marketing costs and a budget that stretches thinner and thinner with roles left unfilled.
We all know it's becoming increasingly difficult to hire healthcare talent. Below are four tips to help you stay competitive in the market in 2019.
1. No Healthcare Job Left Behind
This phrase should be the guiding North Star of your healthcare recruitment marketing strategy in 2019. Keep your focus on filling all your open roles – and use that as the main principle when evaluating your media investments.
Ensure that your strategy takes all of your open roles into account, and budget accordingly. Also, ensure your budget is managed in a way that is agile, to 'move and shift' and remain in alignment with your evolving hiring priorities.
2. Not All Jobs are Equal

Not all jobs perform the same, and because of that, you can't apply a one-size-fits-all approach to job advertising. Having access to job-level data helps you see that pretty quickly, and allows you to make adjustments to your job ads or bidding strategy in real-time.
3. More Volume Isn't Always Better
Take the time to study your data and understand how many applies to each of your open roles is enough to make a quality hire. Why keep paying for impressions or clicks or applicants if you don't need them?  The difference you save in your budget can be allocated to other jobs that still need candidates! Know where your greatest needs are, and scale your budget to align with those needs. Then, continuously re-evaluate those needs.
Remember, you can't hire a click. So, take the time to understand your conversion rates and where your quality sources are.
Knowing how many applies for each of your open roles is enough to make a quality hire is vital so that in the future, when you need to make an RN hire in Houston, Texas, you have data you can rely on for how many clicks you need to get to make the perfect number of applicants that will get you to that one great hire.
4. A Programmatic Approach
Once you understand how to approach your budgets to align with your "no job left behind goal," one final, key piece is left: the ability to either hit the stop button, or 'turn on the firehose'.
With traditional performance-based media, that ability is often missing.
Think about all of the money that is wasted on jobs that don't need help.
There are a small percentage of jobs that cannibalize your budget, and make it very difficult to have line-of-sight into the jobs that are getting little to no applicants, and need an extra boost from your budget.
What programmatic technology allows you to do, on a very basic level, is stop once you have enough applicants. With rules you custom set yourself, you can dictate how many applies a job needs, and then unsponsor it when it meets that target. Set your rules and your goals and let technology do the rest of the work!
Then, you can spread the 'recruitment budget peanut butter' more evenly across the scope of your open jobs and ensure that the ones that need a little boost can get it.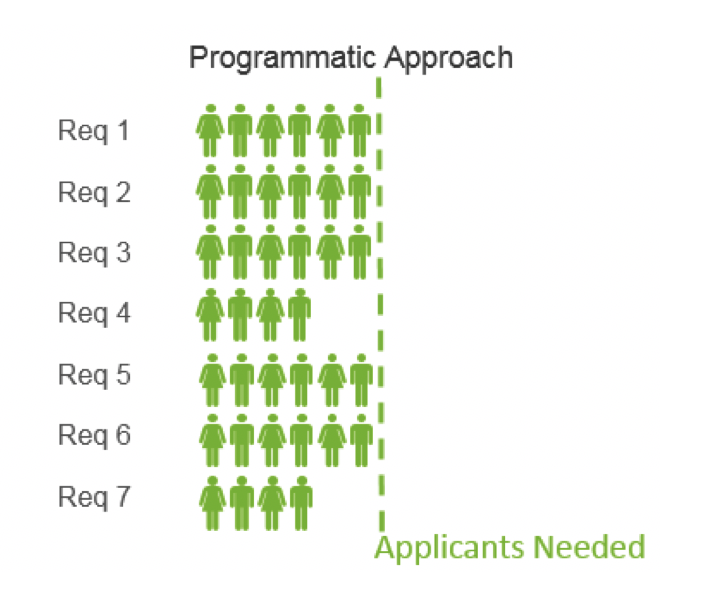 Healthcare Recruiting in 2019
This past year, it became 223% more expensive to hire candidates in 2018 via cost-per-click job advertising.
Costs are continuing to rise…but why? Because competition for the eyes, attention, clicks, and applies of qualified talent is getting more fierce.
The growing demand for healthcare professionals like nurses, coupled with their decreasing supply, can lead to overtime contract labor that can cost you millions a month or – even worse – to staffing shortages. The pain of a short-staffed clinic or hospital floor has detrimental implications for both your business and, more importantly, your patients.
The solution? Pay for performance, not presence. Ensure that your job advertising strategy will lead to what matters most: a qualified applicant.
Discover even more tips for perfecting the art and science of acquiring healthcare talent in our latest webinar with KRT Marketing.