Are you thinking about your 2019 recruitment marketing budget at your organization?
With the new year just a few weeks away, it's more imperative than ever that you have a plan in place for how you'll spend your budget – and, more importantly, how that budget is going to deliver the results your organization needs.
As talent acquisition continues to evolve and become increasingly competitive, it's important to understand and be aware of changes in the marketplace. Staying up-to-date can help you make valuable decisions that will drive ROI from your recruitment dollars in 2019.
In our latest webinar, 2019 Planning: Tips to Boost ROI from your Recruitment Marketing Budget, we took a deep dive into the strategies you can implement in your plan for the new year.
Keep reading for expert tips that will set you up for success.

#1: Keep Your Budget Close

Keep the majority of your recruitment media budget uncommitted. Instead of buying all your media through various publishers for the calendar year, buy by the month or the quarter.
Why?
In the old days, the ways you lowered your recruitment marketing costs was simple: buy a bunch of job postings up front, and argue for a discount. But today, in the cost-per-click world, there's no discount for buying clicks ahead of time.
The reality is that the only way to buy clicks is as they come, and what you pay for that click is reliant on the market rate at the time. For example, if you were to run an ad for a sales manager role in New York City, when numerous other companies were also running similar ads, you'd pay more per-click on that ad vs running the same ad in another location.
Therefore, in the current recruitment advertising landscape, there is much less of an economic incentive for you to commit that budget up front.

#2: Move to a Performance Media Model

Start buying your ads on a CPC (cost-per-click) or CPA (cost-per-apply) basis to ensure you're only spending money for real results.
Why?
Job advertising has changed, and you need to be smarter than ever with how you spend your recruitment marketing budget. Buy from the places that allow you to only pay when someone clicks on or applies to your job, versus duration-based postings.
If you manage a performance media model well, you could decrease the amount of spend you put toward recruitment marketing by 10-30%. When you only pay for qualified candidates you receive, every dollar you put toward your recruitment marketing budget becomes even more valuable.

#3: Invest in Employment Branding

Improve your brand to improve your job ad conversions.
Why?
Organizations with higher Glassdoor profile rating attract more candidates on job ads than those with a lower one.
Look at what you may or may not be doing well on Glassdoor and think to yourself, if you moved your score up by .5 points, what would that do to the efficacy of your recruitment marketing spend?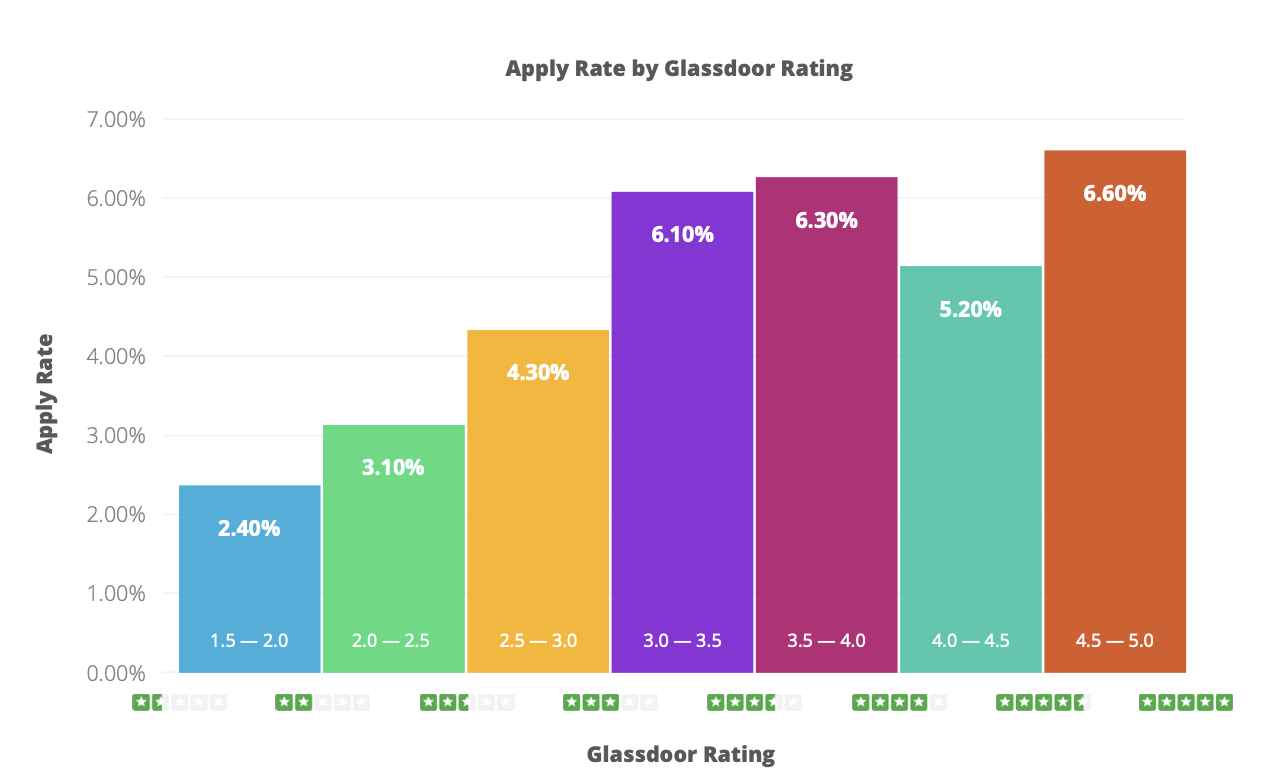 Now, this is not to say that investing in improving your employment brand is a quick fix. In fact, it's a lot of work overtime. But in the long run, it's the greatest lever you have to improve the efficacy of your recruitment marketing plan.
#4: Utilize Ad Exchanges & Bidding Software

Use software to buy and optimize your performance media.
Why?
Using software to manage your bidding ensures that your budget never goes to waste. How? Budget is automatically re-allocated from the jobs that have enough candidates to the jobs that need it most, based on rules you set yourself. Software-enabled bidding also ensures you spend appropriately to capture candidates within more competitive markets, because you pay market rates for varying geographic locations and jobs.
Whether you advertise through Indeed, the Appcast Exchange, Glassdoor, or ZipRecruiter, programmatic software gives you the ability to manage your jobs with one tool so that your job ads are shown in the right place, at the right time, and to all the right people.
Recruitment marketing is a rapidly changing component of acquiring top talent to grow your organization and there are always new ideas or strategies emerging that you can try.
Gain more best practices for optimizing your recruitment marketing budget and planning a successful 2019 strategy in our on-demand webinar, 2019 Planning: Tips to Boost ROI from your Recruitment Marketing Budget.