Acing Your Positioning

When it comes to your brand, one of the most important things to do is to nail your positioning strategy. Who are you as a brand? What does your organization value, what are your business goals, and how will you improve the lives of your customers, partners, and employees?
Coming up with a positioning strategy may seem like a daunting task, and for more complex organizations, it might be. But having unique positioning is vital for the success of any business looking to attract customers, drive revenue, and bring in top-tier talent.
One way to communicate your positioning is through a tagline.
A tagline is a brief phrase that embodies the essence of your brand, your culture, and who you are as a business. In the world of employer branding, it should also encompass what it means to work at your organization.
No pressure, right?
We've put together four employer brand examples we love, and the taglines that accompany them, to help inspire your own.
Employer Brand Examples We Love
Google: Build for everyone

Google's corporate career site, and employer brand tagline, is just what you'd expect from the brand: simple, clean, and impactful. Using the phrase "Build for everyone" as their leading tagline captures the essence of what goes on at Google every day – building products, software, and processes that are fundamental in the way the internet works today.
By showing that when you work at Google, you have a role in creating something that is used by nearly everyone in the world with an internet connection, the brand drives home the impact and importance of their work, and the value of becoming a Google team member.
Apple: Do more than you ever thought possible. Have more impact than you ever imagined.

Apple, much like their late founder Steve Jobs, is a brand many of us have felt inspired by, and their career page tagline echoes that sentiment.
Placed as the focal point on their main careers page, Apple's tagline is both inspiring and ambitious to prospective candidates. It's motivating, and meant to ignite passion in those who read it, while capturing the essence of the Apple brand – capable of changing the world.
Spotify: Join the band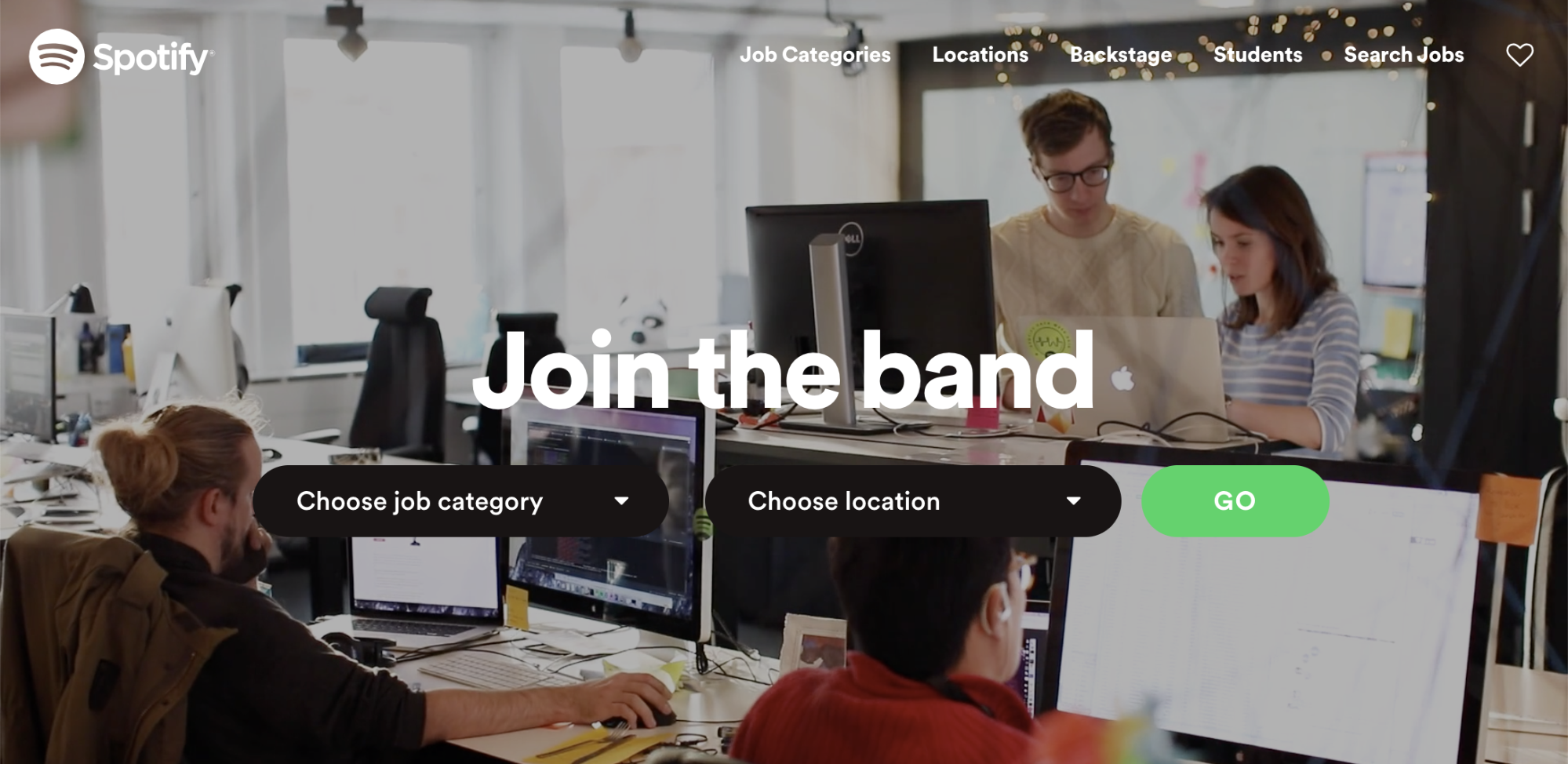 With over 80 million paid subscribers, Spotify has become a go-to service for streaming music. And for music-lovers, they're a go-to place to look for a career.
Spotify keeps their tagline short, simple, and fun. Referring to their brand as a "band" hits on what their company does, but also shows the personality of the organization.
Netflix: A great workplace combines exceptional colleagues and hard problems.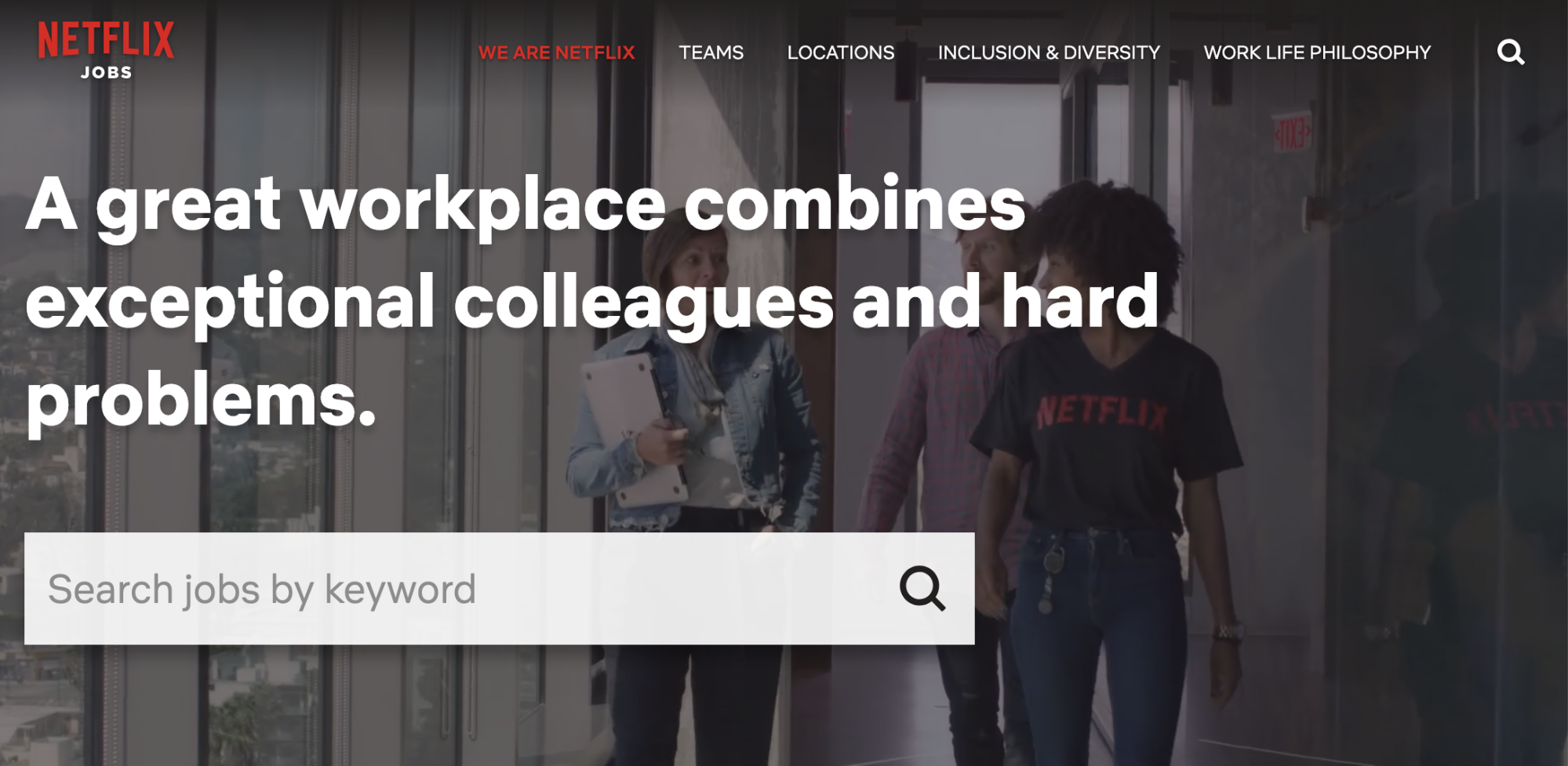 Netflix's corporate careers page is focused on driving home the culture of the brand, and their tagline helps them do just that. It helps illustrate that they consider themselves an organization full of exceptional people, solving tough problems, and their site is meant to attract other people who share the same values to join them.
Netflix is an interesting example because their main focus is on attracting candidates with their employer brand, their values, and their company culture. There are no jobs posted on their main page, but rather links to learn more about what the organization is all about.
Creating Your Own Employer Brand Tagline

When it comes to positioning your employer brand, there's no one-size-fits-all way to come up with a great tagline. It's important to stay true to your brand and its values, and be sure to come to a consensus with the rest of your talent acquisition and recruitment team on what you want to communicate.
Looking to up your employer branding strategy? Download our Employer Branding 101 resource kit for everything you need to know to take your strategy to the next level.