Think back to the last time you applied for a new job.
What was the process like?
Did it take you longer than 5 minutes to submit your application? Were you taken to page after page, forced to manually input the information from the resume you had just submitted? Was making an account required before you could even upload your resume?
If you answered "yes" to any of these questions, you're not alone.
Many organizations are still stuck in a time where this experience is the norm. Maybe they think having a little friction in the apply process will ensure they only get applies from really dedicated candidates. Or, maybe they like the systems they use and just don't want to switch over – after all, they're still getting applies, so it can't be that bad…right?
There's just one problem: this version of the candidate journey is broken.
Redefining the Candidate Experience

Too often, the various players involved in the talent acquisition landscape – from hiring managers to recruiters to the candidates themselves – operate within silos.
As a result, there's a disconnect between what people perceive as the candidate journey, and the reality of the candidate experience.
As a result, the candidate journey becomes company-centric, rather than candidate-centric, causing unnecessary friction and discontent among the candidates that could be a great fit for your company who are put off by your processes before they even apply.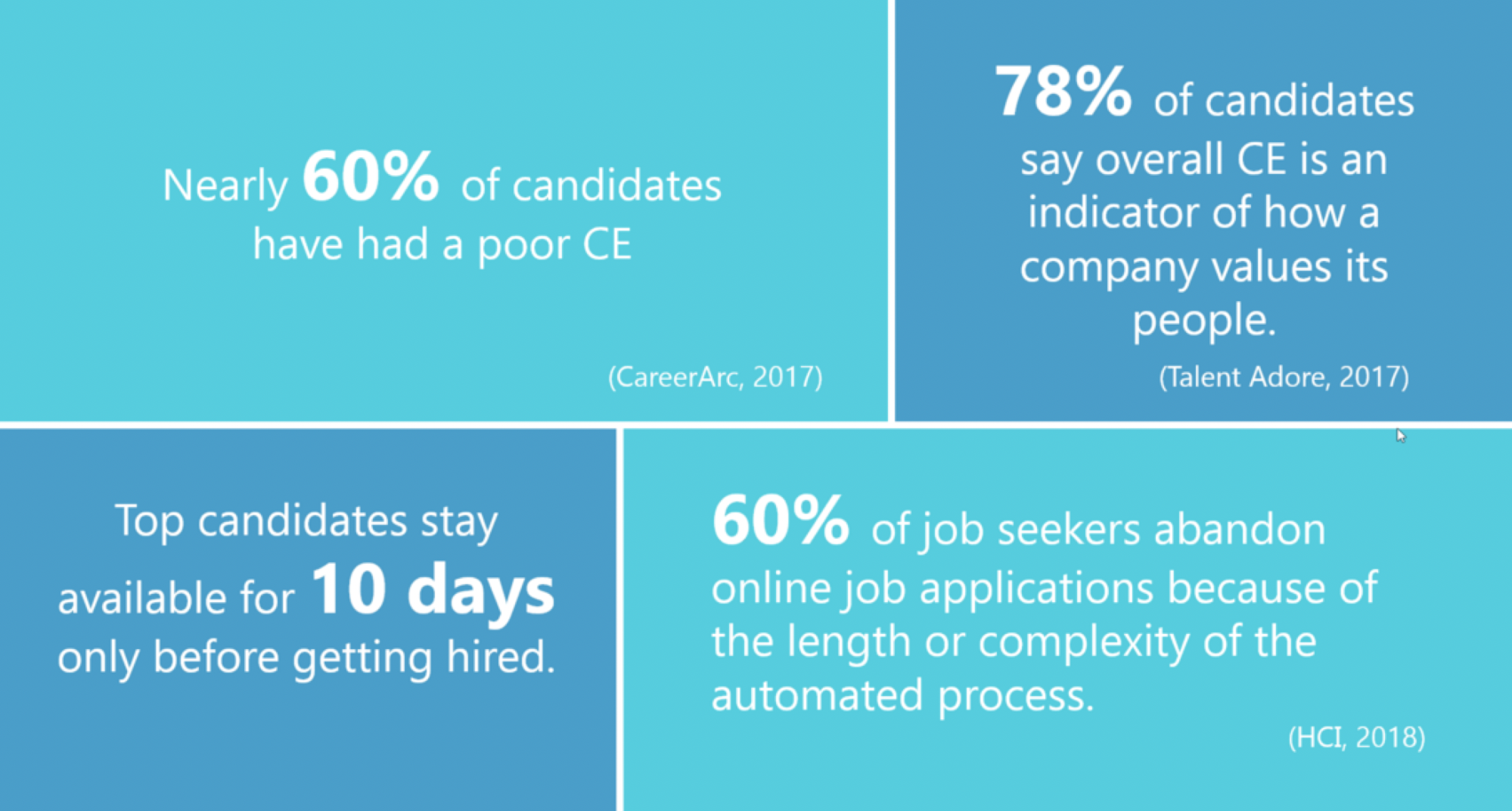 Don't get stuck in a rut with your recruitment. If you're not seeing the results you want, take a step back, reevaluate your strategy, and look for ways to create a remarkable candidate experience to drive more applicant volume.
How to Create a Remarkable Candidate Experience

1. Build data-driven job content
According to Aptitude Research, 1 in 2 companies believe that candidates make the decision to join an organization before, or during, the apply process.
That means that long before you ever decide whether or not to offer a candidate a job, they've already decided whether or not to take it.
There's always room to improve elements of your apply process to make it more seamless for candidates.
Apply Time

: when a job application takes longer than 5 minutes to complete, companies see a 50 – 75% drop-off rate. If candidates are forced to go through multiple pages to plug in information they already gave you, you risk losing over half of the people who start a job application.

Apply Length

: when an application has over 25 questions, companies see a the 25 – 50% drop-off rate. Keep your application short, and only ask the necessary questions. Don't let candidates qualify themselves out of your talent pool.

Job Titles

: Job titles with 1-3 words get the highest application rates. Save the fun characters and witty phrasing for another time.

Job Description

: Job descriptions with 300-500 words tend to get the highest application rates. This word count gives you enough room to showcase the job's responsibilities, as well as information about your company and culture, without being too overwhelming for a job seeker.

Showcase benefits

: According to research conducted by

Harvard Business School and Appcast

, US companies spend 2.7% of their total compensation on non-salary benefits, while 80% of US employees feel that they are not adequately recognized and rewarded. Simply put, organizations need to better highlight the benefits that their employees offer and in fact, doing so has a dramatic increase on the apply rates.
2. Weave personalization throughout the candidate experience
Think about your online shopping or social experiences.
When you visit Amazon, for example, your search results are personalized to things that you've already searched for, or bought, in the past. They offer relevant recommendations to help you find what you're looking for with as little effort on your end as possible.
Candidates expect that level of personalization in the candidate experience.
They're looking for relevant content and jobs specific to their location, and won't waste their time looking through results that aren't tailored to them. A whopping 93% of career sites do not take into account a job seeker's location to provide job openings close to them, and by failing to do so, hurt their overall likelihood of generating the applications they need.
Thinking back to the actual apply process, keep your job descriptions candidate-centric, rather than company-centric. When you list a requirement for years of experience, instead, frame it in a way that your job description shows the candidate the work that they'll be doing with their relevant years of experience.
Where you can, infuse personalization into each step of your candidate experience to give candidates the feeling that your organization knows, and understands, their needs.
3. Elevate your career site
When was the last time you updated your company careers site? If it was more than 6 months ago, chances are, it's already outdated.
Today, candidates want career sites to perform for them. They want to be able to search job postings and find relevant content as quickly as they could on any other type of site. Career sites are ranked 2nd among all resources recruiters use to source candidates, and as a result, can drive massive volume for your organization (Glassdoor, 2018).
Phenom People found that in respect to career sites, job seekers spent an average of 2 minutes, 25 seconds on a site, viewed an average of 3.25 pages per visit, and spent an average of 41 seconds on each page view. This will vary, of course, by company and industry, but these averages provide valuable benchmarks on which you can measure your own company's career site metrics.
What will you have done in those 2 minutes, and 3 pages at 41 seconds each, to capture their interest?
In truth, your career site is an engagement tool for candidates. It's one of the primary ways you can showcase your employer value proposition, your company values and mission, and any fresh and relevant content related to your brand.
4. Embrace candidate nurturing
When you think about candidate nurturing, it's vital that you think like a marketer.
First, segment your database. Keep your email outreach tailored, personal, and specific. The more targeted the email, the more likely your talent pool is to engage with it.
Second, test, test, test! Marketers love running A/B tests and analyzing their metrics, and recruiters should do the same. Test your emails and other candidate communications to see what works (and what doesn't) and keep improving your strategy.
Finally, think beyond the job posting, and embrace storytelling. When you send out a newly open role, tell a story about why a job is open, and make a compelling case to encourage someone else to want to fill that role. This realm of your candidate experience (along with other points in the journey) would be a great place to include short (think, 40 seconds, maximum) videos that help to tell that story.
5. Activate your employer brand
Employer brand, at times, has a reputation for being a "soft" metric. It doesn't tie directly back into your pipeline, like click-to-apply rates, and as a result is often placed on the backburner of priorities.
But the influence your employer brand can have on your candidate experience, and your bottom line, is compelling. What people see and read about your brand can influence a job seeker's likelihood of clicking on your job ad and ultimately submitting their application.
Research shows that 72% of candidates share their recruitment experiences online (CareerArc, 2017). If you offer a negative candidate experience, you're sending candidates back out into the social media world to share their feelings with their personal and professional networks.
At Appcast, we've found a positive correlation between a higher Glassdoor rating and click-to-apply rates. A higher click-to-apply rate leads to more applicants, which then gives you a better ROI on your job advertising spend.
Be proactive in your employer branding, respond to reviews (both good and bad) on sites like Glassdoor, and cultivate an internet presence that draws job seekers to you.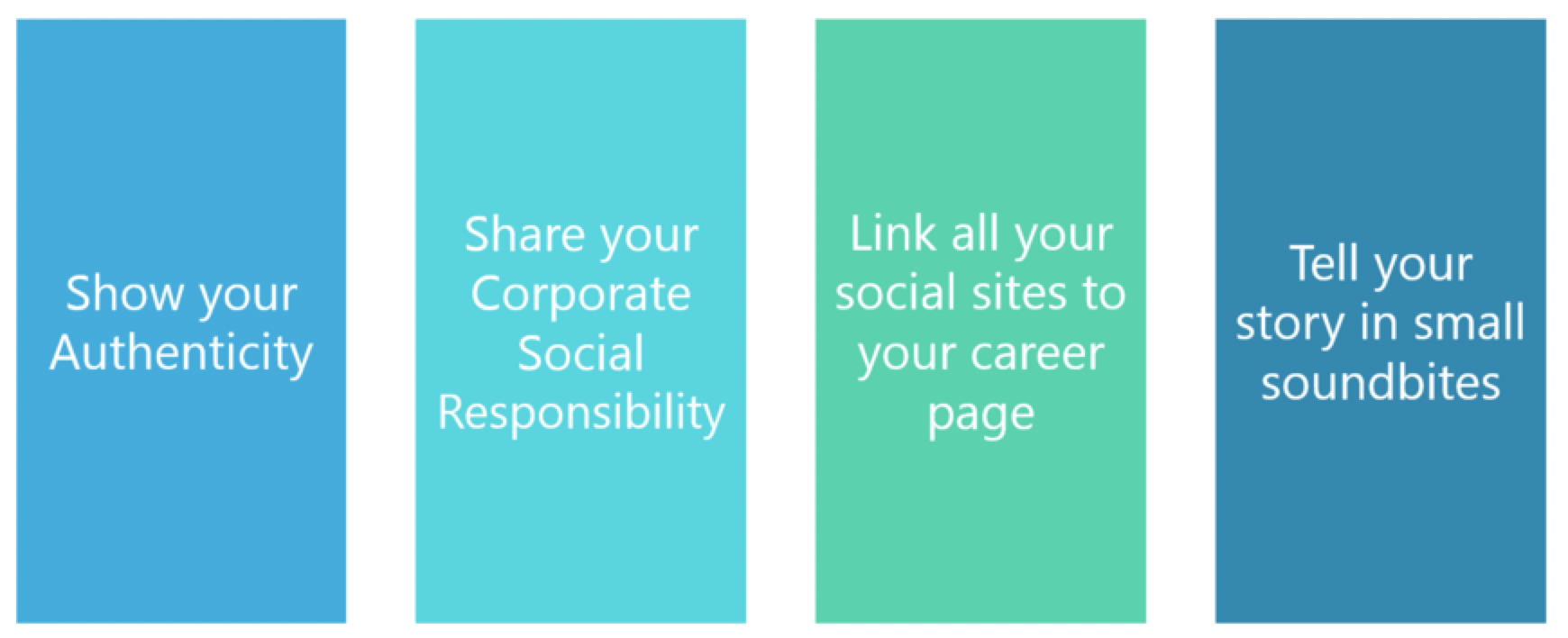 Why is the Candidate Experience so Important?

Competition for talent is tough, and it's only getting tougher.
As unemployment rates continue to decline, more and more companies begin competing for the same quality talent – talent that has options, and the ability to be more selective about which companies they apply to, interview for, and accept offers from.
This points to a need for companies to ramp up their recruitment efforts, optimize their advertising, and streamline the candidate experience.
But, according to research from Phenom People, companies waste up to $100 billion each year on inefficient recruitment practices.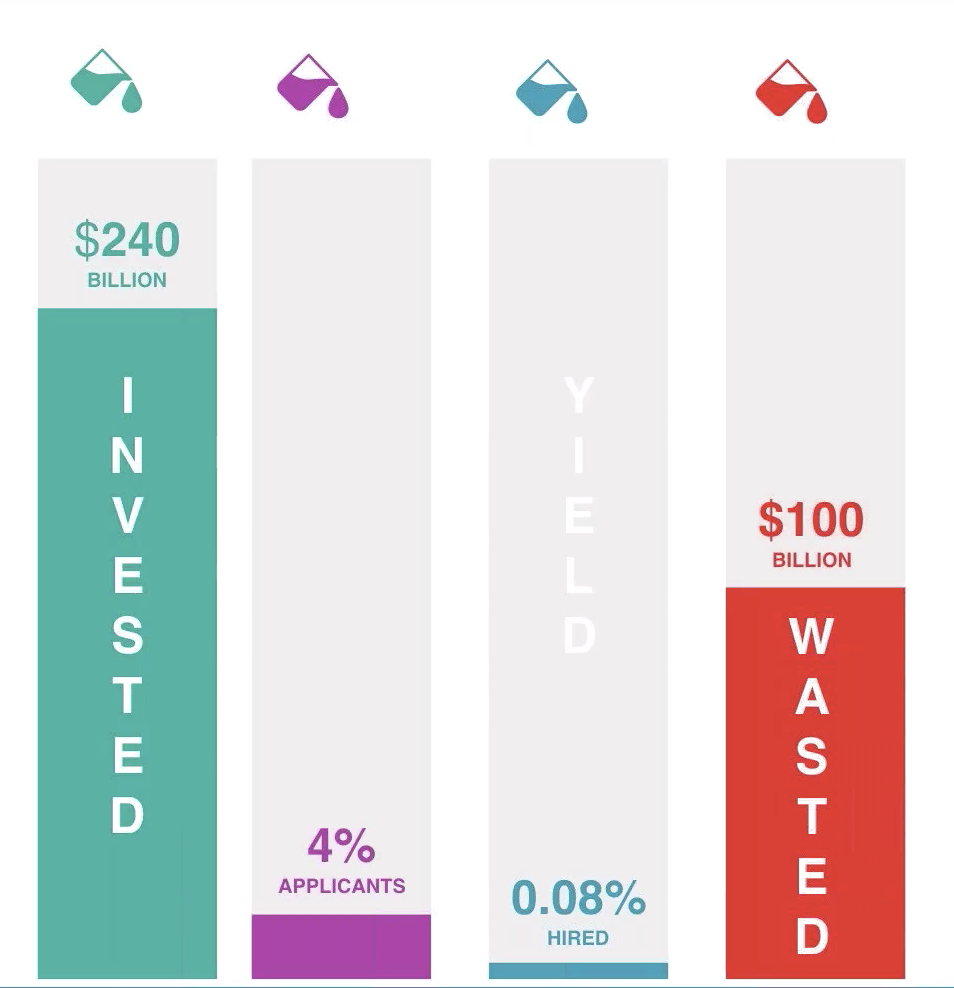 So, what's the disconnect?
Modern job seekers are much more like modern shoppers when it comes to finding a new role. They want the experience of finding, and applying to, a new job to be as easy as buying something on Amazon.
For most job seekers, however, that's rarely the case.
In fact, findings from Aptitude Research show that in 2017 and 2018, over 60% of companies stated that improving the candidate experience was a top priority. However, only 1 in 5 companies have a dedicated role for the candidate experience.
The inconvenient truth, however, is that the candidate experience impacts every other hiring priority, from meeting hiring manager expectations to competing for talent across industries, at some level. So prioritizing, and investing in, your candidate experience becomes a 'tide to raise all boats', so to speak.
By not adapting to changing job seeker behaviors, you put your organization at a disadvantage. When talent can be selective, creating a remarkable candidate experience is a major way that companies can influence their click-to-apply, and ultimately, their hiring rates.
Learn more about how you can create a remarkable candidate experience in our webinar with Phenom People, Challenging the Status Quo of the Candidate Experience.