Have you ever wondered what was going on inside the mind of job seekers – what made them land on your job ad, upload their resume…and then choose not to submit their application?
It's a common frustration for many recruitment marketers, and can leave you wracking your brain trying to understand what makes job seekers tick.
In our latest webinar, Talent Attraction & Engagement: Inside the Mind of Today's Job Seeker, we took a deep dive into the mind and motivations of today's candidates.
Co-hosted by Ashley Whillans, Assistant Professor of Business Administration at Harvard Business School, and Allan Schweyer, founder of TMLU, we discussed the following key takeaways:
Focus on promoting benefits in your job ads

– money is important but so is the value of time.
Research shows that a job seeker is more likely to apply for a job that pays a little bit less, but offers them an added week of vacation time. Use your job ads to showcase what you can offer a potential new candidate in terms of salary, but also in perks like paid time off.
Monetize non-cash benefits

to reframe the value equation for prospective job seekers.
When you monetize your non-cash benefits, you showcase the value of those benefits in a more tangible way. If you offer employees complimentary gym memberships or commuter passes, include how much those benefits would cost out-of-pocket directly in your job ad.
As we can see in the example below, monetizing benefits levels the playing field, so to speak. Showing the monetary value of the benefits you offer can have a direct impact on a job seeker's likelihood of applying for your open role when compared to a similar job that offers the same salary, but doesn't showcase the monetary value of their benefits.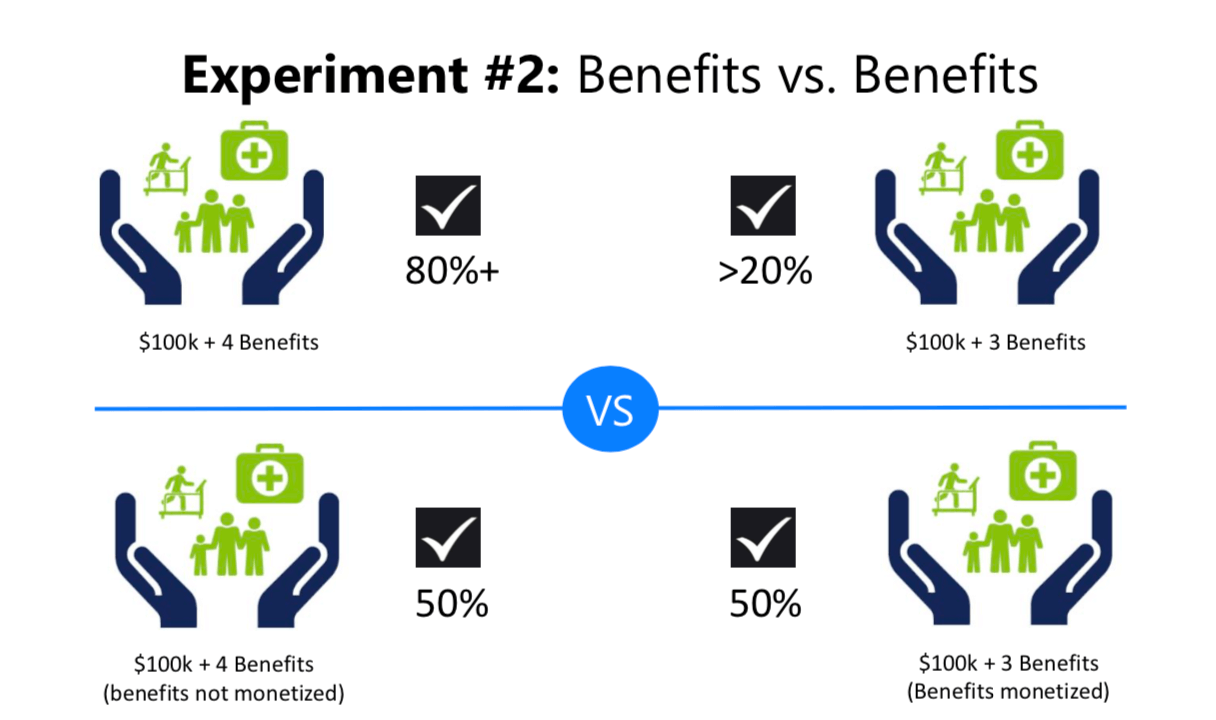 Demonstrate that you value and appreciate your employees

– attract better talent with a message that shows that your organization will put them first.
Certain benefits resonate with job seekers in more emotional ways. Offering time off, family leave, and other time-saving benefits results in an employer company being perceived as full of caring, empathetic, and better people.
Gain best practices for optimizing your job ads to attract better talent in our on-demand webinar, Talent Attraction & Engagement: Inside the Mind of Today's Job Seeker.
Do you know what job seekers are really looking for?