I think all Appcastians have many reasons for why we love working here. Our recent award win for Inc. Magazine Best Places to Work in 2022 is an indicator of that. I myself have been at Appcast for nearly three years and have had the tremendous opportunity to meet new people and see this incredible company continue to grow. I'd love to share a few reasons as to why I believe Appcast is a great place to work!
Since Appcast began in 2014, we have shaped into a successful organization both in terms of our talent acquisition solutions and service, plus finding our stride in what makes an ideal workplace full of happy, healthy employees. To get a better understanding of where we're coming from, let's break it down to three different factors: culture, values, and people.
Appcast Puts Culture First
Appcast recognizes that success is not only defined by the great results that we deliver for clients. It's also critically important to establish a place where employees feel empowered, valued and part of our success. To unite a group of people with varied backgrounds and interests, our CEO and senior management executives are dedicated to creating a culture and environment where every team member feels engaged and supported, where they have opportunities to learn and grow, and where their contributions and successes are shared within the communities where we live and work.
Our CEO and Founder Chris Forman sets a great example of what it means to put culture first. For instance, at our annual end of year meeting, the metrics that he is most proud to share are: number of first homes purchased by employees (in 2021 that number was 15), babies and grandbabies born (7), Appcastians married or engaged (18) and those who recently graduated (14). I can't wait to hear what the new metrics will be later this year!
Another great example of how "culture-first" is embodied at every level of the organization: In October of 2021, three recent Appcast hires had been devastated to hear that their university graduation ceremony was canceled at the last minute due to a surge in COVID -19 cases. Their team leader and fellow office-mates sprang to action and hosted an Appcast-style graduation – live in the office, complete with caps and gowns, diplomas, toast, and champagne. Talk about a supportive environment!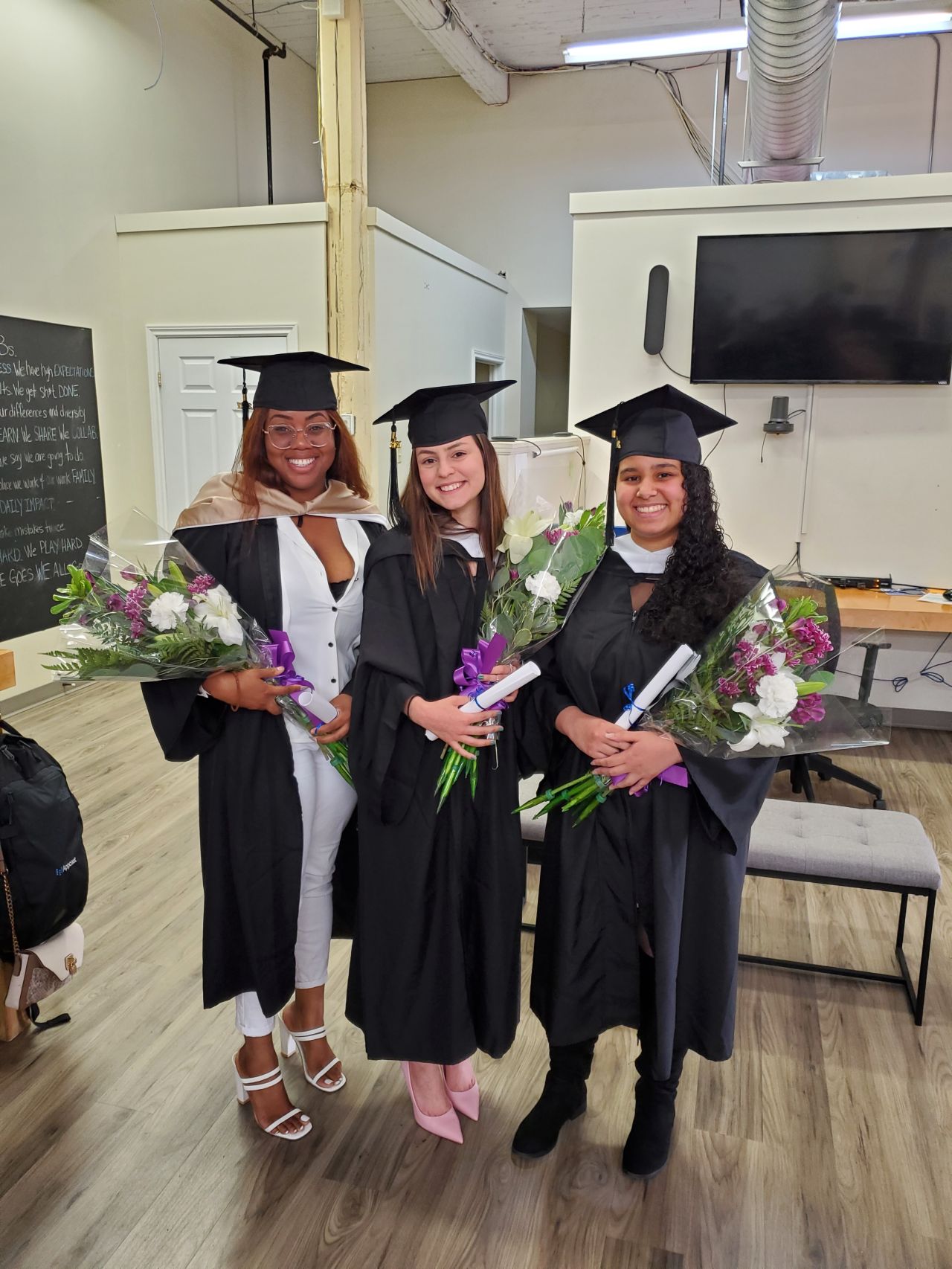 Appcast employees feel valued and that they matter. They feel motivated and inspired to work together to exceed expectations every day.
Appcast's Values are Deeply Embedded across the Organization
One of the key management ideas that sustains Appcast's culture is that we define what our values mean and what they don't. For example, "Work Hard" means putting the most effort into everything you do; it doesn't mean risking your physical, mental or emotional health. "Be Kind" means respecting one another and being empathetic; it doesn't mean accepting subpar behavior or work product. "Speak Up" means saying something when you see something is wrong; it doesn't mean providing unconstructive criticism or being rude.
In addition, Appcast's values prioritize sharing our success internally and externally. Our company value of "Do Good" guides us to give back to our communities, and we donate significant time and money to organizations in the communities where our employees live and work.
An example of this has been our Community Service initiatives. All our offices are encouraged to seek out and assist various communities in need. These vary from participating in fundraisers, dedicating some time to help out on a Saturday afternoon, or getting a team together to help with bigger projects. I have learned about so many different organizations and causes from employees sharing their experiences and what they have been working on. It's truly amazing to see how passionate everyone is and the difference they have helped make.
People Make Appcast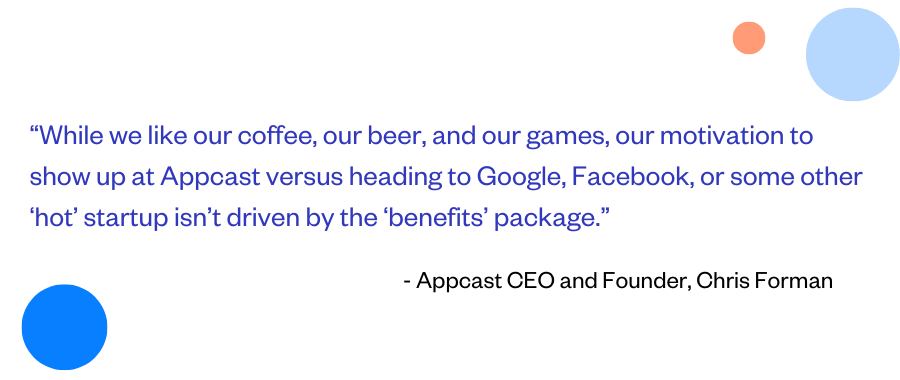 This statement outlines the underlying tenets behind our culture. Appcast employees are motivated by three things: we do work that matters, we are a 'family' that takes care of over 300 households, and we share our successes with those less fortunate – and we will continue pursuit of those endeavors well into our future as an organization.
At the end of the day, we are a group of fantastic individuals from all over the world who genuinely want to see others around them succeed, and are willing to give a helping hand when needed. So, when someone asks me what makes Appcast such a great place to work? My response is always the same "The people… and their dogs that come visit" 🙂