The US labor market continues to be very strong, despite the war in Eastern Europe and elevated inflation. In March, the first report fully after the Omicron surge, the economy added 431,000 jobs and the unemployment rate declined to 3.6%, as more people returned to the labor force. Encouragingly, labor force participation is rising in response to strong employer demand – worker participation is on track to rebound completely from the recession.
COVID "job deficit" narrowing quickly
In addition to the stellar March numbers, the February figure was revised upward to 750,000 jobs. Job growth is strong and steady – the Q1 2022 average payroll gain of 562,000 matched the average for all of 2021. The job deficit compared to pre-pandemic times has shrunk dramatically over the last year, down to 1.6 million. 93% of all jobs lost during the COVID recession have been recovered, and the labor market recovery should be complete by the summer.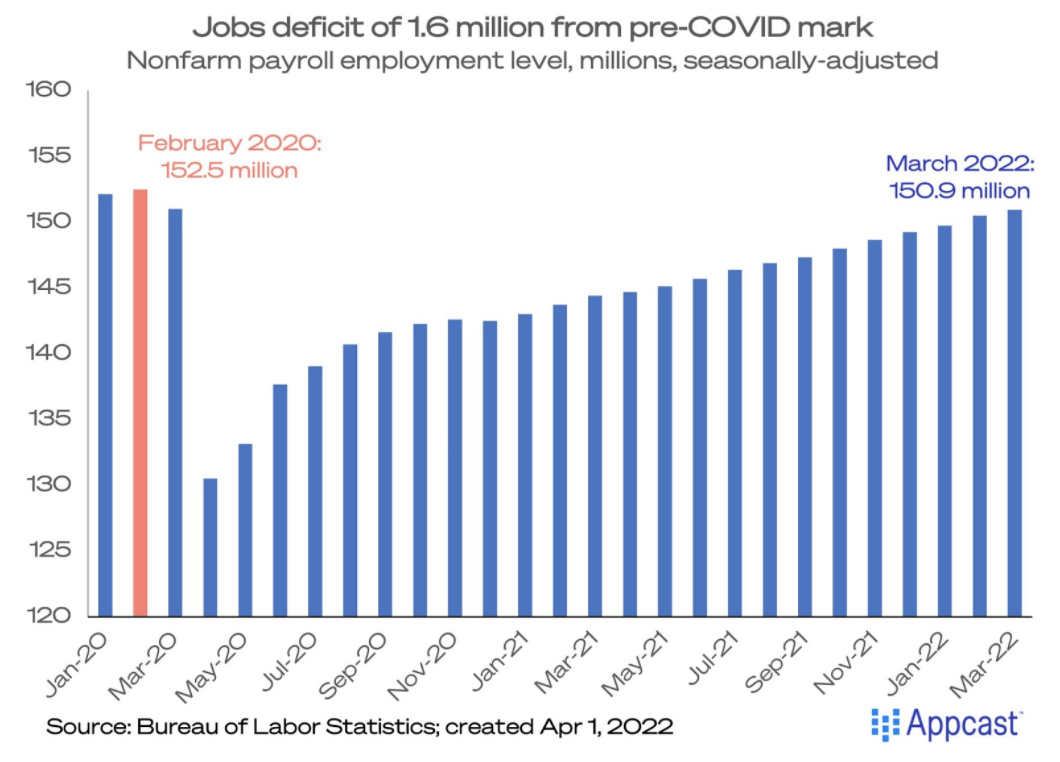 Transportation and warehousing jobs decline
Transportation and warehousing jobs, which had been a steady source of growth for the past two years, actually declined by 500 jobs in March – a sign that the boom in ecommerce activity may be normalizing. This is the first monthly decline since the pandemic.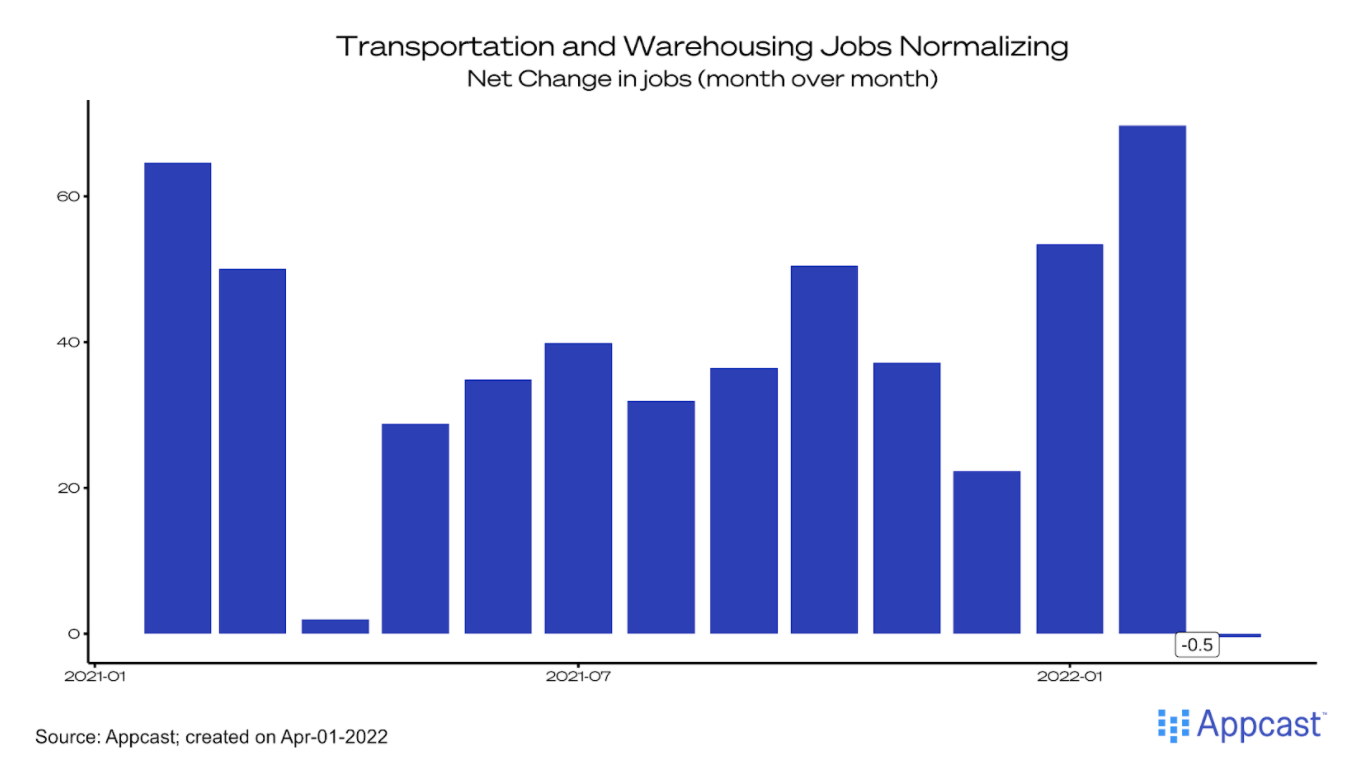 Otherwise, the industry-level changes in job growth reflect a transition toward services, a slight course correction from the pandemic-era economy. As COVID cases have plummeted from the highs during the Omicron surge in January, leisure and hospitality jobs grew by 112,000 and retail jobs grew by 49,000.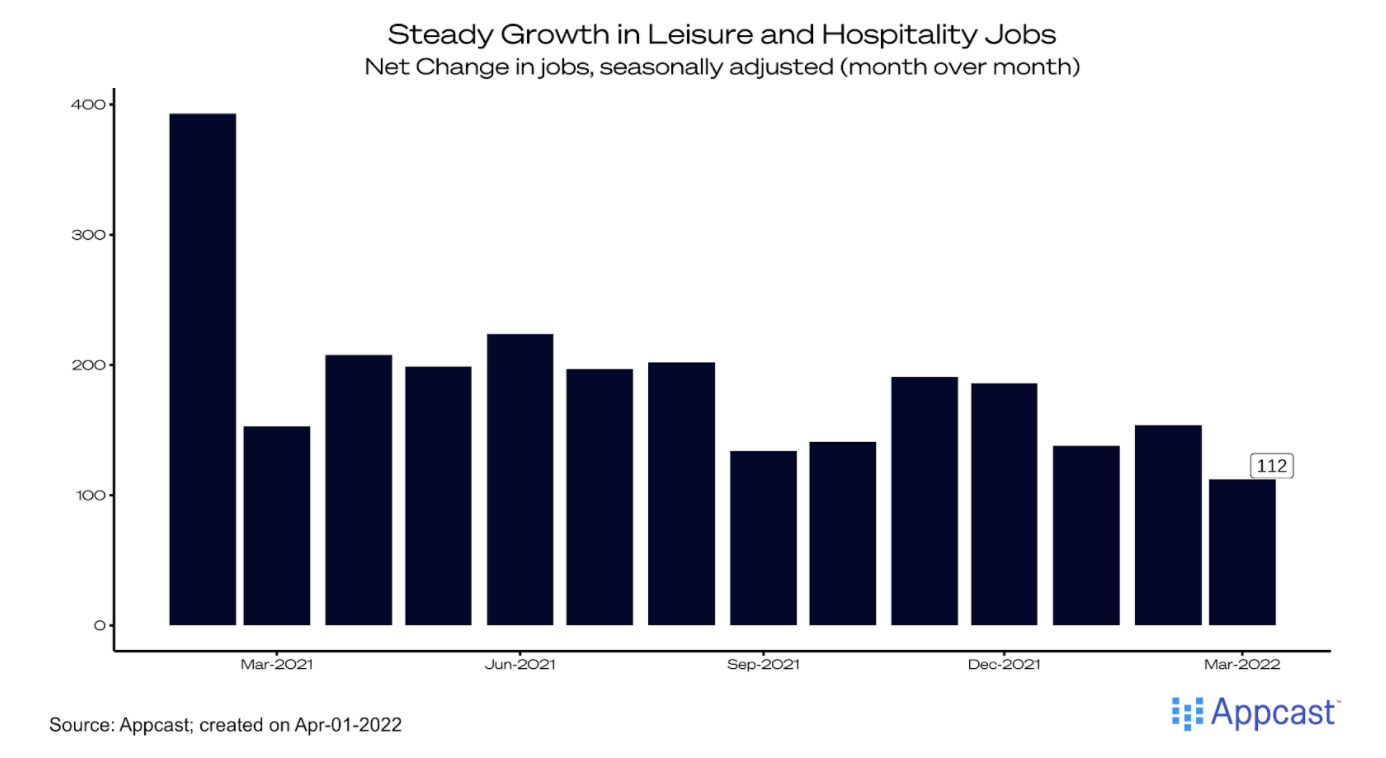 Labor force rebounded is on track
The unemployment rate fell to 3.6%, as labor force participation rose. The total U.S. labor force expanded by 418,000 in March, perhaps indicating that would-be job seekers are responding to the intense employer demand and rising wages (in addition to declining COVID risk). The labor force participation rate ticked up to 62.4%, and the employment-to-population ratio rose to 60.1%. Bottom line: Would-be jobseekers are returning to the labor force!
The best metric for the goal of "full employment" – the prime-age employment-to-population ratio – finally hit 80%, and is on track for a full recovery to the level of 80.5% seen before the pandemic. That said, there remain some people on the sidelines: the number who say they want a job but aren't actively looking rose slightly to 5.7 million, but that is up from 5.0 million before the pandemic.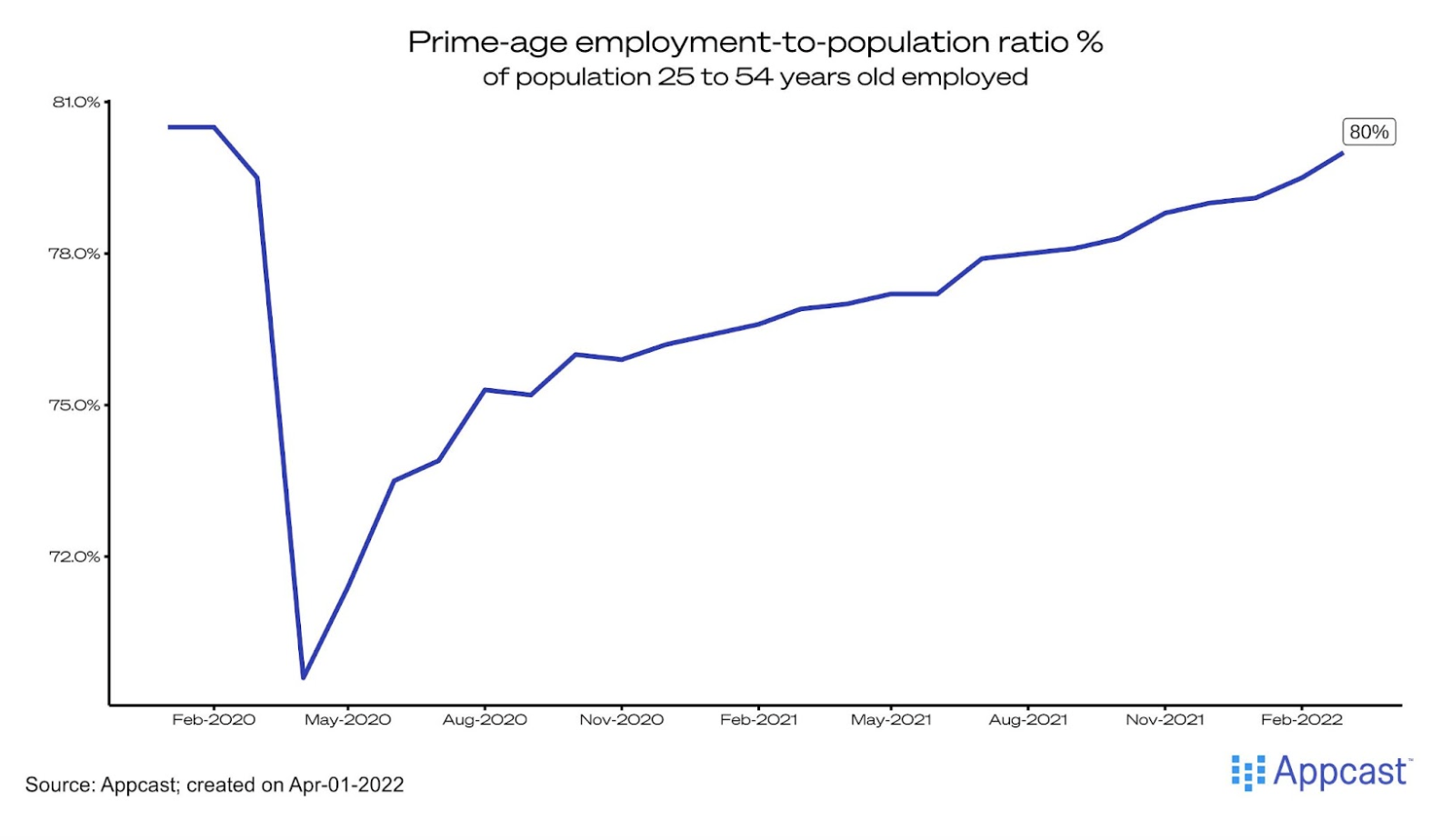 Nominal wage growth remains elevated
Wage growth continues to remain elevated. Average hourly earnings for all workers rose to 5.6% year-over-year. Average hourly earnings for rank-and-file workers – production and nonsupervisory employees – were up 6.7% year-over-year. From February 2020, nominal wages are 12.6% higher for rank-and-file employees, and up 11.1% for all workers. But as we all know, these are nominal gains – or not adjusted for inflation – and consumer price inflation is at a 40-year high.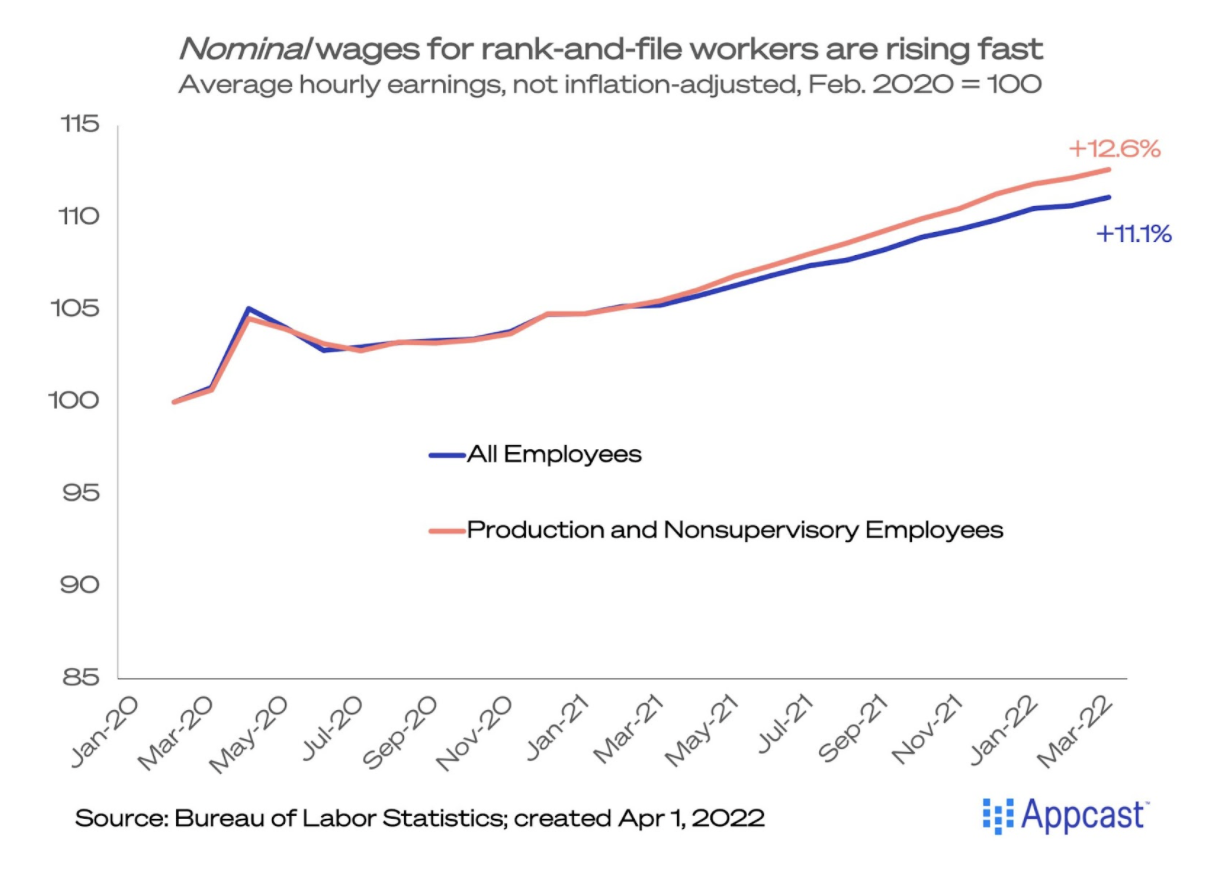 What does this mean for recruiters? 
Recruiting continues to be challenging in this ultra-tight labor market, with near record-high job vacancies. Workers have leverage and are exercising it – quit rates are elevated and job switchers are getting strong raises. As for the good news, the rebound in labor force participation is a good indicator that more would-be job seekers could return to the labor force, easing labor shortages, but it will take some time. Another concern is that the war in Eastern Europe, which has spiked energy and commodity prices, could raise inflation and complicate wage negotiations between employers and job seekers. So far there is no sign of a pull back on hiring plans due to the war and inflation.
Bottom line: People who want a job are getting them, and employers can be encouraged by seeing more people want jobs. This is a solid jobs report, and reflects hiring demand in the U.S. during a period when the Russia-Ukraine war was ongoing. Despite a spike in energy and commodity prices, the U.S. job market is rip-roaring.