In today's competitive landscape, recruitment professionals are faced with the major challenge of reaching the essential talent they need to drive their organization forward.
As recruiters continue to allocate more of their budgets toward job advertising, understanding the performance of job ads becomes increasingly important to drive better ROI.
Having a clear strategy for job advertising means you have a 'game plan' to address what, where, and how you will attract new candidates to your organization. Additionally, it provides a framework for agility and being able to iterate on the strategy as your hiring needs evolve, or as the market shifts, or technology changes.
To build a solid strategy, one which can be measured for performance across all your open roles, you need to use data. Identifying the benchmarks you will use to measure the success of your strategy is key to decision-making, forecasting, and understanding the ROI of your job advertising, as a channel within your broader recruitment marketing strategy.
Read on as we share three tips to drive better performance from your job ads based on industry-leading benchmarks from the 2023 version of our annual Recruitment Marketing Benchmark Report (now in its seventh year!).
Where am I hiring?
Understanding the hiring conditions in the places you are hiring is paramount to ensuring you receive candidates from your job advertising. Getting a clear picture of the hiring landscape means you can then tweak your ads for better results. That could include implementing title or location expansions (Appcast can help you with this!), altering your job ad content, or potentially bidding higher for locations where competition is high (which lately, seems like everywhere!).
Below we look at average apply rates across the United States. With this map, you can get an idea of the level of recruitment difficulty and cost in the states you're hiring. Keep in mind, though, that within those states, there will be nuances as well. As an example, recruiting in northern California would be less competitive than in southern California, so you could expect higher apply rates in some northern areas. Testing what works for you, your budget, and your jobs is the best way to ensure you get the results you need. How do your apply rates stack up in the states where you are currently hiring?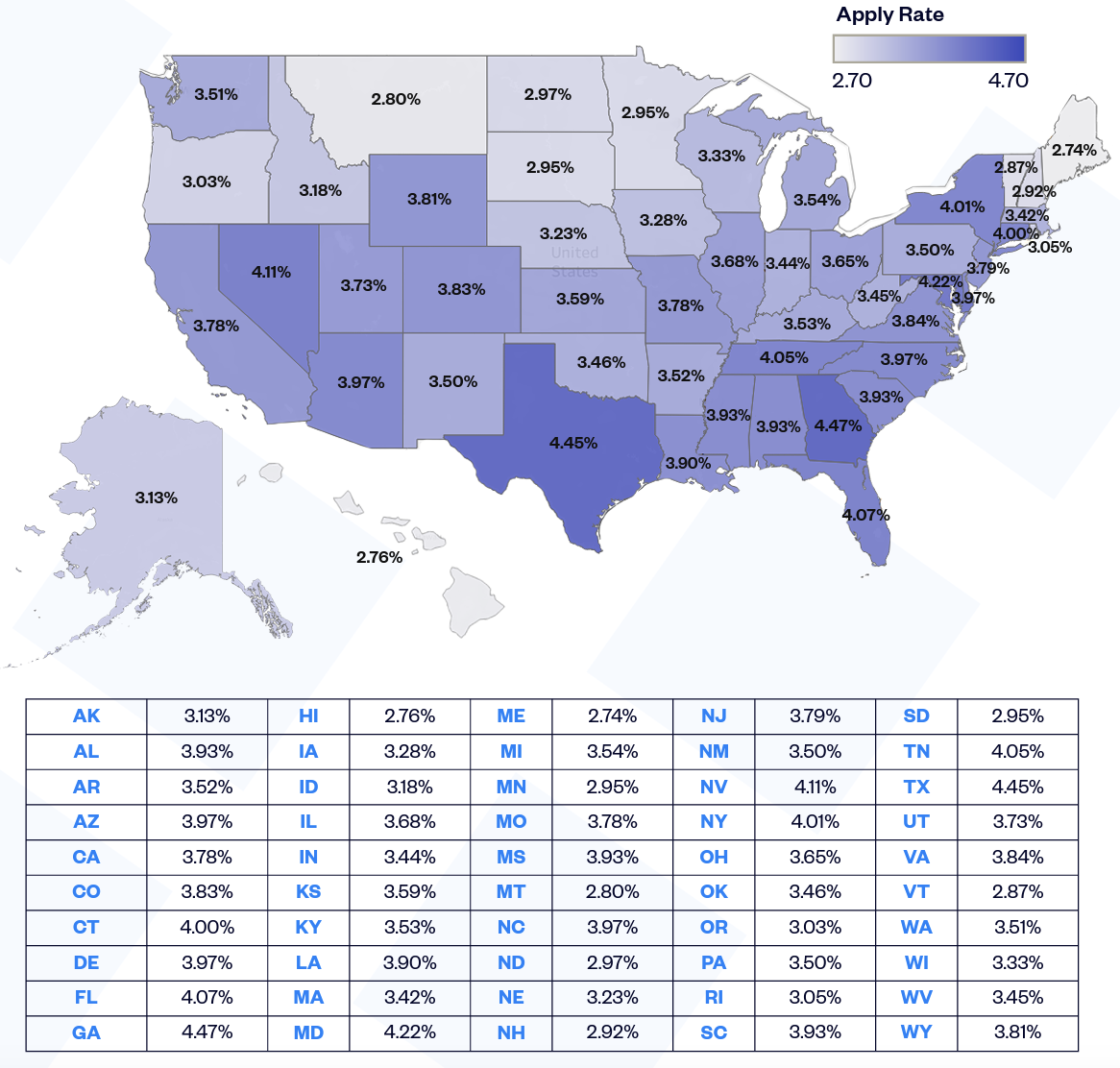 Want to look at median CPAs across the US? Download the full 2023 Appcast Recruitment Marketing Benchmark Report!
What industry am I in?
Similar to where you are hiring, you should have an understanding of how your target audience behaves. If the benchmark for apply rates is relatively high, maybe you don't need to spend so much to acquire candidates for a given role. Or, if you need a consistent pipeline, knowing your apply rate will allow you to forecast how many applicants you might expect to receive for a given role.
In the chart below, we break down the average apply rate (and the percentage change in the apply rate since the previous year) for several major industries — this is based on an analysis of over 255 million clicks and 12 million applies that we conducted for our 2023 Benchmark Report.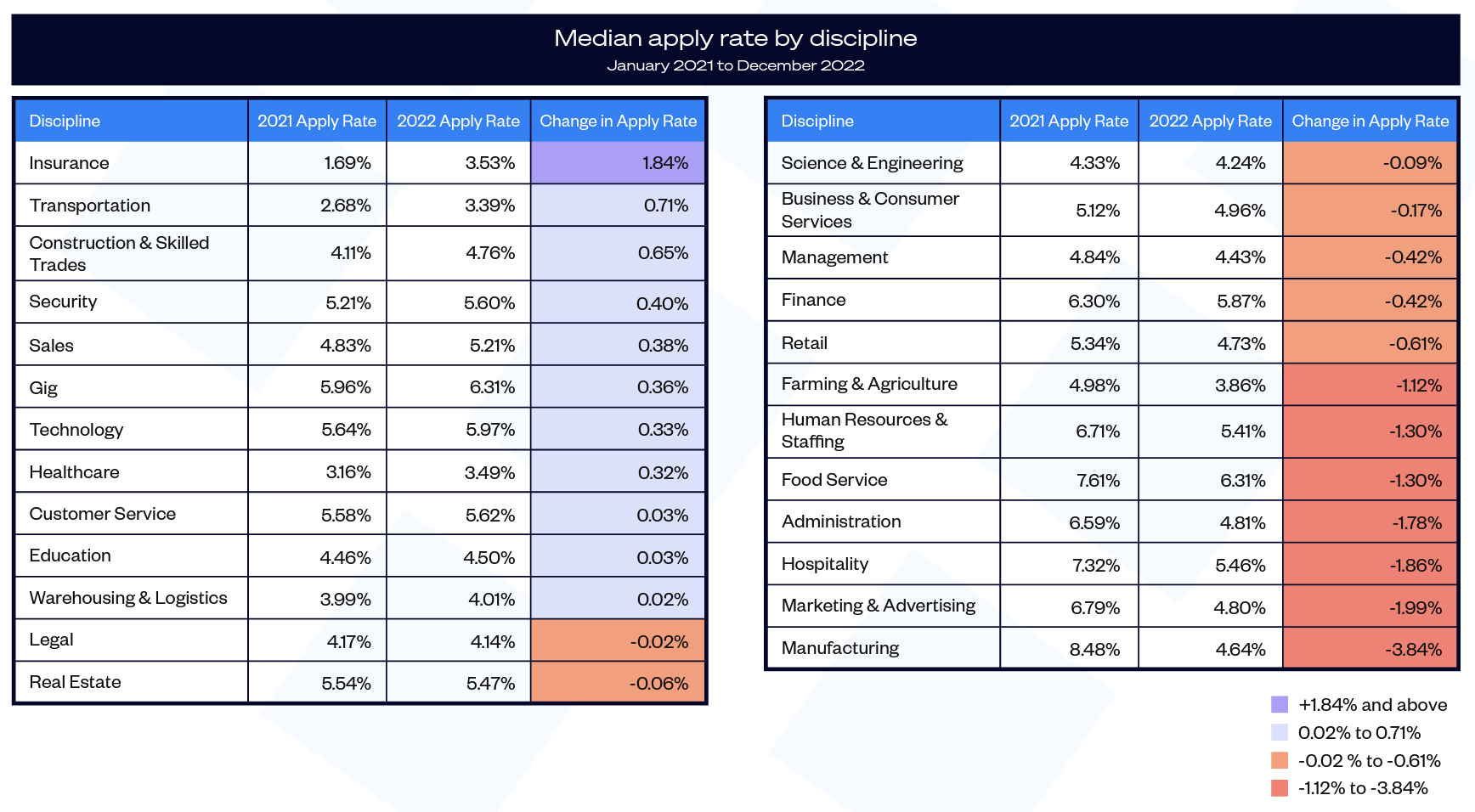 How much should I spend?
Spoiler alert: there is no single right answer. As you may have noticed, it's helpful to have a multi-faceted approach to determining the right conditions to get the candidates you need. This will help you to understand if I need X applications to make one hire in X industry, then how much must I spend to post that job, given the average apply rate and the market conditions that exist?' 
Below we show cost-per-apply ranges across many major industries. The low median (25%) is shown in the bottom point on each bar; the top point indicates the high median CPA (75%). Do you fall within the range?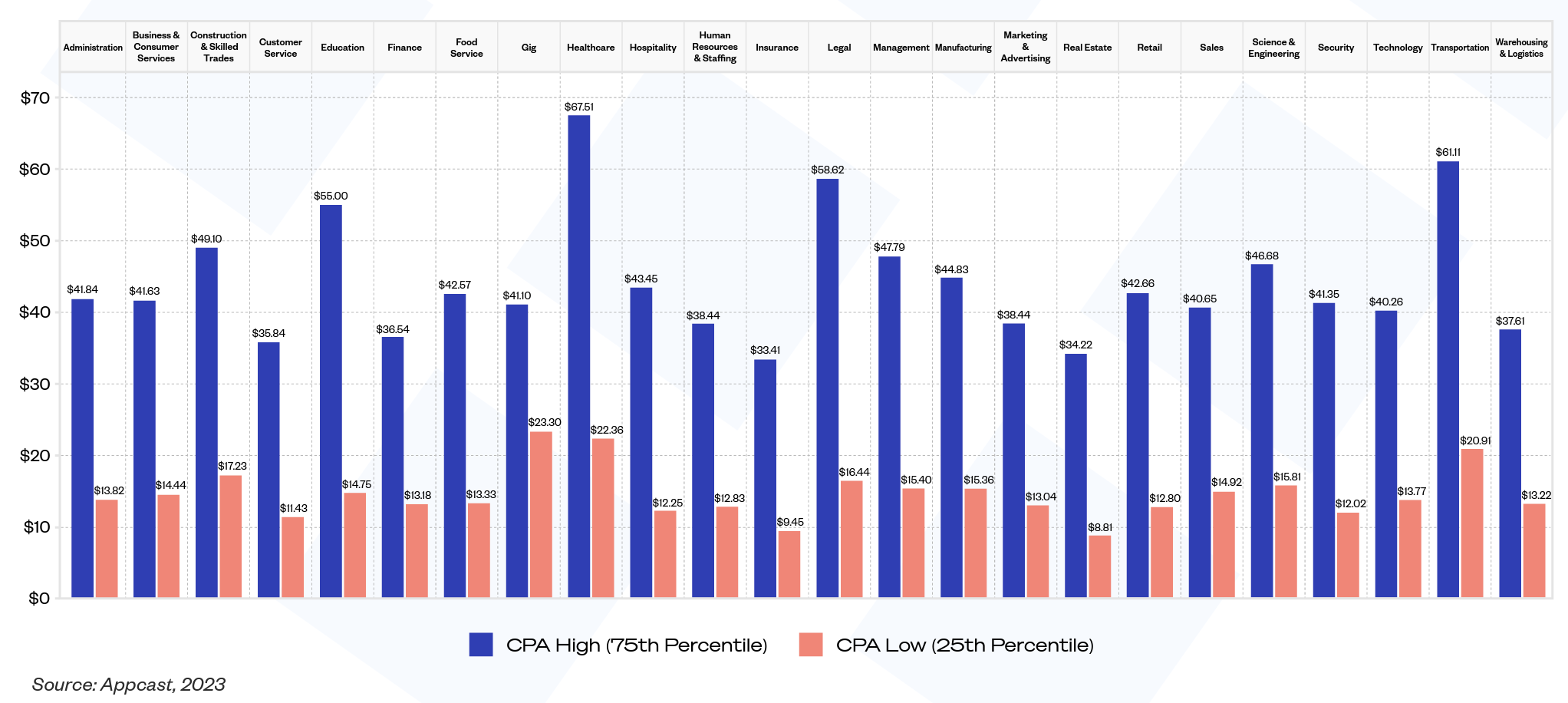 This is just the beginning
Benchmarking your performance is a great way to build a solid foundation for your job advertising strategy. At the end of the day, though, it's a science and you must continue to test your strategy for various jobs, various locations, and other variables. It is your strategy, your jobs, your hiring locations, your budget — use these tips to get you started and then continue to tweak your strategy to posting jobs, to achieve your goals and grow your organization.
Want to see more Recruitment Marketing Benchmarks? Download the full 2023 report!