At Appcast we always talk about being data-driven in your recruitment decisions. And when I say always, I mean obsessively. However, we don't just talk about it, we are always looking to our data to pull out insights that are helpful and actionable for recruiting and talent acquisition professionals.
Take for instance our annual Recruitment Marketing Benchmark Report (heads up, our 5th edition is being released later this month!) – it's loaded to the brim with data on how best to reach candidates depending on what type of jobs you're hiring for, when you're posting them, in what location (and more!) the job is located, and also how much you may need to pay to compete for talent in those areas.
But – what good is data if you have no solid mechanism for tracking and measurement? And – even before that – what if you don't have easy access to the data you need to drive your decisions in a timely and effective manner? More on that later.
Why do you need to be funnel fluent?
The apex of all data-driven recruitment is rooted in the recruiting funnel because it provides a framework for measuring, understanding, and improving the performance of your recruitment strategy. There are many versions of the funnel, and many organizations will have their own flavor of it, but in essence it is built to chronicle the candidate journey from job seeker to hired employee. It looks something like this: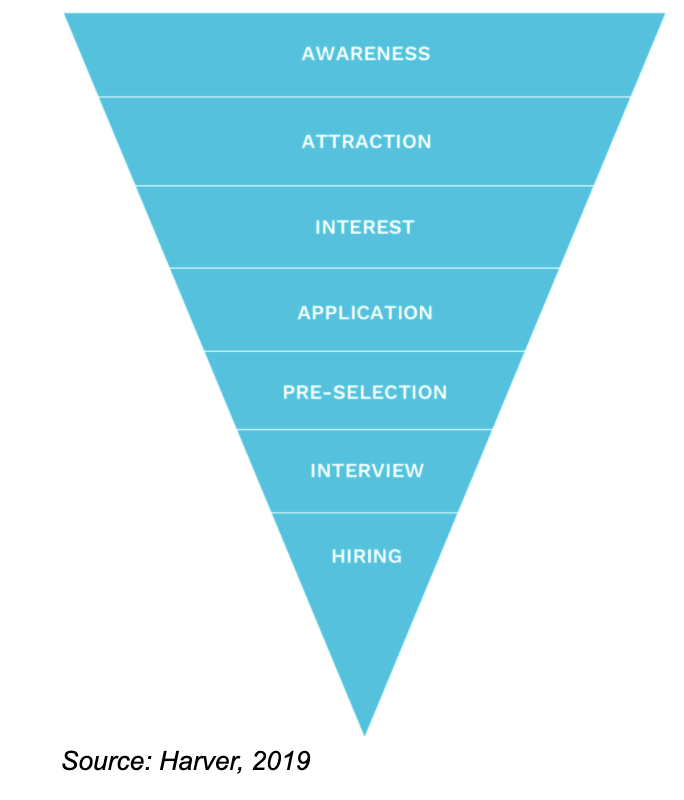 Just like every sales and marketing department, recruitment and talent acquisition professionals will often align their recruiting tactics to different stages of the funnel (i.e., job advertising, referrals, chatbots, and text, etc.). There are so many tools and tactics available now for finding, engaging, and attracting candidates, so once you decide on which ones you will employ, how do you know if they're working?
The recruiting funnel offers insight into internal factors (like strategy and tactics) and also to external factors. It gives us a way to dig into the math behind recruitment performance so you can get answers to questions like:
Why aren't we getting the candidates we need for our customer service roles?
If we need to fill 50 account management positions, how much budget do we need? What if those roles are all in San Francisco? What if they're in Boise?
What impact has the changing economy had on our ability to get candidates in the last 3 months?
And so on, and so forth…
Building a funnel will help you to establish a baseline and to benchmark the performance of your recruitment strategy and tactics, while managing the impacts of the environment you are recruiting within. And remember, you should have a funnel for different types of roles and different hiring locations (and potentially other variables). Why? Because not all jobs are created equal – what works for one job or location, may not work for another.
How do you start being funnel fluent?
The first step to building your funnel is making sure everyone is on the same page in terms of the funnel infrastructure, if you will.
What key events will you track in your funnel and, more importantly, how do you define those events? What do you mean by the term "qualified candidate" – is it anyone who applies? Or is it all those who have completed a background check? Be crystal clear on every event that you track so that when it comes to reporting on metrics and performance, it is meaningful and understood to everyone who's at the proverbial decision table.
Two important points to remember about tracking events:
They lack insight without context. Any event can be represented as a simple tally but that number will tell you nothing unless it's contextualized by another data point – maybe it's last month tally of the same event, maybe it's the relation to the event that occurs after it in the funnel (for example, a conversion rate or ratio).
The event must be easily and consistently measurable. Being data-driven means you look at your data frequently to monitor and improve performance, and if data is hard to obtain or manipulate for a given event then it becomes less helpful. Not sure where to start on data inventory? Start with your ATS (or other system of record).
Once you have an agreed upon event tracking framework, then it's time to look at which metrics you should measure. To dig further into the foundations of your funnel and learn more about the power of key recruiting metrics, download our whitepaper: Recruitment Metrics 101.