This would be the logical assumption, based on the current – what shall we call it, how about – "situation." Unless you've been pulling a Rip Van Winkle, you know the situation: The United States continues to grapple with reopening for business, while a number of populous states experience record coronavirus outbreaks.
So, where do things stand as far as recruiting and hiring this fall?
During our July 16 webinar, Fall Hiring: Three Scenarios to Plan for Now, Leah Daniels, SVP of Strategy at Appcast, explored this very topic. Here are some takeaways from the webinar.
Among the possible scenarios to prepare for:
11-13% widespread unemployment
More engagement on the part out-of-work candidates, because the CARES Act has expired
Lots of applications employers don't need
Less engagement on the part of employed candidates, because the combination of pandemic / recession is not conducive to changing jobs
Let's break this information down.
Why will unemployment remain high?
The pandemic and subsequent business shutdown has led to a recession. A number of economists say the economy was headed in that direction anyway, but the pandemic certainly accelerated the "situation."
Many large companies have already filed for bankruptcy. The list of retailers includes J.C. Penney, Neiman Marcus, J.Crew, Brooks Brothers, and GNC, among others. And retail is not the only industry impacted. Other companies include car rental giant Hertz, CMX Cinemas, and Gold's Gym.
Numerous small and midsize businesses, forced to temporarily close or significantly modify operations, have been impacted as well. Many will not survive.
At the same time, businesses of all sizes across many industries have been forced to scale back. Some aren't recalling furloughed workers, while others have announced layoffs.
This all suggests the unemployment rate will remain high.
When will unemployed workers start looking for jobs?
The answer is soon. Most likely.
The Coronavirus Aid, Relief, and Economic Security (CARES) Act, a $2 trillion economic relief package, provided a $600 weekly stipend, in addition to standard unemployment benefits, to people who lost their jobs or were temporarily unemployed due to the pandemic. This has resulted in many people making more collecting unemployment benefits than they earned at their jobs.
It has also created a difficult situation for employers. According to a poll conducted on July 10, by digital news and information publisher SmartBrief, a significant number of employees have chosen not to return to work.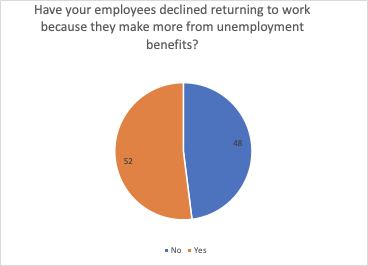 Source: SmartBrief
All that is set to change on July 31, when the CARES Act $600 weekly unemployment stipend ends. Unless it gets reauthorized.
Or new legislation is enacted. The Health and Economic Recovery Omnibus Emergency Solutions (HEROES) Act, which includes additional unemployment compensation, has been approved by the House. The Senate has not yet debated the bill.
Meanwhile, the traditional requirement for collecting unemployment benefits, that a person must be actively seeking employment, which was suspended during the early months of the pandemic, is set to once again become a requirement in most states.
The combination of these two factors should lead to more candidate engagement, and many more applications – including those employers don't want or need.
Will people who have jobs look for new jobs?
Traditionally, fewer people who have jobs change jobs in a recession. Add a pandemic to the mix, and it's safe to assume more people will stay put. As a result, there will be less engagement on the part of employed candidates, and hard-to-fill roles will remain hard to fill.
This said, there are always exceptions. For example, there have been reports that people who live in densely populated areas, such as large cities that have been greatly impacted by coronavirus, are actively looking to relocate. Presumably, some of these people would be interested in new jobs. Whether this becomes a trend remains to be seen.
Meanwhile, the Appcast July 16 webinar offers insight into possible scenarios to help you prepare for fall 2020. Download the webinar recording here.
You may also enjoy: