A recent survey of human resources executives, conducted by global outplacement firm Challenger, Gray & Christmas, finds that companies are developing, implementing, and clarifying plans to bring employees back in-person.
But those plans are anything but uniform.
Safety precautions
This chart, which lists various safety precautions, provides insight into steps companies are taking.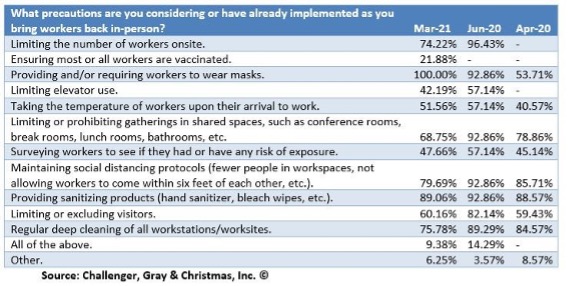 Findings are based on a survey of 201 human resources executives at companies of various sizes and industries nationwide.
Although the survey focuses on bringing employees back, findings have implications for recruiting and hiring. Many of these safety precautions are of interest to candidates as well.
Earlier in the pandemic, Appcast Research found that employers – particularly employers in certain industries – often included safety protocol information in job ads.
Going forward, especially for the near-term, this information will continue to resonate with job seekers.
Remote work
Needless to say, remote work also became more common this past year.
Going forward, employers may find that roles with in-person requirements are harder to fill, particularly in those industries/functions where remote has become the norm.
Nevertheless, many companies are pressing onward with the great return as their goal.
These charts provide insight into company plans.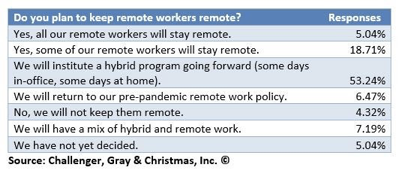 Remote workers are defined as employees who have been working remotely because of the pandemic.
From here to there
When planning for post-pandemic, companies should keep in mind that the clock cannot be turned back. Work and life have changed.
Many employees who have been working remotely for the past year have strong opinions about the arrangement.
What does this mean for recruiting and hiring? For starters, some of those employees, if forced to give up their current work arrangement, may look for new jobs that offer remote work options. At the same time, whether your company can attract new talent may depend on your workplace flexibility.
For a deeper dive into remote work, check out the whitepaper Appcast Futurecast: Recruiting and Hiring Workers for Remote Jobs. It should prove helpful as your company plans for and transitions to a post-pandemic workplace, virtual or otherwise.