Ah, September. A time to welcome back cool, crisp air, muted autumnal hues, and of course leadership development.
That's right – leadership development. September brings about another cohort of a biannual opportunity that Appcast provides to emerging leaders to drive deeper people management skills and leadership effectiveness. Among the many opportunities for professional development and skill building at Appcast, the Step Up and Lead program is our most unique.
What is Step Up and Lead?
Step Up and Lead (SUL) is a leadership development program developed and driven by our parent company, StepStone. The goal of the program is to build a solid foundation for leadership among participants. While it has taken on a variety of formats within the StepStone Group, for Appcast it has been a week-long intensive program where participants attend in-person learning sessions at StepStone HQ in Dusseldorf, Germany.
The experience is incredibly multi-faceted because:
You get to share in it with other Appcastians, many of whom you may not work with on a regular basis, which allows you to strengthen bonds, gain perspective from other teams and functions, and establish a network of leadership peers.
The sessions are extremely varied – you do everything from role playing, to classic instructor-led sessions, to gamified simulations, to friendly debates, and perhaps even teaching the class yourself. There's group work, solo work, pair work, or full group activities.
You engage with StepStone colleagues and take-in the organizational "big picture" by being in the head office. Plus, you get to soak in many facets of German culture by seeing the sites and tasting German delicacies (beer and schnitzel anyone?).
I have many positive things to say about the program but don't just take my word for it. I asked some of my peers and participants from other cohorts about their experiences:








Learning & Development at Appcast
As you can see, Step Up and Lead has benefitted several emerging leaders in many ways and the good news is: SUL isn't the only opportunity for you to learn, develop, and pursue career growth at Appcast.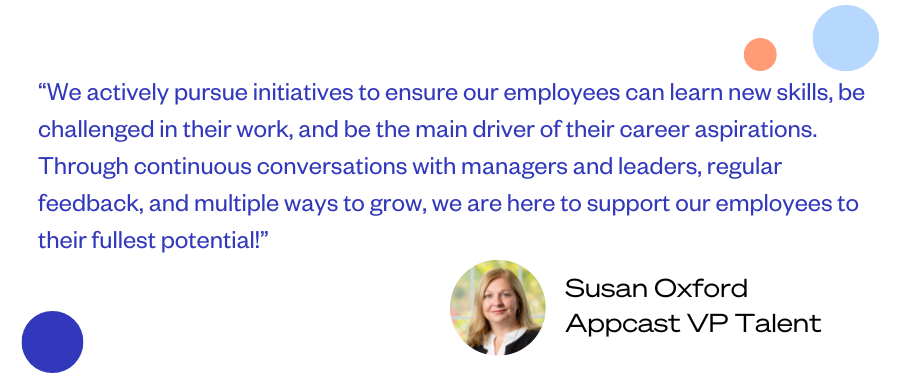 One of Appcast's shared values is Learn Every Day and we truly live that. There is always something new to learn about recruiting or job advertising, or on how to be a better communicator or project manager. Opportunities are endless! Here are a few examples of how growth is supported at Appcast:
Employees have access to an annual stipend to pursue learning opportunities that will help them improve or expand their role.
All employees have access to online learning portals and resources that cover a broad range of topics from management essentials to mastering pivot tables in Microsoft Excel to learning basic coding languages.
Many teams have participated in workshops or learning sessions that will impact their function or area of expertise (i.e. coding workshop, creativity workshop, etc).
Our tuition reimbursement program supports employees who are continuing education in a post-secondary institution or industry certification.
Many employees have received internal promotions or take on broader projects or challenges after having a chance to shadow other roles and by having continued conversations with managers about their career aspirations.
It is because of opportunities like these (and so many others!) that our employees feel happy and supported (our NPS score is 78). If you're curious to dig deeper into life at Appcast, learn more on our website or visit our career page.