Appcast is excited to join the exhibitor floor at Talent Acquisition Week!
On January 28-30, 2020, the Social Recruiting Strategies Conference (SRSC), Employer Branding Strategies Conference (EBSC), and Talent Sourcing Strategies Summit converge under one roof to bring together Talent Acquisition Week. A 3-in-1 ticket provides attendees with all-access, allowing for the most comprehensive conference experience and endless networking opportunities with the brightest in the industry. TA Week will be hosted in the heart of San Francisco, at Mission Bay Conference Center at UCSF.
At the event, leading TA practitioners will come together to share best practices, tools, case studies and metrics for recruiting success in the candidate-centric market. Attendees and speakers will share experiences in how to effectively leverage an integrated talent acquisition strategy – unlocking the power of personalization and automation with technology and employer brand to find the best candidates, all while staying true to the human element of the process.
Featured speakers at the event include:
Aaron Kraljev, Vice President, Employer Brand & Candidate Advocacy, Wells Fargo
Arthur Matuszewski, VP, Talent Acquisition, Better Mortgage
Chloé Rada, Director of Talent Administration, Technology & Branding, Sodexo
Alex Murray, Manager, Marketing and Communication, Futureforce, Salesforce
Leah Daniels, SVP of Strategy at Appcast, Inc
…and countless more!
Connect with the Appcast team at Table #210.
Attendee registration can be completed online or over the phone by calling 888.409.4418. And as a sponsor, we can offer our audience 15% off with code APPCAST15.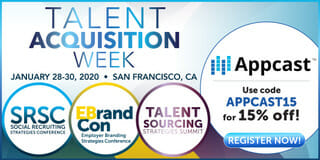 For timely updates, connect with Talent Acquisition Week on Facebook, Twitter, and LinkedIn and follow #TA_Week.