[New Feature] Now Live – Automatic Bidding
June 21, 2019 at 03:26 PM
What is it? With this latest Clickcast update recruitment advertisers can reclaim the time spent each day reviewing campaign and publisher performance, adjusting bids, and monitoring spend pacing. Instead, by selecting Automatic Bidding for campaigns, Clickcast will automatically:
Pace spend according to a monthly spend goal, automatically bid higher if a campaign is pacing slowly, and automatically bid lower if it's projected to overspend;

Stop bidding up if increased bids don't improve performance;

Shift spend away from under-performing publishers.
Setting up an Automatic Bidding Campaign in Clickcast
How to Use it? The first step to setting up an Automatic Bidding campaign is to set a monthly campaign spend goal.
If no dedicated spend publishers are configured, all of the monthly spend goal will be dedicated to the Pooled Spend Publishers. No further configuration is needed for Pooled Spend Publishers. Clickcast will automatically base the initial bid on the Starting Market CPA and distribute the spend evenly across them.
You may also add publishers with Dedicated Spend goals. See an example implementation of Pooled Spend and Dedicated Spend below: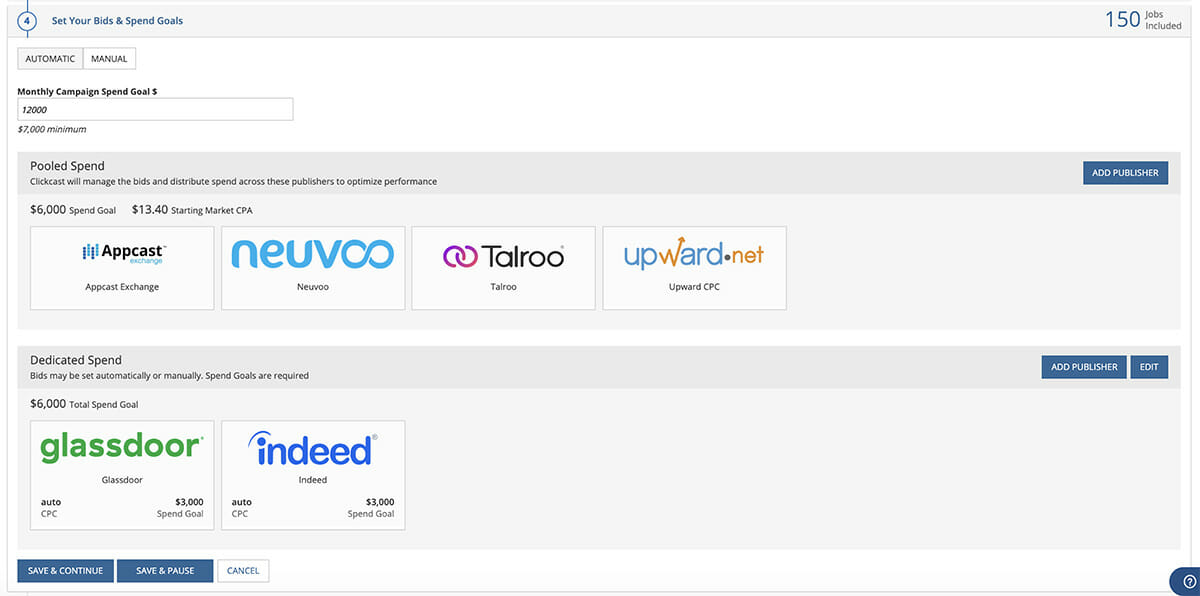 When utilizing dedicated publishers, three bid model options are available:
Manual

– The Manual bidding model requires setting bids manually.

Publisher Bid Model

(i.e. Indeed Bid Optimizer or Talroo Predict)

Automatic (Clickcast Automatic Bidding) – When selecting the Automatic bidding model, Clickcast will automatically select your initial bid, and then bid up or down over the course of the month to ensure even pacing towards the publisher spend goal.

Currently, Automatic Bidding is only available for recruitment advertising agencies and gig economy employers.
If you have any questions about Automatic Bidding, please reach out to your Clickcast Account Manager.