New research from Boston Consulting Group (BCG), a leading global consulting firm, The Network, a global alliance of more than 60 leading recruitment websites, and Appcast suggests that reskilling / retraining may help hiring organizations recruit and hire the candidates they require in what has suddenly become a highly competitive environment.
Appcast CEO Chris Forman spoke about the increase in demand for workers at a recent Appcast webinar. And this is only the beginning. Goldman Sachs predicts the U.S. economy will grow by 8% this year.
As more businesses reopen and the economy rebounds by leaps and bounds, the competition for candidates will only increase. Buckle up, talent acquisition professionals, it's going to be a wild ride.
Where the workers aren't
In fact, hiring organizations in industries like retail and food services are already struggling. This is partly because people who had worked in businesses that were closed because of the pandemic have moved on to other jobs.
At the same time, there are fewer people unemployed. For the week ending April 17, new unemployment claims declined to a new pandemic low, as this chart from The Wall Street Journal shows.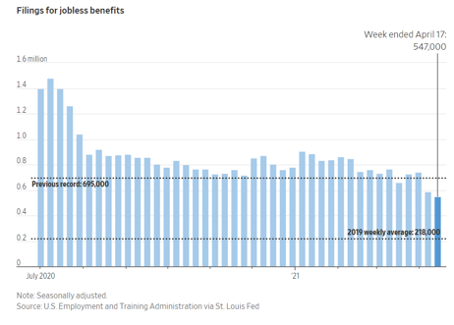 Meanwhile, a number of large companies, like Target, Best Buy, and Amazon, have raised their starting wages, upping the ante for others in search of candidates.
A multiprong strategy
So, what's a hiring organization to do?
In a recruiting environment where candidates have the advantage, there are several tried and true practices. These include:
Increasing your bids so your job ads get in front of more candidates
Relying on programmatic recruitment advertising technology to cast a wider net
Raising wages
At the same time, though, you want to make sure your job ads speak to candidates.
Sure, it's about the money, but it's also about the opportunity – which is where the new research comes in.
Reskilling and learning
A global survey of 208,000 workforce participants in 190 countries, including more than 6,300 in the United States, conducted by BCG, The Network, and Appcast, finds that retraining is attractive to many workers.
These charts show willingness to retrain and time spent on learning in the United States, by job role and industry.
In retail, for example, 52% of U.S. workers are willing to retrain.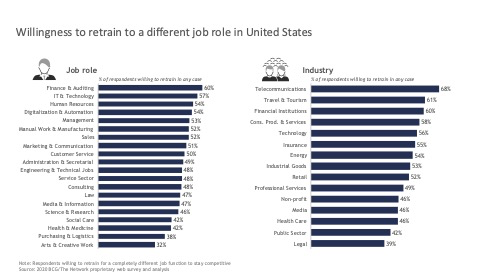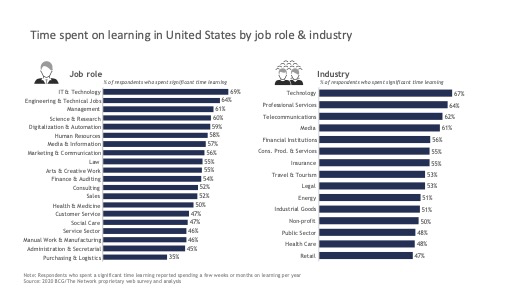 In addition to job role and industry, willingness to retrain and time spent learning also vary by level of education.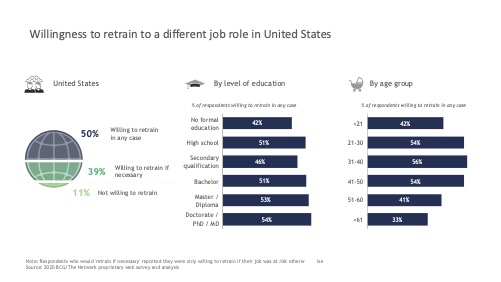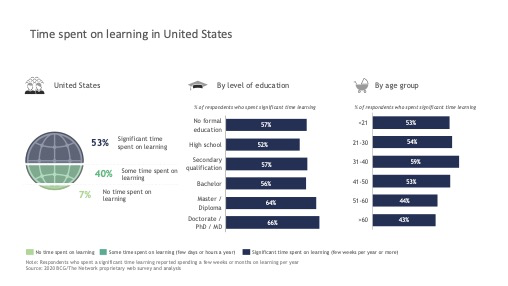 The good news here is that most of the workforce is willing to retrain and spends time learning.
What is the key takeaway from these findings?
When recruiting, think beyond the confines of industry and past job descriptions. And look beyond transferable skills. Focus on skills development.
In other words, include retraining and learning opportunities as part of your recruitment strategy.
With this in mind, why not include retraining and learning opportunities in your job ads?
After an extremely difficult year, many people are ready for change. Point the way.