When organizations are looking to implement and expand diversity initiatives, experts often advise, "diversity must start at the top."
This refers to a top-down mindset, in that senior leadership buy-in is required, but it also means diversity at the top of the organization: senior leadership must include women, people of color, and individuals from other underrepresented groups.
Recent analysis of CEO turnover at U.S.-based companies, from global outplacement consultancy Challenger, Gray & Christmas, finds that at the very top, organizations are making progress.
More women
Of 591 replacement CEOs recorded in the first half of 2020, 138 or 23.4% were women. This is up from 21.6% of female CEO replacements in the first half of 2019 and 18.6% in the first half of 2018.

Source: Challenger, Gray & Christmas
Note: Challenger tracks CEO changes at U.S.-based companies nationwide that have been in business for at least two years and have a minimum of 10 employees.
What's more, it's the highest rate recorded since Challenger began tracking gender data in 2010. The 2020 rate is also significantly higher than in 2010, when 12.4% of CEO replacements were women.
Commenting about the data, Andrew Challenger, vice president of the firm, acknowledged a gap remains. "While it is indeed good news that more women are taking the top job at U.S. companies, the rate is still less than one in four. We know it is even lower for women of color," he said.
Where the women are
Some industries have made greater inroads than others.
In the first half of 2020, the government/non-profit sector named the most women CEOs: 55, which represents 58% of all incoming CEOs in that industry. There were six incoming CEOs at apparel companies, and three, or 50%, were women. Meanwhile, at utility companies, four of six incoming CEOs, 40%, were women.
This chart highlights these changes and activity in other industries.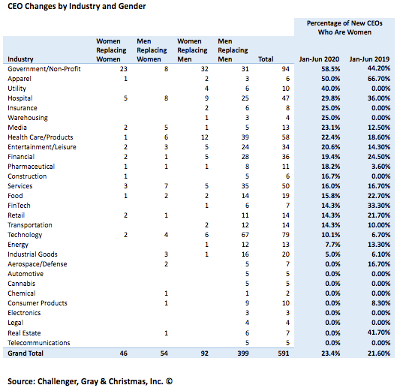 As the firm's analysis shows, men still represent the vast majority of CEO replacements. Amid calls for greater diversity, will the gap continue to narrow?
Andrew Challenger suggests the jury is still out.
"Gender diversity, along with other visible and unseen diversity, is crucial to creating an environment that finds and develops the best talent for the role. In the wake of nationwide protests for racial equity, many companies have made public statements that they will strive for more diversity. It remains to be seen how this will translate to meaningful change," he said.
You may also enjoy: