You're not hiring, and you don't know when you will be hiring. As business ramps up, you'll address hiring needs as they arise.
Sounds like a logical strategy, right? After all, with 38.6 million people newly unemployed, it won't be hard to find candidates.
Unfortunately, this is flawed logic.
Available workers
Although a record number of people have become unemployed in a nine-week period, some of these individuals will return to the jobs they previously held. Meanwhile, others may not be available, either.
In addition, unlike in previous recessions, unemployment has not evenly impacted all industries. This time, unemployment is highly verticalized.
April 2020 Job Losses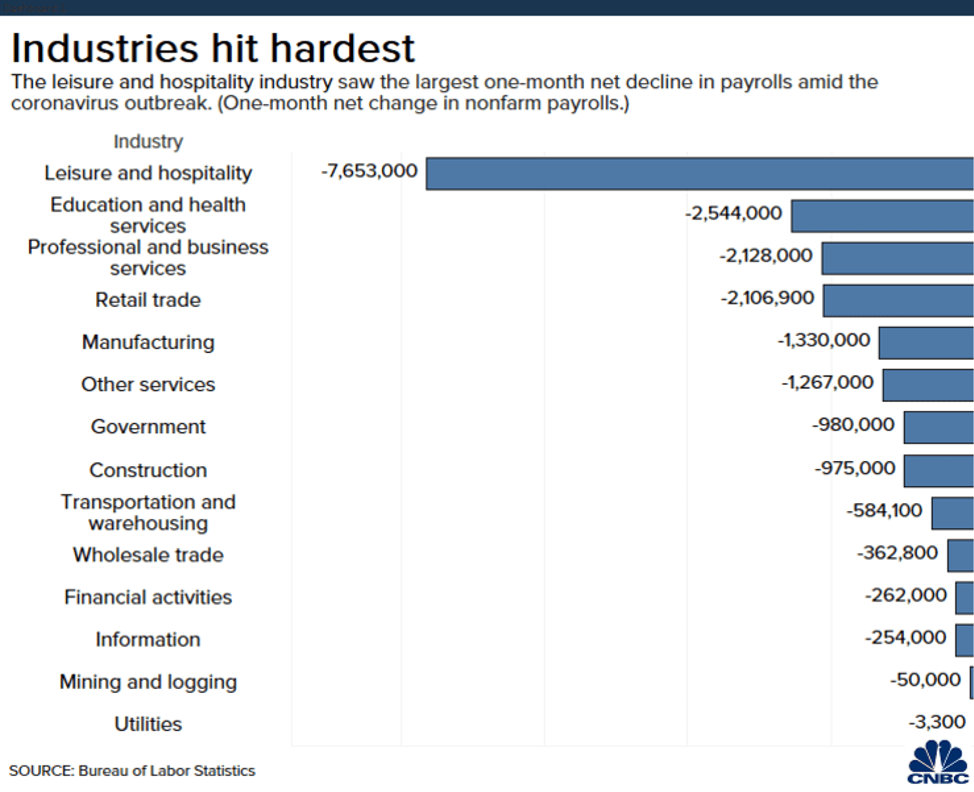 The people most impacted by the COVID-19 business shutdown are those employed in leisure and hospitality, and many of these individuals are less-skilled hourly workers.
Talent shortage
By contrast, in some industries, for certain positions, there is still a talent shortage. The bottom line is, hard-to-fill positions are still hard to fill.
What's more, it's difficult to figure out which jobs may become in demand and hard to fill as business reopens.
As an example, the above chart suggests there are plenty of retail employees in the job market. After all, it shows that 2.1 million retail employees lost their jobs in April – and that's only in April.
However, a list of job titles with the largest increases in job postings as of May 15, from job site Indeed, finds a 13.4% increase in job postings for retail merchandiser. In other words, companies are actively looking for retail merchandisers. If your company will need a retailer merchandiser, but not quite yet, the competition is already ahead of you.
Build a pipeline
What all this suggests is that building a pipeline, as counterintuitive as it may sound, could serve you well.
What approach should you take with regard to pipelining?
First, don't waste your pre-paid job postings. Contact candidates of interest.
When contacting candidates, be upfront about your hiring plans, even if this means acknowledging uncertainty as far as a timetable.
Obviously, the more information you can share the better, but it's also acceptable to say you don't know when you'll be hiring.
Second, consider posting job ads for future hiring needs.
In the job postings, be clear about start dates. You want to make sure that job seekers know that these are not "hiring now" situations. There are a number of ways to convey this message, such as including a possible start date, "hiring for August," or by indicating that the company is accepting applications in anticipation of future hiring needs.
Here again, the more information you can share the better. Remember, though, every detail is not essential; in this environment people are learning to embrace the unknown.
Third, reach out to people of interest, who may have come across your radar.
When contacting these potential candidates, it's important to let them know that you're not hiring now, but that you're impressed with their qualifications.
Assuming there is mutual interest, plan to stay in touch.
Which raises two critical issues related to pipelining in the current environment – and, arguably, at any time.
The first is that you should be honest about hiring plans or lack of them.
The second is that pipelining is about relationship building. As such, you don't want your pipeline to become a black hole. Hello? Anybody still in there? Remain in contact with the people in your pipeline in order to further your hiring goals and maintain your employer brand.
For additional insight into how to adjust your recruitment strategy to succeed in the current environment, check out the recording of Appcast's recent webinar, Responsive Recruitment for 2020.