Imagine, on a particular evening, that you're preparing to host a massive dinner party (don't worry, this daydream takes place in a fictional world without COVID-19). You've got your best dinnerware set out, and you're just getting your butter-basted turkey out of the oven. "All this blood, sweat, and tears will pay off," you think, shuffling to the dining table to set the poultry down amongst your assortment of appetizers. A breath of relief! You glance at the clock and realize there's a sliver of time left before you expect your guests to start ringing your doorbell. You sink into the chair at the head of the table, feeling accomplished. Now you just have to wait.
10 minutes pass by … then half an hour follows … After a while, you swear you've seen that minute hand go past the same number twice.
You're thinking: "Did I send out the invitations right? Should I have texted reminders? Did nobody want to come? Why not? Heck, there's free food right here!"
We're seeing the same head-scratcher moment happening in our labor market. There was a record high of 9.3 million job openings in the United States in April 2021. No industry is immune from this worker shortage crisis, even Wall Street banks and Michelin-star awarded restaurants. It's an unprecedented observation – why aren't we seeing more people showing up for open jobs? In our webinar "Recruiting News Alert: Job Seekers Behaving Oddly", Appcast's CEO Chris Forman had a go at demystifying this.
What is "Recruitonomics"?
"Recruitonomics" is the analysis of candidate supply, worker demand, and competition for talent, as it relates to a hiring organization's ability to recruit qualified candidates for open roles, and the price the market dictates they must pay to do so, at any given time.
The labor market works like a supply and demand curve. Theoretically, if there was a high demand for workers and a low supply of them, companies would have to take more competitive approaches to get candidates. The opposite is true when there is less demand for workers and companies become less aggressive in hiring.
Recruitonomics is also dependent on variables, some of which are in our control and others which are not. Externally, the labor market is affected by economic growth, candidate demand, candidate supply, government policies, and competition.
How Does Recruitonomics Apply to Our Current Labor Market?
The supply and demand curves fluctuate throughout economic cycles. In economic recoveries, one would expect the demand of workers to be up and that job seekers would be coming back to the workforce in droves. This is not what we're seeing today.
The U.S experienced a 6.4% GDP expansion in the first quarter of 2021, a performance that is predicted to accelerate, for the highest annual growth since 1951. Companies are in need of people as they're springing back. Postings are up by 28.6% on Indeed, as compared to pre-pandemic postings in February 2020.
Source: Indeed
Employers are feeling the pain as they grapple with attracting new employees, and retaining their existing ones. Firms are offering gift cards to applicants who show up for interviews, sign-on bonuses, and even college subsidies for employees' children and spouses. It is clear that American workers have the upper hand in hiring processes.
In an environment where candidates are in high demand, what does the candidate pool look like? One measure that paints a clearer picture of it is the unemployment rate. It was way below 4% pre-pandemic and is now at 6%. That's roughly 50% more in "supply."
Another measure to look at is the employment rate. Pre-pandemic, there were around 152,000 thousand employees in the workforce. Currently, we're about 145,000 thousand people strong.
Source: Bureau of Labor Statistics
The U.S is also facing what Anthony Klotz, an associate management professor at Texas A&M University, coined as the "Great Resignation." 4 million workers quit just in April – most of whom were holding positions in the retail, restaurant, and hotel industries.
So… Why are Job Seekers Behaving Oddly?
It is clear that this recession has been different. There may be a couple reasons why what we're seeing is unusual.
Firstly, many layoffs that occurred during COVID-19 were were structurally temporal. It was not like in earlier recessions where companies had to let employees go because they were going belly up, but because some had to close due to the restrictions surrounding the pandemic. It was a case of "We'll have to close right now but as soon as we open, we want you back."
While new jobs are popping up left and right out there, the reality may be that people are not applying to them, but going back to their previous jobs.
Secondly, we could take into account the reasons why Americans are opting out of being employed as of right now. According to the U.S. Census Pulse Survey, a common cause is "coronavirus-related sickness and/or care for children and or elderly family members." Other survey participants cited retirement and sickness that is not coronavirus-related as their reasons.
It appears that fear surrounding the pandemic is subsiding, but care needs are still not being met. It is interesting to note the increase in unreported reasons and undesired employment.
Census Pulse Survey
| | | | |
| --- | --- | --- | --- |
| Reason for not working | September 2-14, 2020 | May 26- June 7, 2021 | Delta |
| I did not want to be employed at this time | 4,883,388 | 5,753,939 | 17.83% |
| Coronavirus related sickness and/or care (children, elderly) | 10,640,632 | 11,430,351 | 7.42% |
| I was concerned about getting or spreading the coronavirus | 5,345,778 | 2,760,518 | -48.36% |
| I was sick (not coronavirus related) or disabled | 5,584,284 | 7,091,030 | 26.98% |
| I am retired | 37,995,892 | 42,448,102 | 11.72% |
| I was laid off or lost my job due to the coronavirus pandemic | 19,658,146 | 11,237,178 | -42.84% |
| I did not have transportation to work | 1,373,413 | 959,793 | -30.12% |
| Other reason | 15,573,590 | 17,503,283 | 12.39% |
| Did not report reason | 1,456,229 | 2,297,539 | 57.77% |
| Total | 102,511,352 | 101,481,733 | -1.00% |
Source: U.S. Census Bureau
Thirdly, it is believed that extended unemployment benefits might be delaying job searches. Appcast's research team banded together to put that theory to the test.
There are 25 U.S. states suspending extended unemployment benefits while benefits remain in the other half of the country. Using the data we've compiled over the previous years, we took a look at the application rates for all the jobs being managed by Appcast. The application rate for a job is derived by dividing the number of applications for a job with the number of clicks it took to generate them. For example, if a job posting resulted in 10 applications after 100 clicks, its apply rate would be 10%. As seen in our benchmark reports, there is a correlation between the unemployment rate and application rates.
Typically, lower application rates indicate lower unemployment rates. Job seekers comb through jobs and are pickier with the ones they decide to apply for. The inverse is true when the application rates are higher. This signals that the unemployment rate is higher, and that job seekers are applying to as many jobs as they could.
Our hypothesis was that U.S. states which have suspended the extended unemployment benefits would have higher unemployment rates and that states which did not would have lower unemployment rates. Our findings debunked this hypothesis – the states which had suspended the benefits, even historically, had lower apply rates than those who are continuing to pay it.
Moreover, states that did not suspend the extended unemployment benefits had a faster rate of change, in a positive direction, in terms of apply rates. This meant that these benefits were not disincentivizing job searches.
How Should My Recruitment Strategy Change?
At the end of the day, it is still too soon to pinpoint why job seekers are acting oddly. However, it is not a lost cause. Talent acquisition teams should focus on the variables within their control. We recommend that you make small decisions, continuously monitor the environment, and maintain operational flexibility to make a major change should the dynamic become clear in the future. For the time being, you should hold off serving a turkey that would put Gordon Ramsay to shame, at your faux dinner party. Luckily for you, we have tips that could help your hiring process.
Shorten your apply flow
Time is money, after all. Cutting down the time a candidate takes to complete an application from 15 minutes to 5 minutes results in a 245% jump in apply rates.
Pay attention to job titles
For most jobs, longer than 3 words is too much. Long job titles could even push your ad out of page one on a candidate's search results. We don't want that! It's best to keep it short and sweet.
Let Appcast help
Here comes the shameless plug – but we assure you that we do more than figuratively get guests in your seats. Appcast is an on-demand system, which pulls your jobs from your applicant tracking system and distributes them for you. Our technology is data-driven, and our source-neutral algorithms select the best places to post your jobs across 10,000+ sites. Our network also consists of diversity job boards, so you could find talent from underrepresented racial, ethnic, and identity groups.
In fact, Appcast Xcelerate reaches 23% more candidates from underrepresented groups and 7% more women than the U.S. online benchmark average.
To put it simply, we make sure that your jobs are found by the right people, in the right places, at the right time. With Appcast, not only do you get to cast a wide net but an inclusive one too.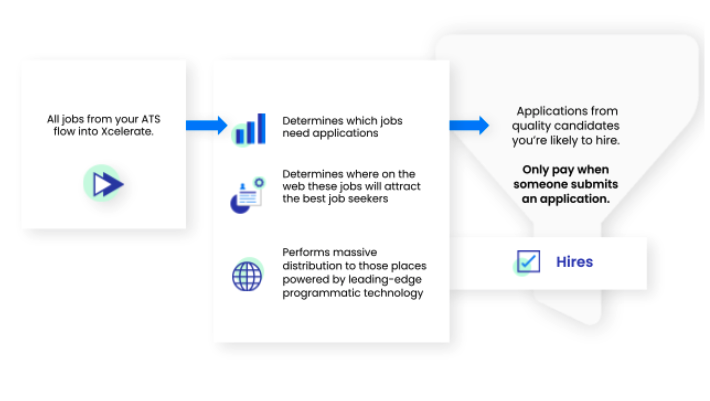 We hope that our webinar and our extensive content library continue to help you in your recruitment journey. May all your future dinner parties be successful.