2018 was quite a year for the hiring market. The strength of the labor market – the introduction of new jobs, as well as the lowest unemployment rate the country had seen since the 1960's – made the hiring market complex and challenging. The talent crunch was as stiff as it had ever been, driving hiring organizations to invest more in online recruitment advertising, and driving job sites and other candidate providers to further innovate and produce more effective solutions for their customers.
As part of our annual benchmark study, we examined the U.S. market, conducting an analysis of recruitment advertising trends that encompassed over 93 million clicks and five million applies. Below we highlight a few of the most exciting insights we uncovered but feel free to dig into the full report here.
The percentage of clicks and applies on mobile devices drastically increased YoY
In today's fast-paced, mobile-driven society, candidates are more willing and able to apply for jobs from their mobile phones and tablets. Job seekers are mobile: the number of mobile applies increased by 54.93% from 2017 to 2018 and the mobile apply rate also increased to 5.1%, which highlights the importance of having a user-friendly mobile apply process.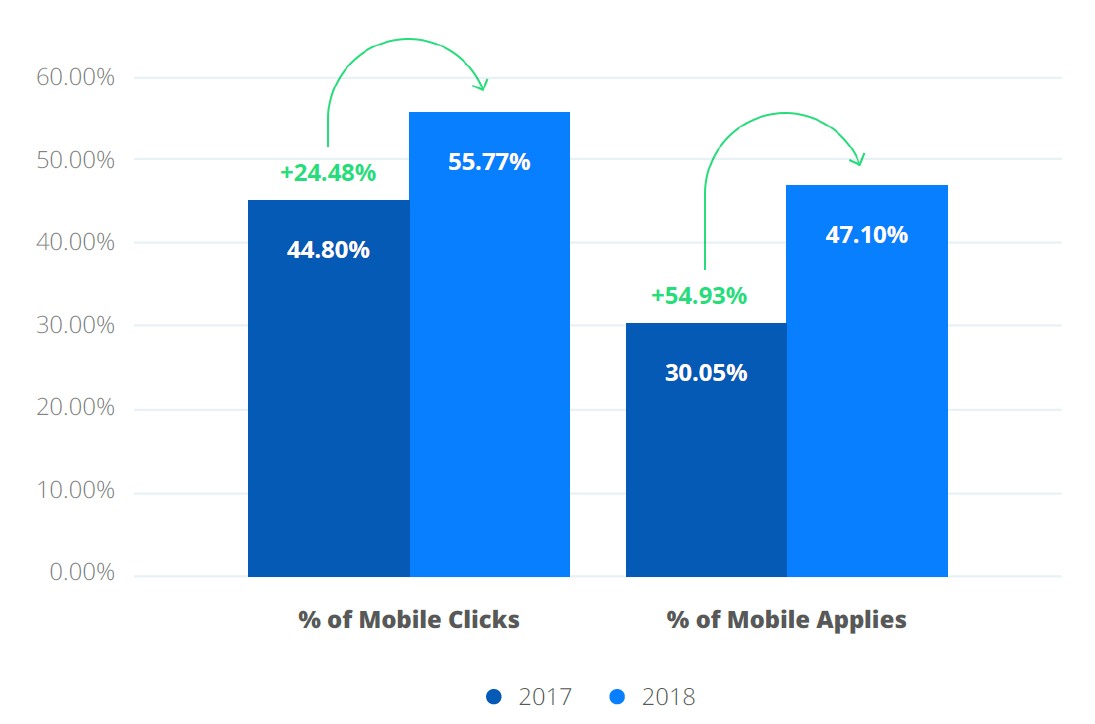 Pro-tip: Ensure that if you are in the game of online recruitment advertising, that you are optimizing for mobile: 1) reduce the number of questions required in your online application, 2) ensure that candidates can upload their resume from a mobile device and on any web browser, and 3) ensure that the time to apply is five minutes or less. For help optimizing your apply process for mobile devices, check out this post: Three Ways to Optimize Your Mobile Apply Rate.
States with lower unemployment rates generally had lower apply rates
Lower click-to-apply rates alluded to much stiffer competition in particular markets. As competition for talent varies by market, understand how this will impact your recruiting strategy.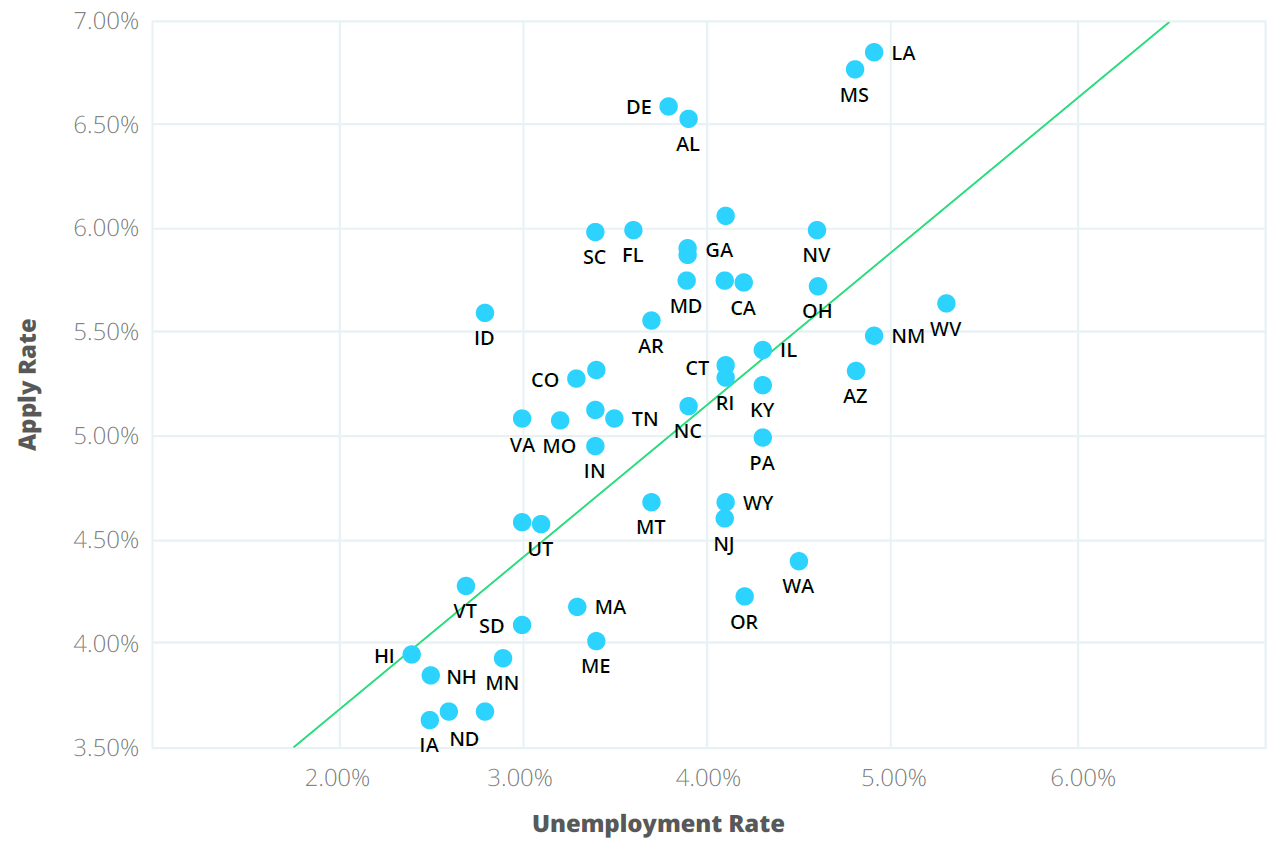 Pro-tip: Consider the unemployment trends and apply rates in the areas of your job openings. This may indicate that you should bid higher on jobs in areas where unemployment is low, as it is more competitive to capture talent. Be sure to check out average CPCs by state in the full report!
More candidates applied to jobs at the beginning of the week
Our 2019 report showed that you can get more than twice as many applications on a Monday than you can on a Saturday. This means that you should ensure your inventory of jobs gets to your candidate sources as quickly as possible so that you can make sure that the jobs are posted on Monday (Tuesday and Wednesday aren't far behind in terms of apply rates – at 17.8% and 16.8%, respectively).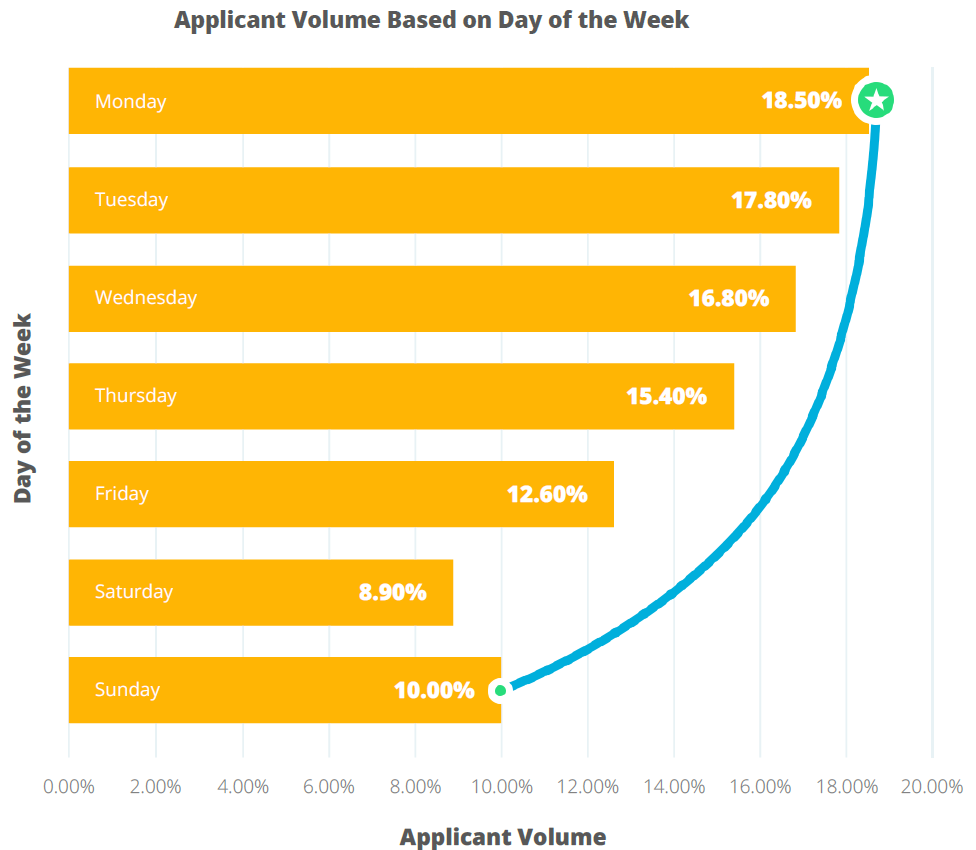 Pro-tip: If you're working with a programmatic partner, try testing lower bids on days of the week when your jobs are likely to get less visibility (i.e. Friday, Saturday, Sunday). This way you're not wasting precious advertising budget on days where candidate activity is low.
Key Takeaways
As online recruitment advertising continues to be adopted among leading hiring organizations, so too, will the insights and best practices gleaned from it. The introduction of new job advertising sources and models in the marketplace and a renewed focus on recruitment marketing tactics demand greater transparency of advertising spend and performance.
Use these recruitment advertising trends and benchmarks to navigate your recruitment advertising decisions to target candidates by device, by function, and in specific geographical markets.
To see more Recruitment Media Benchmarks, view the full report!