[New Dashboard] Now Live – Job Expansions Report
October 1, 2019 at 09:51 AM
What is it? The Job Expansions Report is a new dashboard that enables recruitment advertisers to clearly understand how each job expansion is performing in Exchange. With this insight, recruitment advertisers will be able to optimize their Job Expansions and make adjustments to reach more candidates. 
The report showcases the overall impact of expansions created. It highlights increases in clicks, applies, and conversion rates of the original job, as well as the expanded jobs. It also allows advertisers to see any errors or issues requiring troubleshooting with any expanded jobs. 
What are Job Expansions? Job Expansions allow Exchange advertisers to split and re-post one or multiple jobs by changing one aspect of the job. Users can expand a job by altering any of these three elements:
Job Title

City, State

Zip Code 
For example, a job that is located in Boston, MA can be expanded to other cities by changing only the City/State field. An advertiser would expand a Boston job and instead include City/State fields like Somerville, MA or Quincy, MA. Similarly, a job for "Store Assistant" – like the example below – could be expanded to another synonymous job titles such as "Retail Associate."
These expansions give advertisers a quick way to automatically create another job posting by isolating a variant to see if more applies or better quality applicants can be driven because of different keywords or locations utilized. With Job Expansions, the potential reach of candidates becomes larger. 
Navigating the Job Expansions Report
To get to the Job Expansions Report, go to the "Reports" dropdown and then click the "Job Expansions" tab above the main table.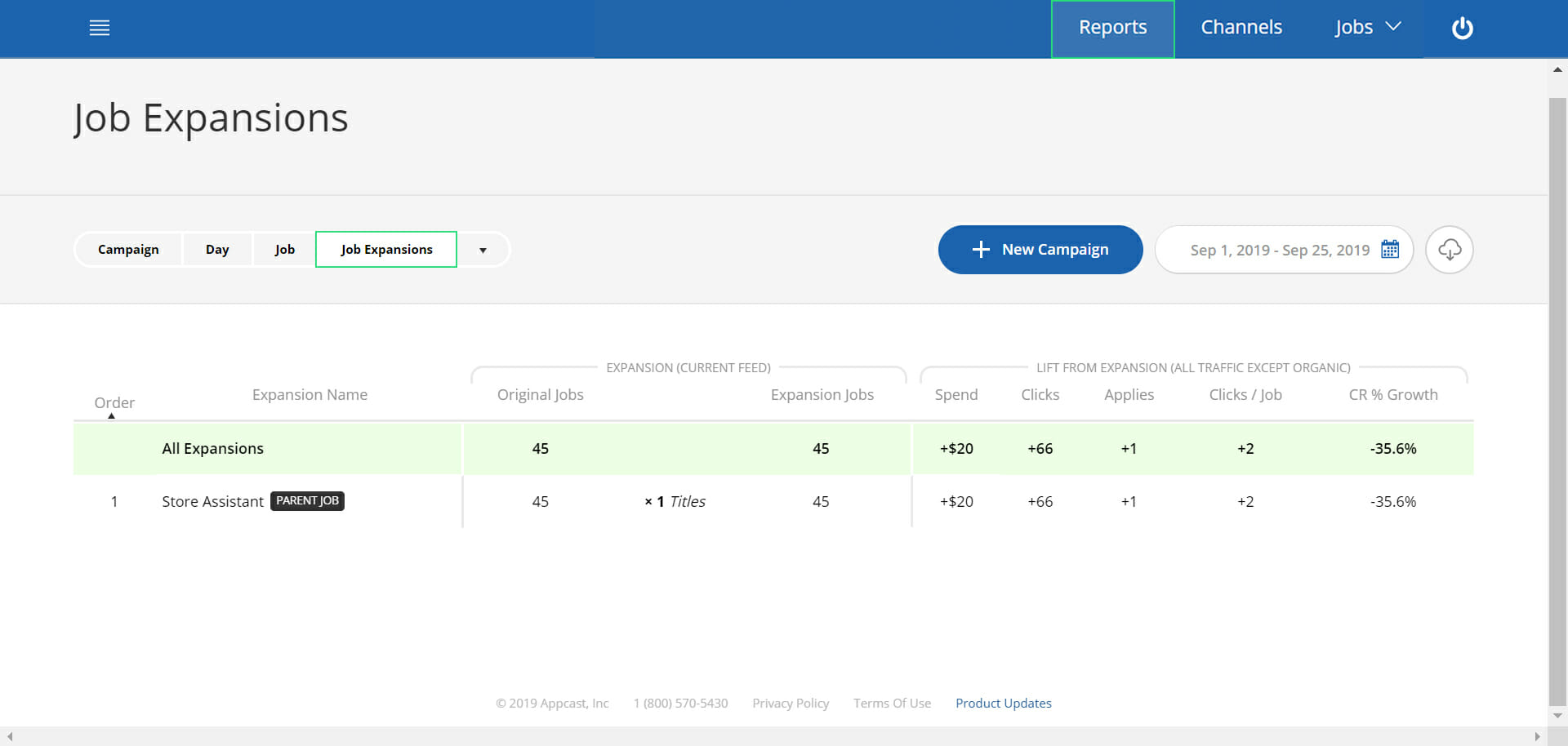 If you have any questions about the Job Expansions Report, please reach out to your Exchange Account Manager for more information.