[New Dashboard] Now Live – Job Expansions Report
August 1, 2019 at 06:54 AM
What is it? The Job Expansions Report is a new dashboard that enables recruitment advertisers to clearly understand how each expansion is performing in Clickcast. With this insight, recruitment advertisers will be able to better optimize their Job Expansions, make adjustments to drive more candidate traffic, and understand how they can best utilize budgets.
A Refresher – What are Job Expansions? 
Job Expansions allow Clickcast advertisers to split and re-post one or multiple jobs by changing one aspect of the job, to see if that makes a difference in performance. Users can expand a job by altering any of these three elements:
Job Title

City, State

Zip Code
For example, a job that is located in San Francisco, CA can be expanded to other cities by changing only the City/State field. An advertiser would expand a San Francisco job and instead include City/State fields that could include Menlo Park, CA or Redwood City, CA. Similarly, a job for "Cashier" could be expanded with other synonymous job titles and posted as "Retail Associate" or "Retail Specialist."
These expansions give advertisers a quick way to automatically create another job posting by isolating a variant to see if more applies or better quality applicants can be driven because of different keywords or locations utilized. With Job Expansions, the potential reach of candidates becomes larger. 
Why use the Job Expansions Report? 
The Job Expansions Report showcases the overall impact of expansions created. This new report highlights increases in clicks, applies, and conversion rate of the original job, as well as the expanded jobs. The Job Expansions Report allows advertisers to see any errors or issues requiring troubleshooting with any of the expanded jobs. It also enables recruitment advertisers to re-order their job expansion rules.
Navigating the Job Expansions Report
Advertisers can find the Job Expansions Report in the drop-down menu on the Activity page.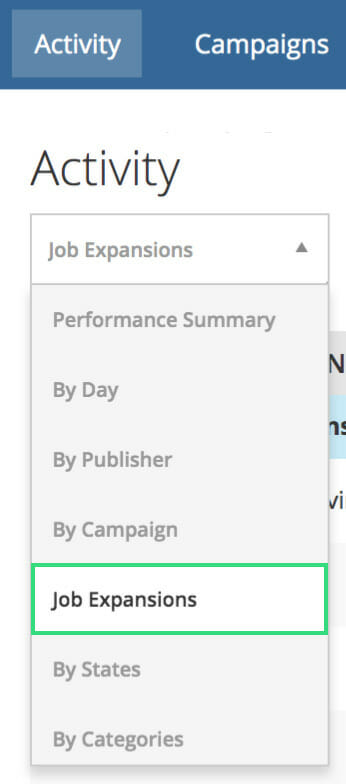 If you'd like to start using Job Expansions, or have been using Job Expansions and would like to utilize the new report, please reach out to your Clickcast Account Manager for more information.