In today's saturated digital world, recruitment professionals are faced with the major challenge of reaching the essential talent they need to drive their organization forward.
As recruiters continue to allocate more of their budgets toward online recruitment advertising, understanding the performance of spend becomes increasingly important to drive a better ROI.
For a breakdown of some of the most important – yet often overlooked – aspects of modern digital recruitment, keep reading to find out how your online recruitment strategy measures up.
Modern Mobile Recruiting
In today's fast-paced, mobile-driven society, candidates are more willing and able to apply for jobs from their mobile phone and tablets. Job seekers are mobile: the number of mobile applies increased by 8% and the mobile apply rate also increased to 5.1%, which highlights the importance of having a user-friendly mobile apply process.
Pro-tip: Reduce the number of questions required in your online application, ensure that candidates can upload their resume from a mobile device and on any web browser, and that the time to apply is five minutes or less. These best practices are essential criteria for ensuring you have a seamless apply process and are converting the best candidates on mobile.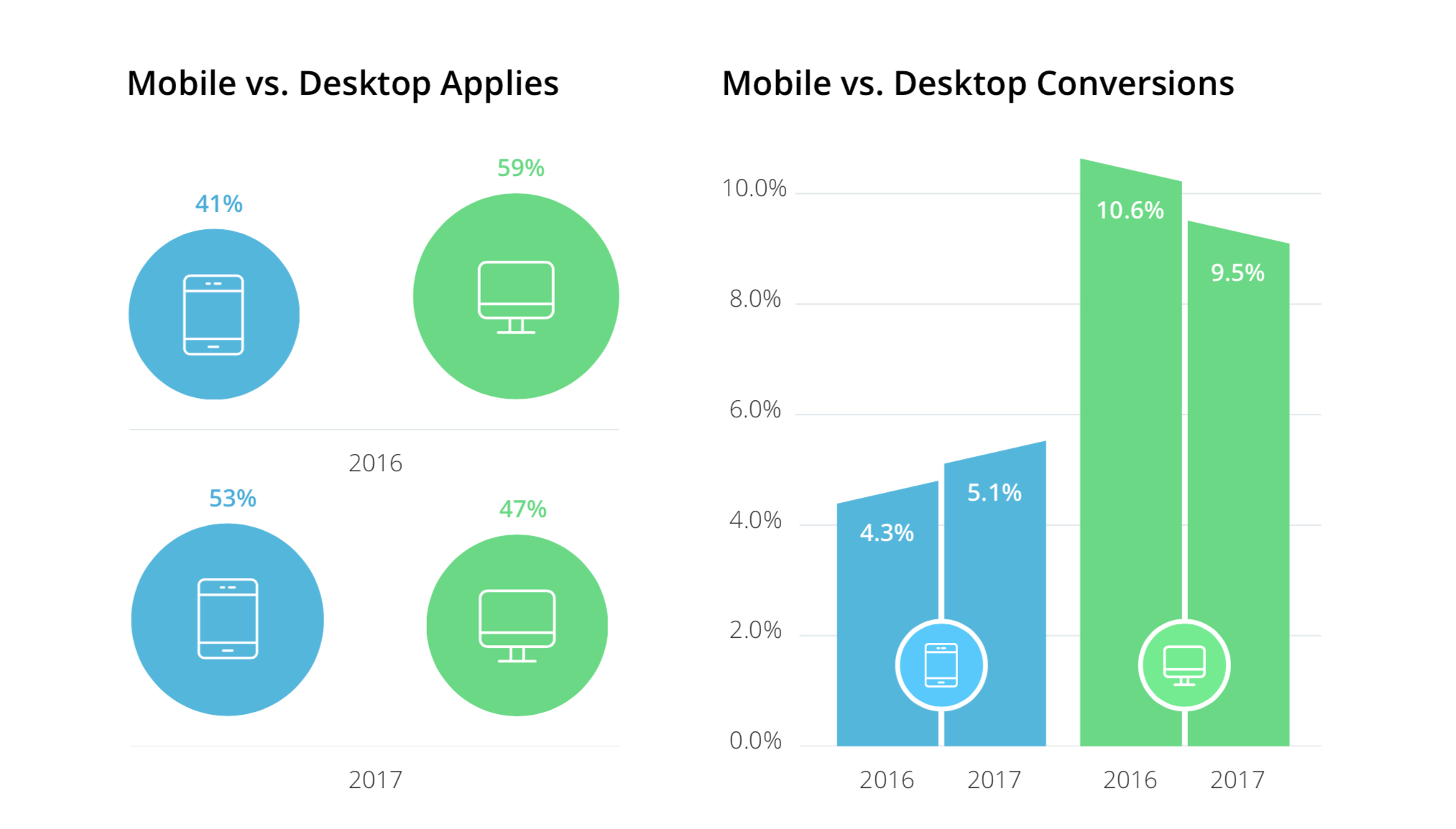 Is your application process fully optimized to generate candidate conversions? Find out with Recruitment Marketing Bingo!
How Unemployment Affects Apply Rates
Lower click-to-apply rates make competition much stiffer in particular markets. As competition for talent varies by market, understand how this will impact your recruiting strategy.
Pro-tip: Consider the unemployment trends and apply rates in the areas of your job openings. This may indicate that you should bid higher on jobs in areas where unemployment is low, as it is more competitive to capture talent.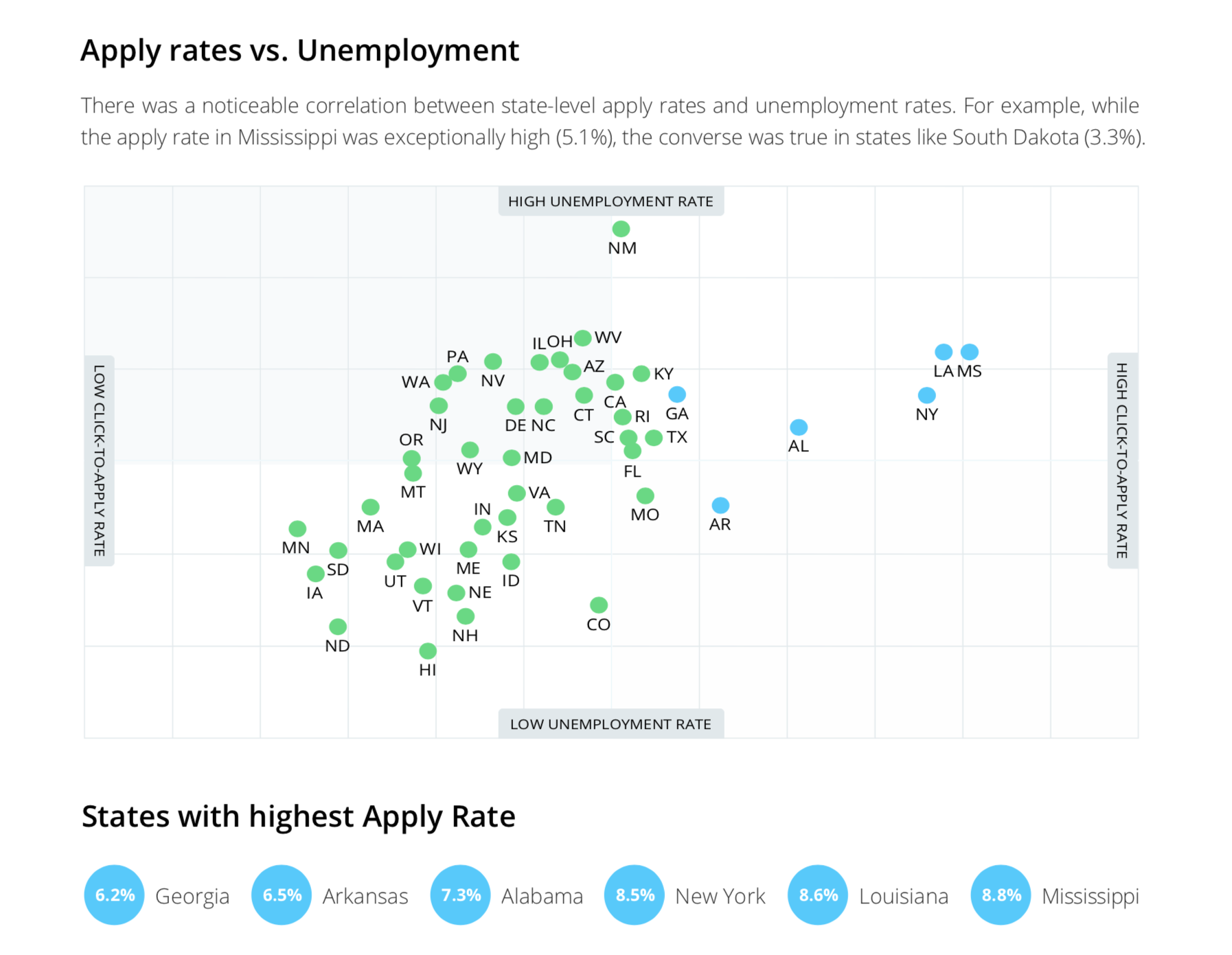 Apply Rates by Industry
Industries with hourly jobs, which are often broadly distributed across geographies, have higher apply rates. The highest apply rates were found for jobs in Retail (11%), Sales (9%), Customer Service (9%), and Restaurant (8%).
Pro-tip: Understanding the nature of your industry (and geography, as we saw above) will allow you to set more appropriate goals on you job ad campaigns and gives you a benchmark for measuring performance. If you're under the industry average, why is that? If you're over – great – what's driving that success?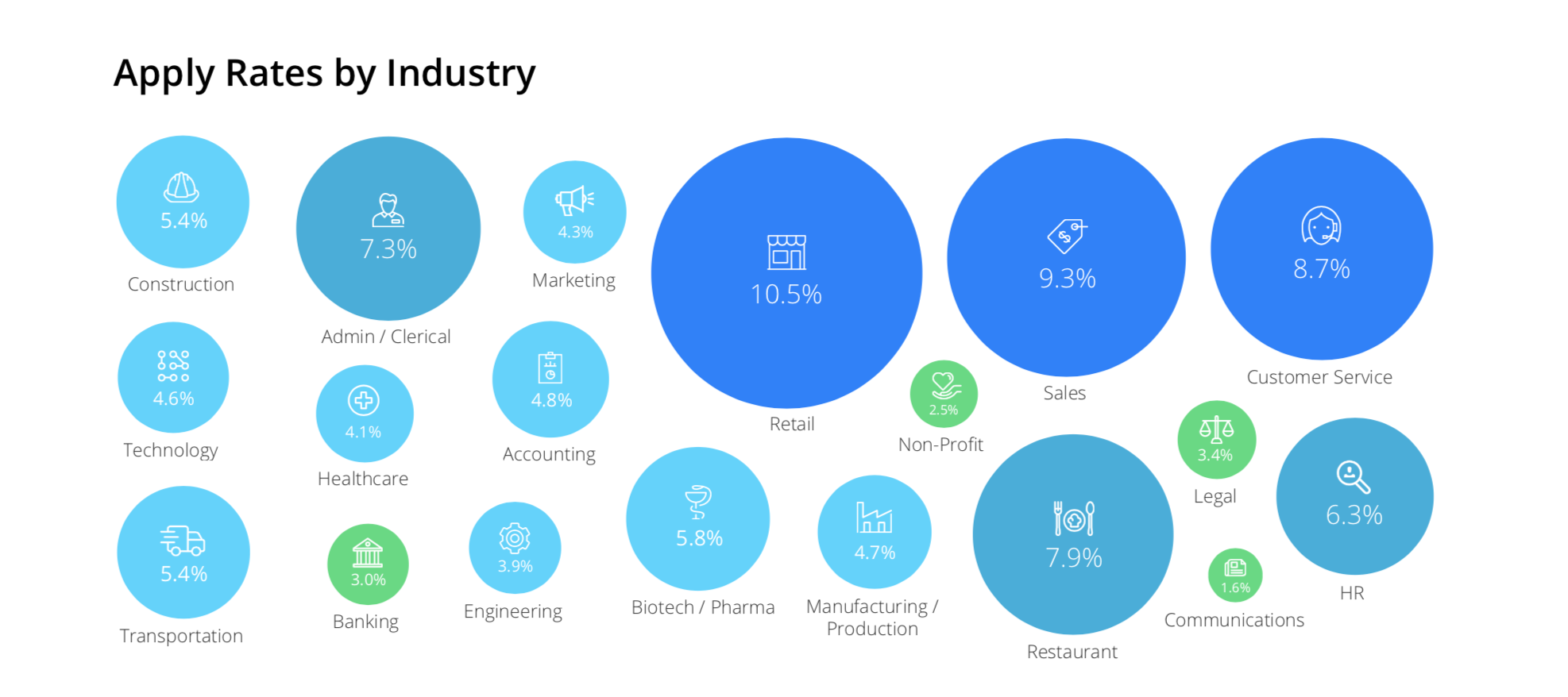 Key Takeaways
Today, online recruitment advertising consumes roughly 30% of overall recruitment budgets and is becoming a topline priority as the talent landscape becomes increasingly competitive. The introduction of new job advertising sources and models in the marketplace and a renewed focus on recruitment marketing tactics have highlighted the need for greater transparency of advertising spend and performance.
Use these recruitment advertising trends and benchmarks to identify the 'sweet spots' and optimizations needed to target candidates by device, by function, and in specific geographical markets.
To see more Recruitment Media Benchmarks, view the full report!