The Imperative for Achieving High-Performance
As unemployment continues to hover around an all-time low and as job seeker expectations continue to shift, more organizations are turning toward recruitment marketing and advertising to attract and engage candidates.
Fortunately for those organizations, having great tools to activate your recruitment marketing strategy has never been easier. New players in the recruitment and talent space are offering up technology and SaaS solutions to facilitate effective automation, insightful data, and expert-level personalization, similar to what we've seen emerge in the realm of B2C and B2B consumer marketing.
As hiring organizations continue to allocate more budget towards job advertising in order to compete for talent, understanding the performance of online recruitment spend is crucial to driving better ROI and driving a more strategic recruitment marketing and advertising operation. Read on to understand how you can move beyond 'checking the box' of recruitment advertising and develop a high-performance strategy that delivers optimal ROI.
How your team can improve your recruitment marketing and advertising
#1 Let your strategy drive new technology adoption and vendor partnership…
Not the other way around. According to IBISWorld, we know that job advertising will remain a topline necessity at any organization, indicated by the fact that revenue of the online recruitment industry is projected to grow at an annualized rate of 7.3 percent to $11 billion by 2023. Similarly, investment in recruitment marketing is forecasted to reach $2 billion in 2022 (IDC). But… recruitment marketing adoption is largely the same since 2017. What does this mean?
Two things: One, recruitment marketing and job advertising is not a passing fad, and two, there is an advantage to be gained if you begin the process of investing in technology to build and strengthen your strategy now instead of getting left behind in 2022 or 2023.
However, buying a new technology doesn't mean you're buying a new strategy. As the tip above indicates, it's important to have a clear, well-defined recruitment advertising strategy so that you can invest in technology and partnerships that best support your recruitment marketing and advertising strategy. A few considerations:
Objective:

What are your topline recruitment goals and future recruitment needs?

Audience:

Who do you need to reach, who is your 'target recruitment audience' for a given role or functional area, and where and how can you best reach them?

Markets:

Where are the roles located that you are hiring for? This is pivotal in understanding how competitive it may be to hire for this role in a given area and can highlight areas where a technology partner may be able to help (see an example of this below!).

Metrics:

Have a clear understanding of what success looks like – what metrics, within or outside of your hiring funnel, will determine your success? Is it measures of quality? Time? Budgetary efficiency?

Organizational infrastructure:

Before implementing a new system, ensure you have internal support, talent and a true vendor partnership to use that system to its fullest potential.
An example of how the market in which your hiring can determine your strategy and tactics that your technology needs to support.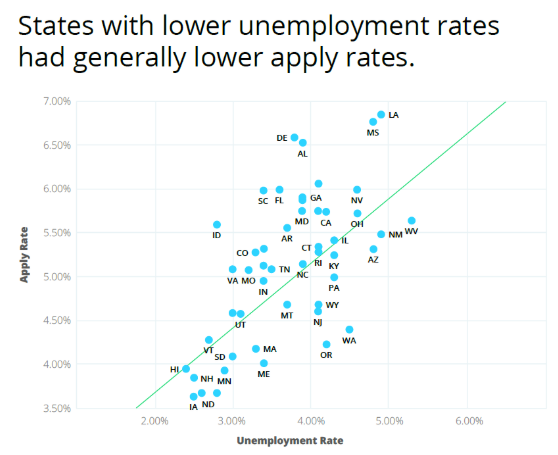 #2: In a tight job market, passive candidates care less about your jobs. Sell them on your EVP.
In 2018, apply rates on job ads significantly declined as U.S. unemployment reached its lowest point of 3.7 percent and fewer candidates actively applied for jobs. With a smaller, more competitive talent pool, we need to be more creative about attracting the attention of both active and passive candidates and once we attract them, we need to engage them in every step of their job seeking process.
Research indicates that, at this point, there's room for improvement here. For example, job alerts have decreased since 2016, while talent networks/communities have doubled. 44 % of the Fortune 500 provide candidates the option to join a talent network but only 5% of those companies (11 in total) send any content outside of job alerts. Worse still, 45% of Fortune 500 companies with a talent network don't send anything after the confirmation email at all, not even job alerts. Employers spend an incredible amount of time, effort, and money to drive talent to their career sites. Then, when they indicate they want to learn more about you by joining your talent network, you leave them high and dry. This ultimately means you will never see that candidate again but also that you may have wasted spend on acquiring a great candidate that you were unable to convert deeper into your hiring cycle.
Why invest in a recruiting CRM and use it the exact same way as an ATS or job board? Or not use it at all? Instead, treat recruitment marketing with an inbound-focused flair and look to other channels where you can share employee stories or brand information, like your corporate site or social media, and repurpose that content to maintain regular communications. A few other quick tips:
Keep your corporate Careers site up-to-date with employee videos, pages about your benefits and perks, and consistent messaging that shares your values

Work with your social media team to create and share employer brand content, like employee spotlights and quotes or just sharing new job opportunities

Encourage your employees to share open jobs with their networks by creating a comprehensive referral program, and reward employees who refer talent that turns into a hire
#3: Robust recruitment marketing strategies drastically improve your candidate experience…
As well as candidates' willingness to publicly share that experience. As a quick analogy, think of candidates like customers – how often have you seen someone on your social media channels who raves about the new vacuum they just purchased? Or, conversely, the person who lambastes their cable provider for poor service and product performance? These principles operate in recruitment too!
Candidates who have a positive experience with your organization (whether or not they are successful in filling a role) are more likely to share that experience with others and/or potentially re-apply in the future (considering the analogy, they are repeat customers!). 72% of F500 companies in Glassdoor's top 100 are high adopters in recruitment marketing (rated an A or B). From these high-performance companies we have learned that mature recruitment marketing strategies garner more Glassdoor reviews – and more positive reviews.
Building a high-performance recruitment marketing strategy bolsters both your employer brand and your candidate experience and, get this – potentially higher average revenue! Companies earning an A or B (227 total companies) posted $71B in annual average revenue in 2018 — $16B more than Cs, Ds, and Fs (273 total companies) combined.
High-performing companies have the highest average rating and recommendation over 2 years. Similarly, employers with between a three and five-point Glassdoor rating attracted more candidates on job ads than those with lower ratings, as shown in the graph below.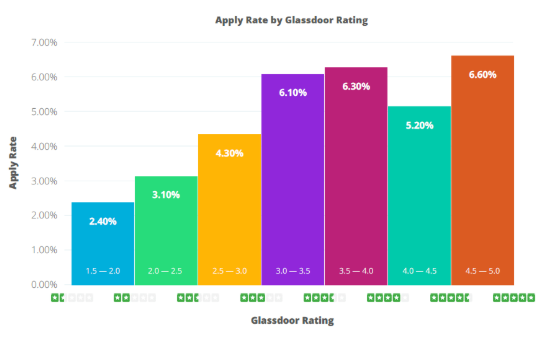 #4: Write for the person, not the job board.
As mentioned earlier, job seeker expectations are shifting to mirror more of their digital lifestyles. Candidates expect an experience similar to that of shopping online — that is, greater personalization, detailed recommendations, timely responses and follow-up, and a more genuine interactions. That said, of the companies sending job alerts to their network, just 28% personalize those jobs to each person's profile and behavior.
How can you improve your job ad content to be more candidate-centric? Here are a few tips:
Shorten your job titles:

Job ad titles with between one to three words had the highest average apply rate of 5.5 percent, whereas job titles with between 12 – 15 words had a mere 3.6 percent apply rate. Similarly, job titles with one to three words had the highest percentage of clicks per job compared to jobs with longer titles.
Eliminate the use of symbols and jargon in job titles:

Job titles without symbols or jargon (think: ninja, guru, etc.) have a more than 2x better apply rate than jobs that include them.

Keep job descriptions short

(between 300 and 800 words)

and candidate-relevant:

information about salary, benefits, corporate culture, responsibilities and expectations, and opportunities for growth and progression.
Need tips for ensuring your have the best recruitment marketing talent for the job? Check out these tips!
The key cornerstone of high-performance recruitment marketing: data
When you step back to look at the competitive landscape, the job market, and emerging technologies, and think about how best to proceed with navigating these shifts to produce the best results, you notice one overarching theme: access to data is paramount.
Leveraging your own internal data and drawing on industry benchmarks fuels high-performance in a myriad of ways: it equips and empowers you to make more strategic decisions around building a more effective candidate experience, improving your employer brand, understanding where, how, and when to advertise open roles, how to find 'best fit' technology partners, and much more.
Looking for industry leading recruitment marketing and advertising data to fuel high performance recruitment at your organization? Check out Appcast and Smashfly's High-Performance Recruitment Marketing Benchmark Kit, where you'll find the research and data behind all of our tips outlined above, and much more!
This blog post has been written in collaboration with Raquel Lawrence from Smashfly Technologies.