Job advertising can be a "make or break" situation when it comes to your hiring goals. Your organization's job ads and online apply process have a dramatic impact on the health of your candidate pipeline. When was the last time you examined your apply process from a candidate-centric lens, and rethought how you go about structuring a high-performing job ad?
Since our inception in 2014, Appcast has driven over 10.2 billion clicks and 1.7 billion applies from over 400 companies to understand the impact of job titles and descriptions on application conversion rates. From this foundation based on true performance data, we've come to learn a few things about building and refining job ads to build a process that drives results.
Keep reading below to learn what makes a job ad 'clicker' convert into an applicant.


Writing Job Descriptions
Our research found that when it comes to job descriptions, many job candidates are like Goldilocks (minus the breaking-and-entering):
Too long: Job descriptions over 401 words see a decrease in their apply rates. Once the descriptions increase to over 701 words, apply rates reliably fall below 5%. 

Too short: Job descriptions under 200 words see apply rates in the 4.5% range. 

Just right: Job descriptions containing 201 – 400 words achieved apply rates of 8-8.5%. Don't over- or under-heat your porridge – keep it just right to maximize your impact (especially on mobile).


The length of the job description has a material impact on apply rates. For many applicants, they don't have the time or attention span to read through a too-long job ad. Communicate the top-level details and save them the time!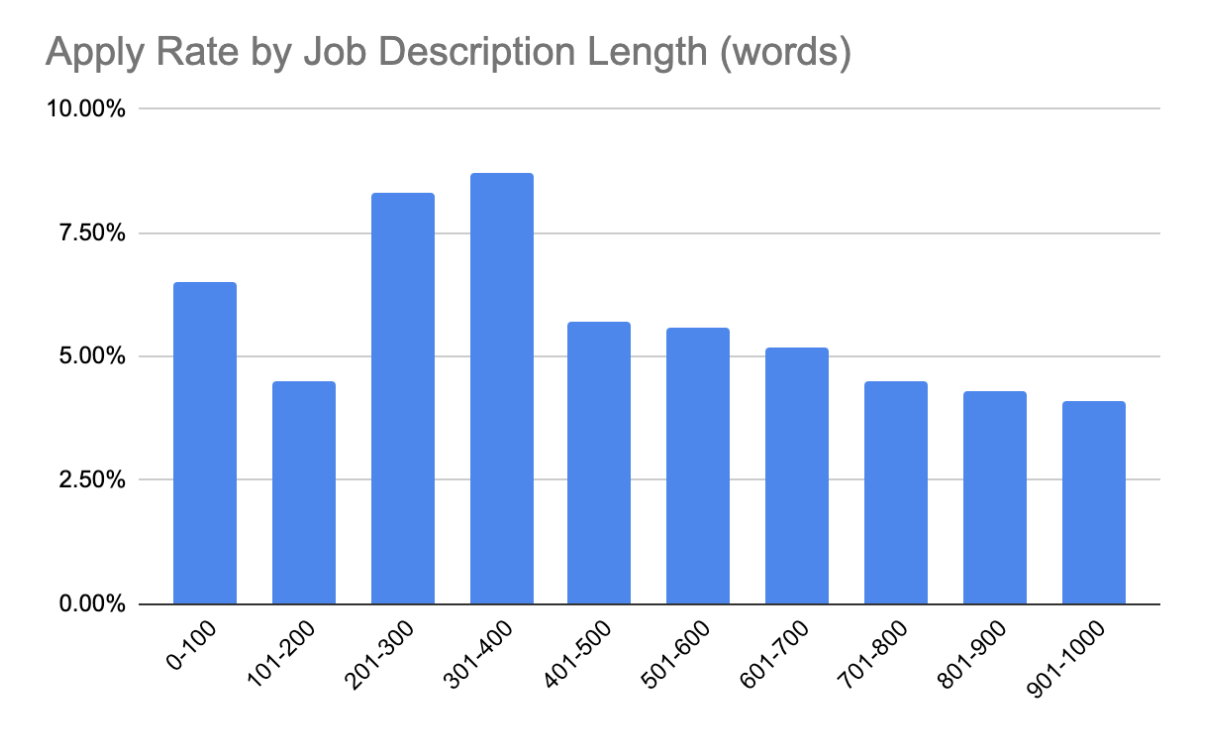 And of course, it's not just about the length – what you say matters! Write concise job descriptions that accurately communicate the roles and responsibilities of the candidate that you're hoping to hire, as well as the benefits of working at your organization. You should also carefully consider the words you choose to include as some contain elements of bias. 
Check out these resources to help you write impactful job descriptions:
Setting up Job Titles
The job title is a job seeker's first impression of the recruiting organization and therefore, the candidate experience – if you lose them at the title, you've lost what could be a qualified applicant.
Our research finds that shorter is better when it comes to job ad titles. A concise title will get you the most clicks, setting you up for more qualified applicants. On average, a short, sweet job title of 1-3 words will catch the readers' eyes and generate an average 3.41 clicks. As the number of words increases, this average falls, eventually dipping to just 2.75 clicks when the job title is over 13 words.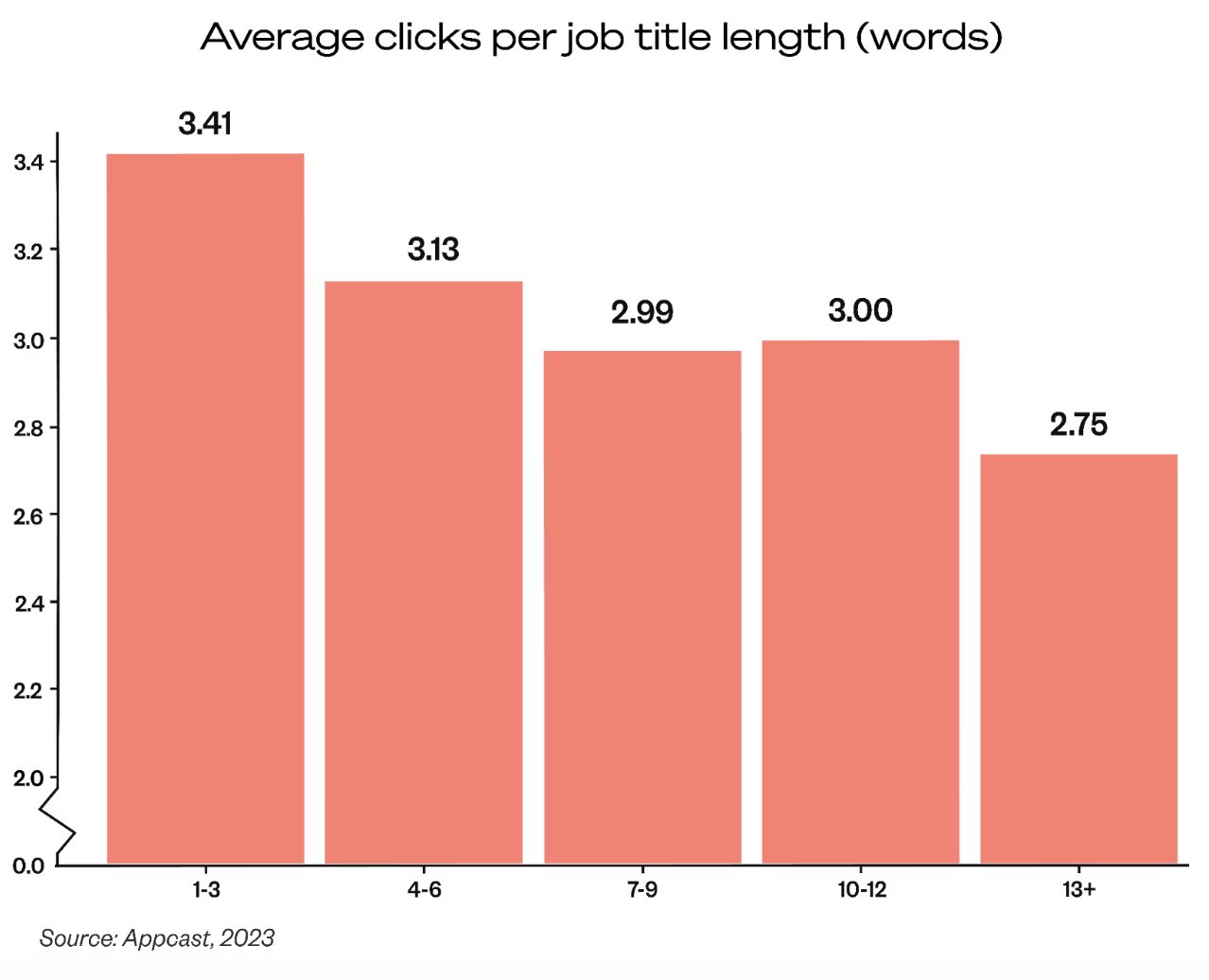 Pro tip: keep job titles as short, sweet, and direct as possible. Write a job title your candidates would actually be searching for and avoid company-specific lingo or jargon as well. 
Building Your Application Process
Obviously, the actual advertisement is not the end of the line: an apply can only happen if your candidate passes through the application process. A poor apply process (like asking for a candidate to create an account or to manually input all of the information from their resume) can seriously deter candidates, many of whom will abandon an application before they submit it.
Our research indicates that a lengthy, complex, and time-consuming apply process is a barrier to applicants. A long, arduous application of over 15 minutes sees an average apply rate of 3.6%. When that application time is brought back to a more natural 1-5 minutes, that apply rate is nearly 3.5 times greater, at 12.5%. Job seekers want to be able to quickly apply for jobs that interest them in much the same way that they would shop online.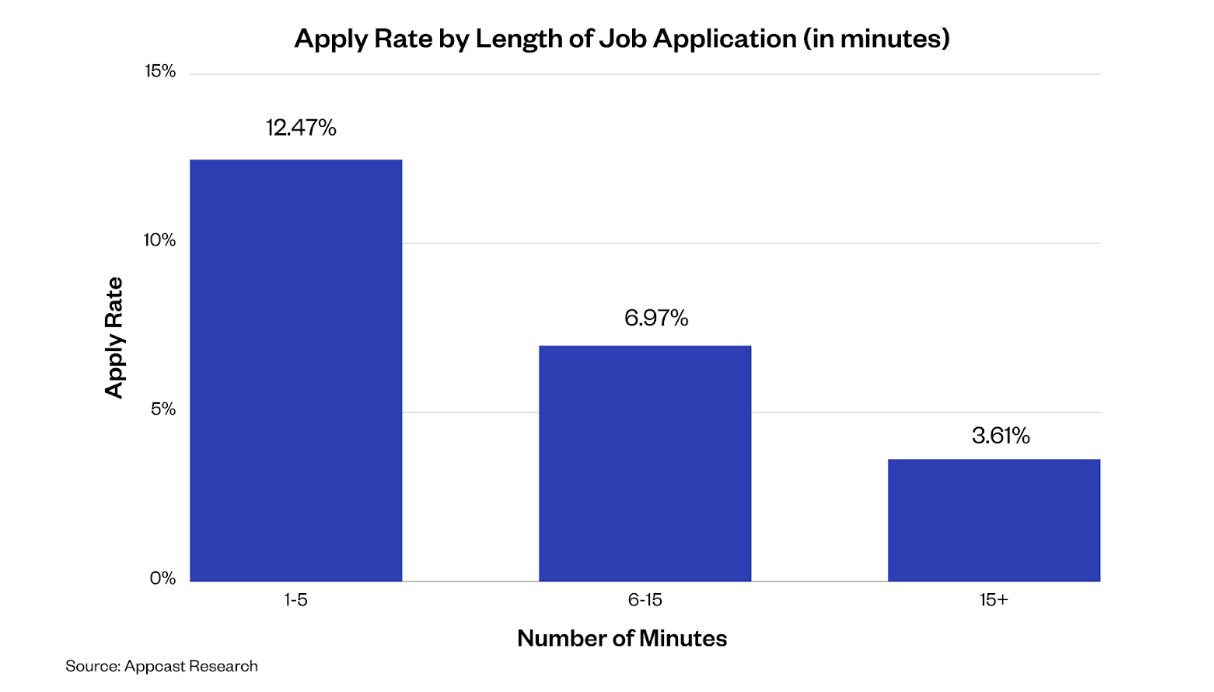 To optimize your conversion rates during the online apply process, ask only the necessary questions needed to qualify a candidate. If possible, don't require candidates to log into your platform when applying; this will drastically reduce the amount of candidate drop-off in the apply process.
But, not all jobs and their apply processes are created equal. If you're looking to fill hourly roles or roles that don't require a resume, ensure the application process is quick, easy, and mobile-friendly. For professional roles that do require a resume and a cover letter, make sure your apply process is optimized for mobile, as well as for every potential browser a candidate could be using. For more times on simplifying the apply process, check out our blog, How to Shorten Your Apply Process.


Voila! Let the Job Advertising Begin: 
And that's it! With these simple guidelines, you can craft a high-performing job ad and online apply process to bring more quality talent into your organization. Test it out, see if you start seeing more conversions! If you're looking for more help streamlining your hiring funnel, consider programmatic job advertising!