Your organization's job ads and online apply process have a dramatic impact on the health of your candidate pipeline. When was the last time you examined your apply process from a marketing-centric lense, and rethought how you go about structuring a high-performing job ad?
At Appcast, we analyzed 50 million clicks and 3.7 million applies from over 400 companies to understand the impact of job titles and descriptions on application conversion rates. From this foundation based on true performance data, we've come to learn a few things about building and refining job ads to build a process that drives results.
Keep reading below to learn what makes a job ad 'clicker' convert into an applicant.
How to Write a Job Ad That Converts

Writing Job Descriptions
Our research found that when it comes to job descriptions, less is more:
Too-long: Job descriptions of 1,100 words achieved a CTA of just 3.9%.

Too-short: Job descriptions with only 100 words achieved a CTA of just 3.4%.

Just right: Job descriptions containing 300 – 800 words achieved click-through rates up to five times higher than comparable job descriptions that are either longer or shorter
The length of the job description has a material impact on click-to apply ratios. For many applicants, too-long job descriptions may suggest a stifling working environment, and demand too much effort from candidates who already are investing a great deal of time in their job search.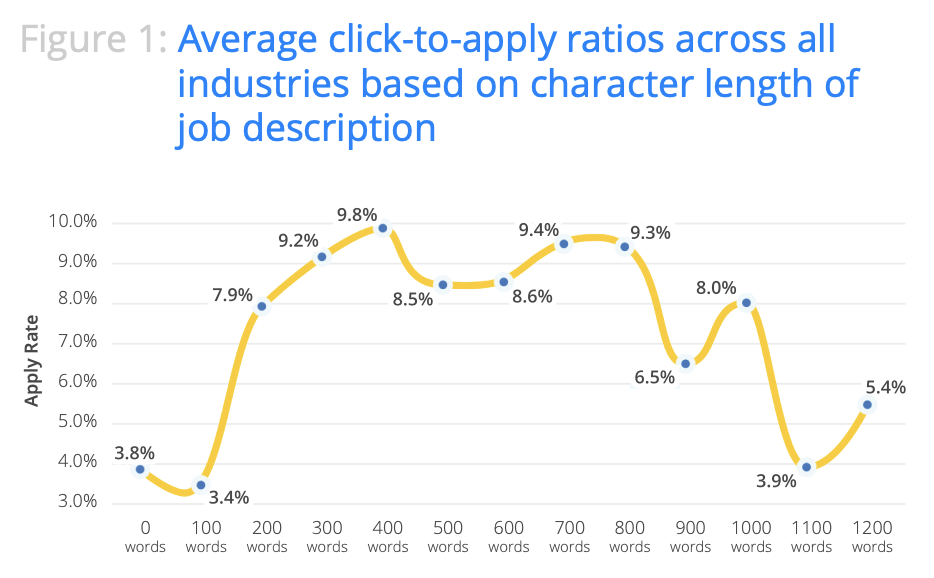 Write concise job descriptions that accurately communicate the roles and responsibilities of the candidate that you're hoping to hire, as well as the benefits of working at your organization.
Setting up Job Titles
The job title is a job seeker's first exposure to the recruiting organization. In many cases, the job title is the make-or-break moment for job seekers; if you lose them at the title, you've lost what could be a qualified applicant.
In our research, we expected to see a clear CTA spike for titles of a certain length, similar to the job description bell curve. Though the data relating to job titles is slightly murkier, it supports "Goldilocks" logic when it comes to optimizing the ROI of job titles.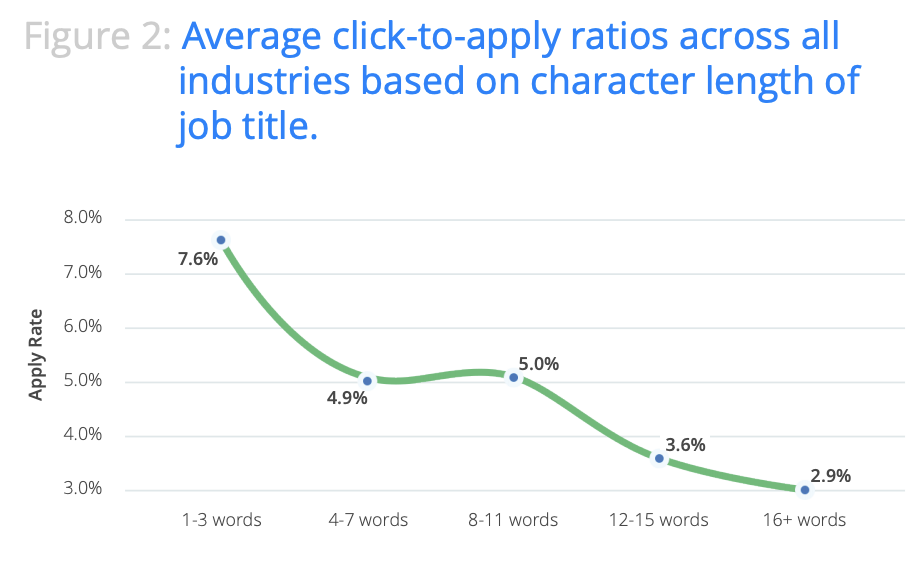 Our data shows a clear sweet spot for titles containing 1 – 3 words. Titles of this length outperform other title lengths by, on average, up to 40%. In other words, they're juuust right. But, as the word count on job titles goes up, apply rates are heavily impacted and see a steady decline.
Pro tip: keep job titles short, sweet, and direct. Avoid unnecessary characters, like & and $, and write a job title your candidates would actually be searching for.
Building Your Application Process
So, a job seeker clicks on a job ad and arrives at an organization's apply portal. At this point, poor apply processes (like asking for a candidate to create an account, or manually input all of the information from their resume) can seriously deter candidates, many of whom will abandon an application before they submit it.
Our data shows that lengthy, complex and time consuming applications act as a barrier to applicants. Applications that take more than 15 minutes to complete experience a 365% degradation in completion rates.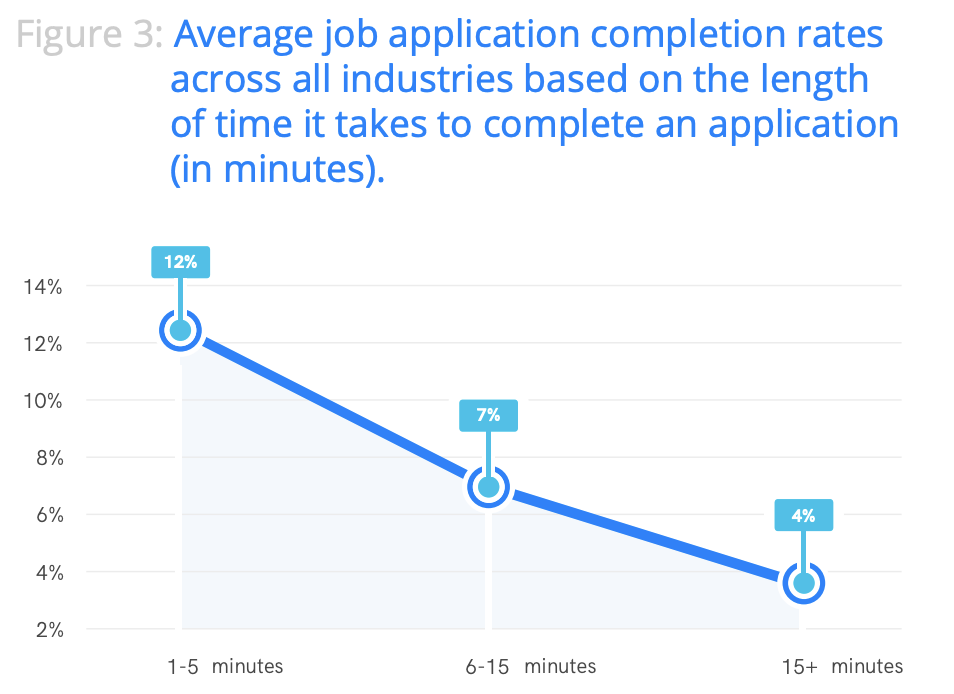 To optimize your conversion rates, during the online apply process, ask only the necessary questions needed to qualify a candidate. If possible, don't require candidates to log into your platform when applying; this will drastically reduce the amount of candidate drop-off in the apply process.
But, not all jobs and their apply processes are created equal. If you're looking to fill hourly roles, or roles that don't require a resume, ensure the application process is quick, easy, and mobile friendly. For professional roles that do require a resume and a cover letter, make sure your apply process is optimized for mobile, as well as for every potential browser a candidate could be using.
Use these simple guidelines to craft a high-performing job advertisement and online apply process to bring more quality talent into your organization. For even more data on how crafting your job ads impact your recruitment advertising, download our whitepaper, Understanding the Impact of Job Descriptions, Titles, and Apply Process on Sourcing Costs.
Note: This blog post was originally published on July 16, 2018, and has since been updated.